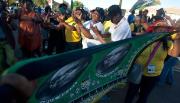 Did you miss the nitty-gritties of the ANC's Mangaung conference while you were on holiday? Verashni Pillay tells you what's worth celebrating.
"Dude, who's our president?"
It was December 2008 and the country's political landscape had just undergone a political seismic shift, a year after the ANC's Polokwane conference left Thabo Mbeki a lame duck president of the country.
But many of my friends, who were patchy with the news at the best of times, were in holiday mode. They missed the fact that neither Mbeki nor his nemesis Jacob Zuma had been president since September 25. In fact, another figure, whose name my paler friends had trouble pronouncing, had quietly assumed the country's helm. Kgalema Motlanthe came seemingly out of nowhere for a lot of South Africans who don't really follow current affairs too closely.
It's sneaky how the ANC has its biggest conference, which generally decides our future as a country, at exactly the moment when most South Africans are paying the least attention to the news. I've seen the web traffic numbers. News sites are about as dead as Johannesburg's highways during December.
So you might have returned to work this week and wondered what you missed during Mangaung, the ANC's 53rd elective conference held in December. Perhaps you are puzzled at how positive everyone seems suddenly. Before the conference it was all economic downgrades, another five years of Zuma and more doom and gloom. After December nothing much seems to have changed, bar a new deputy president in the wings, yet the business world seems positively buoyant. What happened?
Quite a bit actually, and a lot of good things to boot. Indeed, while there were no massive changes it was in the very minutiae that the good news lay for South Africans who just try to make a living and hope that our country will prosper. So for those who are still kicking the beach sand out of their sandals and trying to catch up with what they missed politically, here are five reasons for ordinary South Africans to celebrate Mangaung, particularly those of a more pro-business bent.
1. Goodbye Mshini'wam, hello Mandela-inspired nation-building
As far as trademark songs go, Zuma could not have chosen a worse one when he first started out as president. Mshini'wam, which rattled on with increasing urgency for someone to bring Zuma his machine gun, was an enormous crowd-pleaser for some – and enormously divisive for others. It might have been appropriate in his previous role as a struggle fighter, but it was unbecoming for a president of a scarred and newly unified nation. In recent years Zuma has tried to shake off the damaging tune, but his wildly adoring supporters insisted on singing it wherever he went.
At the Mangaung conference Zuma pulled a cunning and charismatic move that reminded everyone watching why he was still president: he opened the conference by leading its around 4 000 delegates in a new song with a far nobler message. "Yinde lendlela esiyihambayo. Wash'u uMandela kubalandeli bakhe, wathi sodhibana e Freedom Day," he sang. It told of adored leader Nelson Mandela's words to his followers that the journey was long, but they would meet on Freedom Day. It was more than catchy. It was resonant, and stayed in your head and heart long after. And when he sang it a second time at the end of the conference, after his decisive victory, it was clear that Zuma was bent on reinventing his damaged image and restoring the public's confidence in their leader.
2. We have a plan. Finally.
South Africa has had to endure years of dithering, politely termed "discussion", by the Zuma administration. One frustrated analyst told me South Africa would prosper if only we could just choose one plan, any plan, and stick with it. In the fall-out of his climb to power, Zuma had so many debts to satisfy that he allowed competing policy-making centres to exist for too long. But, like a man knowing it was his last hope at a legacy, he grabbed at what has largely been deemed the best of the lot: Trevor Manuel's national development plan, just as that stalwart minister announced at the conference his intention to leave the ANC's national executive committee. Zuma made it clear that the national development plan was the party's chosen path, affording the business community a huge sigh of relief. It is an ambitious plan, but one that avoids radical positions in favour of a more centrist approach. And the election of the National Planning Commission's deputy chairperson, Cyril Ramaphosa, as deputy president of the ANC, means there will hopefully be political will-power at the top to implement the plan.
3. Juju: The bogeyman of SA politics is officially gone
South Africans have short memories, so it's easy to forget how enthralled everyone was by Julius Malema at one stage. It sometimes seemed we were heading down a hellish path with Malema as a future leader. But he gambled badly and lost. After years of keeping mum on the party's L'enfant terrible, Zuma finally came out strongly against him on the biggest party platform he could choose. He took a significant amount of time in his closing address to put Malema in his place and it is apparent that Juju, who once seemed to rule South African politics, is out in the cold. Given that Malema was single-handedly responsible for scaring off investors with his wildly radical proposals for the economy, not to mention terrifying many South Africans with his violent rhetoric, this can only be a good thing.
4. Making friends with investors again
Speaking of investors, welcome to the newly moderate ANC. Pragmatic was the word of the conference and alliance partners who wanted more left positions were silenced as the ANC wooed big business again. While ANC leaders preached the usual line of state-led development it was a case of looking left but moving right. Delegates did not ban labour broking or reject the youth wage subsidy as the ANC's leftist partners may have hoped. Economic policy proposals were full of measures to reassure investors after a damaging year of labour unrest and radical calls from the so-called economic freedom fighters, as those aligned to Malema dubbed themselves.
5. Mining nationalisation firmly off the agenda
It seems Mineral Resources Minister Susan Shabangu was right. There will be no nationalisation of mines in her lifetime. The discussion was finally closed on this hot topic, which will come as a relief to the markets. Instead the party made a host of alternative proposals to ensure South Africa's considerable mineral wealth benefits all of its people, as per the Freedom Charter. Whether we'll get there or not, the decision puts paid to a debate that has haunted South Africa's economy for some time.
It is not all good news of course. If the ANC becomes too removed from the left and the working class, we could see more of the nightmarish scenario that the Marikana killings gave us a glimpse of. Indeed, for those of a more left bent, the above might be shocking.
But as far as good intentions go, the ANC have provided us with enough to up business confidence, and hopefully get corporate South Africa to finally invest in the country again. Businesses in the country have effectively been on an investment strike for some time. South African corporate savings are at a multi-decade high. The sector was sitting on roughly R520-billion in mid-2012 – the highest levels since 1995. The ANC's conciliatory noises may well induce – and pressurise – the sector to finally invest in the country's economy. And for now, that's enough reason for me to celebrate Mangaung.
Picture credit: Mail & Guardian Online
Verashni is the deputy editor of the M&G Online and a Rhodes University graduate. This article was published on Mail & Guardian Online.