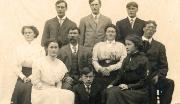 Veteran journalist Stephen Mulholland was kind enough to publish a helpful piece in the Sunday Times last weekend interpreting the mysterious world of the homosexual for outsiders, while noting that same-sex parenting was "neither the norm nor ultimately desirable". We decided to return the favour in the persona of Stephen Mulholland's gay alter ego.
In society today there are people living among us who, due to whimsy or laziness, choose to affix themselves in a romantic sense to others of the opposite sex. Hear me out, and take a good look around: in your office, your book club or your bridge foursome there are likely to be heterosexuals passing unnoticed, but for their questionable clothing choices.
Throughout human history, we find examples of heterosexuals living upstanding lives, performing at a high level vocationally in areas ranging from wood-carving to haute cuisine, from dictatorship to insurance, from graphic design to the long-jump. Heterosexuality has a long and well-worn history: any one of us can probably name a whole handful of distinguished specimens. George W. Bush, Kanye West, Henry VIII, Lance Armstrong, John Travolta, to name a few.
And the women "straights" do very nicely too, bless them, like that buxom English girlie who does the cooking show. You know the one, always licking her spoon. Deep-fried Top Decks and the like.
Though these heterosexuals prospered happily for centuries, the publication of the Biblical book of Leviticus struck a major blow against their previous lightly-trodden path of liberty. Those who used to think nothing of casually fondling the skin of a dead pig, wearing garments made of two different threads, having contact with menstruating women, or trimming their hair, suddenly found these innocent pursuits punishable in some cases by death. The prohibition against consuming shellfish caused the bankruptcy of a number of All-U-Can-Eat seafood buffets around the Middle East. It was a difficult time.
Then, fortunately, everyone decided they should ignore all the parts of Leviticus that seemed a bit unreasonable in an enlightened modern age. But if you are the kind of committed literalist who wishes to keep discriminating against people who wear mixed-thread fabrics – I can't blame you. It's very Mr Price.
I remember well the moment I came face to face with my first "straight". It was in the trenches of the Somme, summer of 1916. These were the days before heterosexuals could serve openly in the military. Many rue the day we let them in, with the likes of General David Petraeus now turning the officer's mess into his personal orgy-chamber. Back in '16, straights in the military lived a shadowy half-life of subterfuge and deception, ogling the Rupert Brooke calendar with an enthusiasm which in retrospect seems horribly put-on.
But there he was, a Rear Admiral like myself, fumbling to hide the Ada Jones pin-up I'd caught him gazing at. I put my hand on his arm. He flinched. "Don't worry," I whispered. "We all think you're kak ugly."
Since that day I have invited heterosexuals over to my house on several occasions and always found they unblocked my sink and hacked down my renegade bougainvillea at very reasonable rates.
Legislative systems all over the world now allow for heterosexuals to live freely. I myself have always defended their right to their lifestyle, as abhorrent as I find their predilection for teen pregnancy, domestic violence, and the music of Michael Learns To Rock.
But there are some who argue that to endorse child-rearing for two people in an "opposite sex arrangement" flies in the face of quantitative evidence. Two fecund straights may conceive a child in a moment of boredom, or off the back of a single Jaegermeister-fuelled encounter, and then find themselves grossly ill-prepared to raise it! Divorce rates among heterosexuals are through the roof, if indeed they find themselves in a sufficiently financially-viable situation to have a roof!
Most critically of all, the exposure to the heterosexual influence of their parents may produce children who grow up to believe that heterosexual parenting is the only normal and desirable kind. We have a special duty to such children: to keep them away from the columns of the Sunday Times.
Written by: Rebecca Davis
Picture credit: Daily Maverick
Rebecca Davis studied at Rhodes University and Oxford University. This article was published on the Daily Maverick.