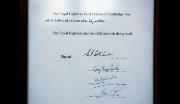 The wait for Kate ended on Monday, July 22 2013, when the Duchess of Cambridge gave birth to a healthy baby boy. And not a moment too soon, as anyone who suffered through hour after hour of mind-numbing rolling TV coverage of Kate's invisible labour can attest. REBECCA DAVIS watched it so you didn't have to.
"The long wait is over," intoned a BBC correspondent on Monday morning. As a distinct afterthought, he added: "Of course, for the Duchess of Cambridge herself."
His real meaning was clear. For the journalists who had been camped outside the Lindo Wing of St Mary's Hospital, Paddington for close on a month, the day of action had mercifully arrived. With the baby over a week overdue, tabloid The Sun had cruelly tricked the assembled press corps on Friday by sending a pair of Duke and Duchess lookalikes to the hospital entrance, triggering a media scrum. But despite their loyal vigil, Kate and William's entrance to the hospital around 5.30am on Tuesday morning was reportedly seen by just one person, and not one photograph resulted. Royal family 1, media 0.
In fact, the royal household played the whole event to perfection – assuming their aim was maximum discretion. At the civilised hour of 7.30am, Kensington Palace announced that the Duchess of Cambridge had entered labour at St Mary's Hospital, and that the labour was progressing normally. From that moment onwards, not one solitary scrap of information leaked from the hospital to the journalists outside until the birth announcement at 8.30pm UK time.
In a normal universe, you might think this lack of anything at all to report on might dissuade TV channels from scheduling continuous rolling footage of an invisible event. You might also think that TV channels might have been deterred from this risky course of action by the fact that the labour for the average first birth is apparently ten hours. But how wrong you would be, hypothetical reasonable person!
For the best royal birth coverage on Tuesday, there was only one option: Sky. And by "best", I mean barmiest, most stalker-y, at times downright insane. BBC and CNN, while invested in the story, took healthy breaks to remind the audience of a world beyond St Mary's Hospital, Paddington. Sky did occasionally pay lip service to other news items too; but for the most part, they simply ran hour after hour of royal-flavoured nothing.
Their correspondent Kay Burley set up shop outside the hospital around 9am and spent the next twelve hours glued to the spot, swapping baseless speculation with a succession of "experts" and soliciting witless observations from passing yokels. At times her desperation for content seemed palpable.
"Why don't we chat to another couple of lovely people," Burley said at one point, her eyes scanning onlookers with raw, unfiltered hunger. Her sight-line hit upon two women from Hong Kong. "Hiiiiiiiiiiiii!" Burley shrilled, bearing down on them with unstoppable intent.
"Did you know Kate would be here?" she asked.
"In Hong Kong we have news too," they pointed out.
"How long will you stay here?" Burley inquired, her face screwed into a celebratory rictus.
"One month," they replied, mistaking her question for their total visit to the UK.
"I mean outside the hospital, you'll probably stay a few hours?" Burley pressed.
"Not really," they replied, deflatingly.
No interlocutor could match Burley's high-octane excitement. She dragged her camera over to meet Terry, a "real character", who had set up camp outside the hospital 12 days ago, apparently owing to an undisclosed form of mental illness, and was decked out in a Union Jack suit. Guardian journalist Peter Walker wisely noted in the newspaper's live blog: "I've done enough royal events to know there is an inverse correlation between the extent of patriotic outfit and the interesting opinions of those wearing it."
And so it proved with Terry, who – like everyone else – failed to match Burley's pitch of anticipation. "It's been very pleasant," Terry said of his pavement occupation. Later, he appeared on the BBC, because there weren't enough "characters" for channels to stake out sole mandate to them. "Royal babies don't grow on apple trees," he was shown opining wisely to the Beeb.
The procession of "experts" came and went. Burley interviewed about seven midwives, some on repeat, about the intricacies of the birthing technique of the human female. Bizarrely, despite their expertise – "You've delivered literally thousands of babies!" Burley said again and again, establishing their credentials – none were able to provide Sky with a precise datestamp for the birth. "They come when they're ready, don't they," one said peaceably. You could almost see Burley's suspiciously finely-chiselled nostrils quiver with irritation for a second.
Repeatedly, the channel crossed live to a hospital in Liverpool, which appeared to have been chosen solely on the grounds that it provided the birthing home for footballer Wayne Rooney's children, and thus was "no stranger to celebrities", as we were reminded approximately ten thousand times. There, a blonde journalist stalked the corridors like an angel of doom, seeking out newborns so as to steal their soul on celluloid.
"Were you hoping the baby would share its birthday with the royal baby?" Burley's sidekick asked, shoving a furry microphone in the face of an exhausted woman trying to recover from a gruelling labour. "No," the woman replied honestly.
At one stage Burley informed us that Kate would have satellite TV access in her fancy TV suite.
"Will she have the iron will to resist watching coverage of herself on rolling news channels?" Burley speculated. Let's bloody hope so, or her cervix might have clamped shut permanently.
All the channels seemed at pains to remind viewers that the royal birth used to be attended as a live event by practically half the court, in order to ensure that a replacement baby wasn't smuggled into the palace in a bed-pan to secure an heir. "The delivery room used to be a very public place," royal correspondents and rented historians repeated. Were they trying to make the point that Kate should feel grateful, by contrast, that we weren't all actually allowed into the birthing room to gawp? "This is the business end of things," Burley said at one point. Thankfully, she was outside the hospital doors, not between Kate's legs.
The funny thing was, the broadcasters actually admitted that they had bugger-all in the way of meaningful information to give their viewers.
"Plenty more to come from here of course," a BBC journalist said early on in their coverage outside the hospital; then added briskly: "None of it news, because that will come from Buckingham Palace. But that won't stop us."
Sky took a similarly candid tack. "No news since they went in," said Burley brightly, approximately nine hours after their unending coverage had begun, which meant approximately ten million trips later to the Berkshire village of Bucklebury, which the Middletons call home. There, a "very close friend" of Carole Middleton – Hash Singadia, who runs the local Spar – attempted to explain why his very close friend Carole had not entrusted him with a single detail of her daughter's birth. Again and again and again.
And then, suddenly, it all happened. Just at the point when even the pneumatic Burley appeared to flag, the Palace released its statement. A healthy baby boy, a strapping 8lbs 6oz, born four hours earlier, at 4.24pm. Such was the visible joy of the journalists at having an actual fact to report on – and not just any fact, the fact – that nobody even carped about the fact that the Palace had condemned them to fill four unnecessary hours with total and utter bollocks. (Perhaps this amounts to a modern-day Tower of London incarceration.)
Giddy with jubilation, Burley proceeded to run hither and thither through the crowd, shoving her microphone in foreigners' faces like a drunk at a karaoke evening.
"You haven't heard the news?" she squealed at an elderly woman.
"She doesn't speak English, she's Brazilian," the woman's companion explained.
"It's a boy!" hyperventilated Burley.
"We know," replied the Brazilian's consort.
A mischief-maker seized his chance when Burley's erratically-swinging microphone reached him in the crowd. "News is, it's a black boy," he said meaningfully, in one of those did-he-really-just-say-that moments. Burley swiftly stepped away, muttering sniffily about "comedians".
As darkness fell over the London summer, well-wishers were shown popping champagne corks and singing choruses of 'Happy Birthday'. Inside St Mary's Hospital, a no-doubt exhausted royal couple and their new arrival stayed put, despite Burley's yearning for an on-camera appearance. Plenty of time for that yet: the life of the royal son will doubtlessly be one of the most relentlessly documented on the planet.
Written by: Rebecca Davis
Picture credit: Daily Maverick
This article was published on Daily Maverick.