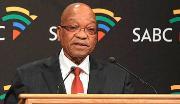 It's been a little over three days since the SABC introduced its 24-hour news channel, creatively named "SABC News". Many predicted in advance that the channel would be used as a crude propaganda tool. After a day's viewing, REBECCA DAVIS found herself unconvinced by this notion, but struggling to keep her eyes open. But then again, rolling news tends to be a soporific business on a slow day anyway.
The SABC's new 24-hour news channel faces a number of not insubstantial challenges. For one thing, its home is DSTV's Channel 404, a number best known as being the error message for malfunctioning internet links.
For another thing, more seriously, the South African media is notoriously hostile to newcomers, despite (or because of) the very small scene. The New Age learned this the hard way, although the newspaper has brought a great deal of entirely valid criticism upon itself. Wits Journalism Professor Anton Harber, who knows a thing or two about launching a new media entity thanks to his experience with the Weekly Mail, has written in the past about the difficulty of entering the South African media market, given the "unbridled hostility" of older players.
In this instance, it won't just be the media giving the newcomer a muted welcome. It was telling that footage appearing to show a blooper in the launch of the channel on Thursday night was circulating briskly by Friday morning, even though it was quickly revealed to be part of test footage and not a real broadcast. The news last month that TV license fees are to rise again in September, in combination with the chaotic SABC administration this year, means that many citizens may be feeling uncharitable towards the state broadcaster at the moment.
Then there's the fact that in the run-up to the launch of the SABC's news channel, discussion on the topic has seemed to assume that the channel will be a 24-hour propaganda machine, pumping out tributes to the wisdom and virtue of Dear Leader Zuma like the North Korean state news agency.
It must be said that the SABC has done little to dispel this suspicion. A day before the channel's launch last Thursday, the SABC interrupted its normal programming in favour of a live broadcast of President Zuma addressing the Black Business Council – hardly an event of earth-shattering importance. This, critics predicted, would probably set the tone for the 24-hour channel: endless footage of Zuma and government ministers doing their thing, with the channel launching just in time for the vital pre-election run-up.
But if the broadcaster really intended to use the channel solely for state propaganda, the obvious problem with the plan is that the channel is currently available only to subscribers of satellite TV. The number of South Africans with access to DSTV is growing rapidly: last November, Naspers announced that DSTV now reaches 4,2 million households in the country. Nonetheless, this is still a fraction of the total population size. And, crucially, people with DSTV have options, which is why you'd better make a pretty compelling case for them to be watching Jacob Zuma address the Black Business Council instead of Come Dine With Me SA.
Explaining the decision to launch a 24-hour channel, SABC head of news Jimi Matthews explained last week that the broadcaster had to make this move or risk being left behind. "Very few people are still satisfied waiting for bulletins in the evening," Matthews said. "If you are going to produce television news, you have to play in the 24-hour space." At the channel's launch, President Zuma said what the SABC must be hoping sums up the feelings of many DSTV subscribers: "This means I can watch the news at any time and not only at 6pm or 7pm."
At the risk of stating the obvious, the only problem with that is the fact that viewers can already watch the news at any time. If they think CNN, Sky or BBC are conduits for Western imperialism, they can opt for Al Jazeera or Russia Today. If it's local news they crave, eNCA's neighbouring 24-hour news channel (403) has been available to them since 2008. In other words, the SABC news channel won't win viewers solely through the novelty of offering news all the time. So does practically everyone else.
It's clear they'll have to offer something different. Interviewed as the channel's first guest, Zuma seemed to suggest that something different would be South African good news stories. The broadcaster has also indicated that the channel will be focusing on often neglected provincial reporting, which would be a welcome development, and on multilingual programming. They have dedicated correspondents based in other African countries, and in New York.
If you watch the channel for an extended period at the moment, you may be driven to drink quite early on by the proliferation of adverts for the channel itself. It's a very meta experience. There are around three adverts for SABC news which they currently play during every single ad break. Sometimes someone messes up and they play the same ad back to back. There's a rather strange one which consists of a montage of completely unrelated news clips, cutting rather jarringly from footage of a white woman laughing about the weather to a black man writhing on the ground after being shot. You will get to know these ads extremely well.
Sundays are always quiet news days, so perhaps it is unfair to judge a news channel's output on how it handles that day in particular. During the long, slow afternoon, however, the focus seemed to be heavily on overseas news stories with footage acquired from other broadcasters. Within the course of an hour, the same insert about a US baseball scandal was screened twice.
It was something of a relief when the channel switched away from its news rehashing to what will be a regular programme, Kaleidoscope, which is described as focusing on "arts, culture, lifestyle, travel and entertainment news" (read: low-budget Top Billing). Kaleidoscope, hosted by the heavily American-accented David Webb, featured a lengthy insert about the launch of the channel. "This is a great initiative in broadcasting," Webb observed objectively. "Definitely this is a very great event," SABC spokesman Kaizer Kganyago agreed. Then we cut to an ad for the channel.
Kaleidoscope's second insert was a visit to the Morara Wines emporium in Soweto, which is newsworthy because apparently everyone thinks black people don't drink wine. The shop, Webb said, "is a breath of fresh air that defies all stereotypes". Unlike the insert itself, which by virtue of its very existence lent support to the stereotypes. Then David went to the Durban International Film Festival, where the point was made repeatedly that both local and international films were on view. David interviewed delighted patrons who had been coming to the festival for the past hundred years. David interviewed local director Ian Roberts. David pronounced the festival a wonderful success and at no point did he mention the single most notable aspect of it: the banning of Of Good Report, the festival's headline act.
Later, for reasons which were slightly unclear, David took us to a luxurious Afro-chic game reserve which has lots of waterbuck. "After a successful afternoon's game-viewing, it's time to return to the camp for a relaxing sundowner," the voiceover sighed contentedly. A black man in a safari-type outfit laid the table for dinner while the waterbuck grazed. Kaleidoscope wrapped up with David perched atop a building in Johannesburg interviewing a local musician called Afrotraction. "What an interesting name," David said. "It's made up of two names, 'Africa' and 'traction'," the musician explained. Then a female friend joined Afrotraction and serenaded David with one of those big blue microphones that SABC news reporters use in the field.
All of this was no more or less silly than any of the other light "entertainment" programmes that permeate our local channels. But later on Sunday evening the programming took on a more serious tone. After the evening's primetime news broadcast, an 'analysis' feature was held to discuss the arms deal commission, where one of the guests was whistle-blower Patricia de Lille. Here, importantly, there was no indication that the topic was being soft-served or fudged around in a way that would benefit the government: De Lille firmly voiced her belief on air that the commission should not report to President Zuma, for instance, because of his implication in the scandal.
A technology show called Network followed, a form of tech report featuring an endearingly wide-eyed presenter with an 'Uhm' problem. Here, in fact, the issue of the FPB's banning of Of Good Report was taken up and discussed in decent detail. (One of the film's actresses was in studio to "discuss the discussion", to quote the host.) Neither the presenter nor guests were granted the luxury of seats, leaving them standing stiffly facing each other in front of a screen in a way that looked slightly awkward. On a later show – Rights & Recourse, devoted to the slightly vague discussion of legal issues – guests were thankfully permitted to sit.
At the moment the channel suffers from teething problems. Over the course of a number of hours on Sunday, there were numerous glitches: blank screens, pauses, presenters cut off mid-stream, and so forth. These will no doubt be ironed out as time goes on. On the plus side, the channel's ability to attract high-profile guests is a real asset: on Sunday afternoon they had DIRCO Minister Maite Nkoana-Mashabane live on the phone from Tehran, for instance, rather than a spokesperson. If the channel can keep that up, it may give them a real edge.
It's much too soon to say exactly what SABC News will be like, and only time will prove or disprove its credibility as a news source. It's not just eNCA it'll be competing with. In what could be a matter of days, Africa News Network 7 (the 24-hour news channel to be launched by the Gupta family's media company) will take up its spot on channel 405. Like SABC News, ANN7 will probably have to work hard to win the audience's trust. But as the old saying goes, the proof of the pudding is in the viewing – and more competition benefits viewers the most.
Written by: Rebecca Davis
Picture credit: Daily Maverick
This article was published on Daily Maverick.