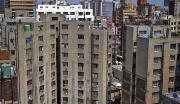 Nearly three years ago, STEPHEN GROOTES wrote this analysis, breaking down Judge Nigel Willis' views on property rights in South Africa. At the time, saying the words nobody wanted to hear seemed like career suicide. Now, Willis has been appointed to the Supreme Court of Appeal – even as opinions of him still come in a mixed bag.
The back-story first. Judge Nigel Willis is an old-school kind of guy. He once famously wrote that in his culture it was wrong to miss a meeting just because you were ill. But don't be fooled. If you're white and old-school in this country, that could be code for right-wing or even racist. He's not. He spoke at the judicial service hearings last year about how he was on track to becoming a banker (he has a rather large brain) before his friends introduced him to the labour struggles the black union movements were having. That led him to representing unions, and then to becoming a judge. In short, he's a good guy.
But he has one hell of a maverick streak. Last year, in what was a very complicated case, he ordered the eviction of a group of people from a building that had been hijacked in the Joburg CBD. The group appealed directly to the Constitutional Court, which overruled him. It went further, and in a unanimous judgment said it was "inconceivable" that he had ruled in the way he did, without making sure the residents had alternative accommodation.
Well, Willis has hit back in the only way he knows how. He's going to be in big trouble for this, and it's understood this judgment has already done the rounds in legal circles for some time. Now it's out in the open.
In essence, he says the entire country is headed hell-wards in a handcart if the eviction laws, and judges' interpretations of them do not change. He makes the extremely elegant point that, as it is now almost impossible to evict people who have illegally taken over a property, property is just being stolen. And in many cases, people who have means, that is, money, are just refusing to pay rent. Willis says, logically, that if you lose control over your property, because someone refuses to leave it, then the only solution to regain control of your property, is to have them evicted. But he says, he is now left "despondent and full of despair" because this option is not open to anyone. He is particularly struck by the fact that the City of Joburg simply has no options left to regenerate the inner city.
Willis then extends his point further, to a fairly frighteningly correct conclusion. He points out that the correct way to generate more low-cost rental housing is not to make it impossible to evict people. But that's the not the frightening part. This the bit to read carefully: Willis says that if people start to lose control of their properties, "The Trust for Urban Housing Finance and others in comparable situations such as banks will have to ponder the security of a mortgage bond – hitherto considered 'as good as gold' provided there was a comfortable positive margin between the value of the property and the amount lent."
In other words, he reckons that the inability of landlords to evict could force banks to stop lending in the way they do now. Think about it a bit, and you realise he's absolutely right. As we've learnt so well from our friends up north, if you screw with property rights, all sorts of things start to fall apart.
But Willis keeps the money quote for near the end. He says: "If the courts above the High Court consider that 'all property is theft', the High Court and the people of South Africa need to know this." The "property is theft" clause is fantastic! It's a question, a statement and a comment all rolled into one. From a High Court judge, no less.
Willis is going to get slammed for this. He didn't make a ruling in the end, and asked for a full bench of the High Court to hear the case, calling it a "hot potato". And judges don't get to not make decisions on the cases that come before them. But clearly here, his own personal ideology (economic freedom is good, but economic growth would benefit more people than keeping them in crappy over-crowded, but free houses) clashed completely with the Constitutional Court's precedent-setting judgments. For judges who find themselves in this position the options are very simple, either lump it, or get promoted so you can change it. Willis has tried to get promoted and failed. And for him lumping it is not an option. So he's broken the rules and done the unpleasant, but necessary thing.
We think in this case he was completely justified.
The current legal system is a complete mess, while the Constitutional Court has ruled as if this were a perfect world. A quick trip to Hillbrow (about two minutes from Constitution Hill) should disabuse them of any notions on that score. But instead, the situation on the ground has been getting worse and worse, and more and more people are abusing the system. And more and more buildings are falling apart, more and more people are just abandoning them, and value is being destroyed.
The system is broken.
Normally, when that happens, if a law is wrong, it's up to the government and Parliament to change it. Fat chance of that happening here. So Willis has fought with his conscience and decided to throw his career away. In the process he has landed a blow for economic rights, property rights and economic growth. Well done to him - we hope he survives the backlash.
It is a deeply worrying story, one that doesn't bode well for our future. But more than that, Judge Willis' opinion is a sobering tale about a system that may have problems realising it has a problem.
Written by: Stephen Grootes
Picture credit: Daily Maverick
This article was published on Daily Maverick.