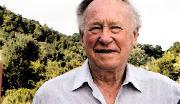 When Cyril Karabus left South Africa in August 2012, he was a well-respected paediatric oncologist. By the time he returned in May 2013, Karabus had become a household name: a 78- year-old poster-boy for the risks medics face when working in the Emirates. His arrival at Cape Town International on Friday, 17 May after nine months of detention in Abu Dhabi marked a happy ending to a distressing case. REBECCA DAVIS reflects on some of the lessons learned.
The Daily Maverick has been following the Cyril Karabus case closely since last year, but we decided to leave Karabus in peace on Sunday afternoon. The elderly doctor was taking advantage of some unseasonably warm Cape Town weather to have a braai in his garden in Kenilworth, his daughter Sarah explained, and he has been deluged with calls from the media and requests for interviews since his return home on Friday.
Cape Town International Airport saw scenes more usually associated with the arrival of a visiting rock star on Friday afternoon. Hundreds of Karabus supporters thronged the international arrivals hall, many wearing T-shirts reading "Welcome home Cyril Karabus" and carrying placards in English and Afrikaans bearing the same message. Helium balloons floated above the heads of the crowd, and the tunes of a minstrel band reverberated through the hall.
Some of those who had turned out to welcome Karabus home were neighbours and old friends: one man said he had known the professor since childhood. Others were members of Jewish community groups like the SA Jewish Board of Deputies and the SA Zionist Federation. A group of teenagers under the auspices of an HIV/Aids non-profit called Hope were there being busily shepherded together for a photo by an officious coordinator: "Smiling please, can we look like we're welcoming someone, like we're happy he's home!"
The South African Medical Association, which lobbied continuously for Karabus's release, had sent a welcome contingent. So too had the ANC, which was responsible for producing many of the bi-lingual welcome placards. These posters featured a black strip along the bottom: they had reportedly originally included the ANC's logo, but the decision was subsequently taken to conceal it in order to avoid inappropriately politicising the occasion. If only such restraint was shown (across the political spectrum) more frequently.
The reunion between Karabus and his family – including a three-month-old grandson who Karabus had yet to meet – took place behind the scenes, no doubt disappointing photographers hoping for a poignant picture, but another tactful and appropriate decision by authorities. When Karabus eventually stepped through the doors of the arrivals hall with his family, his reception was ear-splitting. An impromptu chorus of Hebrew greeting song Shalom Aleichem started up as well-wishers jostled to hug and shake hands with a beaming Karabus, who told the Guardian later that he had been unprepared for the extent of his welcome.
It was a jubilant, heartwarming occasion which cannot have failed to touch the hearts of anyone who witnessed it. The seeming determination not to factionalise the issue extended throughout. At a media briefing at the airport afterwards, ANC provincial leader Marius Fransman – normally no stranger to using events for political mileage – didn't even mention the name of his political party.
Fransman was clearly there with his hat on as deputy international relations and co-operation minister, rather than ANC leader, and this separation between party and state was appropriate and welcome. But Fransman also shied away from publically airing any of the diplomatic consequences of the Karabus saga, stressing that the South African government "respects the independence of the [UAE] judiciary" and is "committed to maintaining our cordial diplomatic and trade relations with the UAE".
Fransman said that the South African government had "persistently and successfully" applied pressure on the UAE government to resolve the issue. But he also played glowing tribute to the local media for keeping the issue in the public eye, to Karabus's lawyer Michael Bagraim for his legal fight, and to Sekunjalo Investments' Dr Iqbal Surve for the role he played in personally intervening on Karabus's behalf with his Emirati contacts.
Fransman revealed that there was a time when they were uncertain whether to involve civil society in lobbying for Karabus's release, with Bagraim raising concerns about whether this approach might have the potential to backfire. "No no no," Fransman replied. "Let everyone who can add value in different ways do what they can." A formal diplomatic process to urge for Karabus's release thus ran alongside an informal process – lobbying from the media and various concerned groups. All the parties involved made it clear that Karabus's release would likely not have been secured by this time without this latter assistance.
Bagraim was even more forceful in highlighting the role played by the media. "I'm telling you right now, the legal process was taking us nowhere," he said. "Without the press we would've gone nowhere… The only way we could get there was via the press, TV, Internet." He urged the media to continue playing this kind of watchdog role, and called on South Africans to appreciate the freedoms offered to the South African media compared to oppressive regimes elsewhere.
Perhaps Karabus had been briefed by the Department of International Relations and Cooperation beforehand on the inadvisability of using his first public platform as a free man to lash out against the United Arab Emirates, because he too showed restraint on the matter. He lamented the state of the Emirati press, saying his case had received little publicity, and what few stories did run often did so with incorrect details – such as labelling Karabus a fugitive and suggesting that he had left Abu Dhabi prior to the completion of his locum contract in 2002. "You try correct that and you just can't, so it's actually very difficult to get any proper information locally," Karabus said. "I don't know how much of it penetrated in the Emirates, but I'm sure some of it must've," Karabus added.
When pressed specifically on the nature of his treatment, Karabus said only that there were "dreadful ups and downs" and that the delays and confusion had been "very upsetting".
The exact nature of the personal intervention undertaken by Surve is not quite clear, although he told the Daily Maverick in March that he was able to leverage his knowledge of how things work in the Middle East. "This has not been easy," Surve conceded on Friday. "It took quite a lot of concerted intervention from the politicians, government, legal processes, civil society, but most importantly: Cyril was always innocent, and that's what counted." Surve said he "had to" conclude by saying thank you to the UAE royal family, "that supported his release… I'm very appreciative as someone who has built up these friendships over the years."
The technicalities of the Karabus case have been shrouded in confusion and mystery throughout, so it is hard to gauge how much his release is owed to public and diplomatic pressure, and how much to an inability on the part of UAE prosecutors to build a compelling case against him. One thing that is clear, however, is that the Department of International Relations and Cooperation came relatively late to the party in attempting to secure Karabus's release through diplomatic means.
In November last year, a good three months after Karabus's arrest at Dubai airport, lobby groups, lawyers and Karabus's family all criticised the department for its lack of action on the matter. "We are disappointed by the failure of the minister of international relations and cooperation and the South African embassy in the UAE to do anything substantial to secure the release of Professor Karabus," read a statement release by the Treatment Action Campaign in mid-November.
At the time, Bagraim confirmed to the Daily Maverick that Karabus has received nothing beyond basic consular support in Abu Dhabi. "We've had no report-back, no suggestions, nothing," Bagraim said. This approach is consistent with the Department of International Relations and Cooperation's general reluctance to intervene in other countries in situations where it may be seen to be tampering with sovereignty or judicial process. After the issue started picking up heat in the media, however, the department began to take more direct steps in the case this January, issuing a strong diplomatic statement to the UAE. Since that time, it is clear that the department has continued to apply pressure to its diplomatic counterparts, and Karabus's supporters are understandably grateful on that score.
But it is worth considering how much the Department of International Relations and Cooperation's intervention would have meant – or whether it would have taken place to the same extent – without a bevy of other factors. Cyril Karabus was lucky to have the support of the international medical fraternity, the resources – though much was raised through donations – to launch a legal battle for his freedom, and the ear of the media. (It also helped, of course, that the case against him was perceived to be scandalously unjust.) Without these, Karabus might still be languishing many kilometres from home.
It might also be an apt moment to remember the other South Africans currently locked up overseas. It's estimated that there are almost 1,000 South Africans in foreign jails, most of whom can expect to serve their full sentences far from their home and family due to the fact that the South African government does not have extradition treaties in place with most countries. This issue has been raised repeatedly by lobby groups like Locked Up, a South African NGO which focuses on conditions for South African drug mules held in foreign countries.
Of course, it is unlikely that many of the South Africans currently held overseas were the victims of as obvious a miscarriage of justice as Karabus, but the Karabus case has also cast light on how confusing and frightening legal processes can seem in another country when there are language barriers that cannot be overcome.
One positive outcome of the Karabus case, however, has been the light it has cast on the UAE's medical liability laws. Prior to the case these laws were already the subject of controversy: in 2012 the Dubai Health Authority and the executive committee held talks on possibly amending the legislation. The attention paid to the Karabus case, however, has brought the consequences of the laws for medical professionals into much starker relief – culminating in the World Medical Association advising physicians around the world about the risks of working in the UAE under those conditions. If the UAE wishes to continue attracting world-class medics, it will likely have to expedite its legislative reform in this regard.
Karabus's case has taken an extremely high financial toll on his family, and even at the age of 78, Cyril Karabus has said that he intends to continue working as a locum – just not in the UAE. For now, while the good doctor enjoys his braais and contemplates getting rid of the beard he cultivated in detention, it is to be hoped that his ordeal will at least serve to spare others the same fate. His case is also a reminder to the media that their voices can be powerful agents for helping combat injustice.
Written by: Rebecca Davis
Picture credit: Daily Maverick
This article was published on Daily Maverick.