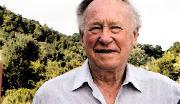 Some dramatically stormy Cape Town weather was not enough to deter a sizeable crowd from turning out to hear a newly beardless Cyril Karabus answer questions from the public on Sunday night. Both Karabus and lawyer Michael Bagraim didn't mince their words when it came to criticism of the United Arab Emirates. And for those whose curiosity remains unsated, fear not: a book about Karabus's detention ordeal will be forthcoming. By REBECCA DAVIS.
At Cape Town's Gardens Synagogue on Sunday evening, a woman stood up to address Professor Cyril Karabus. "I was at the airport [to welcome Karabus home]," she began. "There was a woman there standing on a chair, crying. Her son's name was Baby Scott, do you remember? He is now 40 years old. She was so grateful to you for having saved his life."
Karabus has now been safely home in South Africa for over a fortnight, but if the crowd who packed the synagogue on Sunday to hear him speak was anything to go by, public interest in the 78-year-old doctor's ordeal in the UAE remains high. But it's not just that experiences of this nature provoke a kind of morbid fascination. As the words of more than one emotional audience-member made clear, Karabus also holds a special place in the hearts of many Capetonians whose children benefited from his stewardship of the paediatric oncology unit at the Red Cross Children's Hospital.
If Karabus is beginning to tire of answering many of the same questions repeatedly since his arrival in South Africa, for the most part he hides it well. When asked how he felt about participating in his grandson Gabriel's bris – the Jewish male circumcision ceremony – via Skype from Abu Dhabi, he let some good-natured exasperation show.
"I get a lot of questions like these which are difficult to answer," Karabus said. "Like 'How did I feel when I came back'. I get tired of saying how wonderful it is to be back! Maybe I should say how terrible it is to be back and how I wish I was still in the UAE!"
Despite this performance-fatigue, Karabus's lawyer Michael Bagraim confirmed that a book about Karabus's detention is planned. "The experience is still raw and emotions are not fully worked out yet," Bagraim suggested. He described Karabus's character as "very resilient", but said, "I think it did get to him." Karabus preferred to not dwell on any specific hardships of his experience on Sunday, saying that he found a bottle store within walking distance of his apartment, and used whiskey for both celebration and commiseration of the numerous ups and downs of his time in Abu Dhabi.
It was clear how large the toll taken on Karabus's family has been, however. His daughter Sarah, who was particularly active in lobbying for Karabus's release, told a story of how, shortly after Karabus's arrest last August, she was phoned by someone with contacts in the Emirati royal family.
"He said the message is that your father will never, ever get off," she said.
Bagraim told the audience that he had been reading Franz Kafka's The Trial, a bleak fictional account of a man caught up in a bewildering and inaccessible judicial process which leads inevitably to his execution. "It reminds me of what we've just been through," Bagraim said. "For the first four days, we had no idea where he was or why he was incarcerated." They still struggle to make sense of why Karabus was incarcerated: as the doctor himself pointed out, not every death of a patient in the UAE results in the relevant doctor being prosecuted. Some have suggested a sinister underlying motive, but Bagraim dismissed this: "We don't believe it had anything to do with anti-semitism," he said.
Bagraim said that one of the most positive parts of the experience had been witnessing members of different religions coming together to work for Karabus's release. He said that Muslim, Jewish and Christian radio stations all held prayer services for Karabus. Bagraim claimed that he had even been told about an atheist group who also devoted prayers to Karabus at their monthly meeting. "We worked so strongly as a Jewish and Muslim community together," Bagraim said. "We have plans to take those paths to start a narrative to work on our commonalities together."
Karabus did not mince his words about the UAE. "That place really is a dictatorship," he said, bemoaning the lack of freedom offered to the media to cover anything that might reflect poorly on the regime. "Non-Emiratis there are necessary but regarded as second class. They do all the work, particularly menial work… [but are] treated terribly."
He also criticised what he called a type of "medical Apartheid" in the UAE, witnessed in the differing payscales offered to medical personnel depending on their country of origin.
"Americans will earn a certain salary, South Africans will earn less, and Indians will earn less than that. Nobody seems to worry about that at all," he said. "All the money they've got seems to buy them acclaim in the world."
Bagraim did not hold back in his own criticism of the UAE. "If you're thinking of going on holiday to Dubai – please don't," he told the audience, to applause. "South Africans don't need to support institutions of this nature. They are autocracies. They don't need our money, they don't need our support. Don't go near that place, and don't use Air Emirates if you can."
Karabus reiterated Bagraim's confusion about why he had been incarcerated, but also about why he had been released. "It's not clear why they did eventually find me not guilty," he said. "I doubt that the public pressure had any effect on them whatsoever." Bagraim takes a more positive view on this: he believes that the negative attention on the UAE's justice system as a result of Karabus's ordeal may lead to a legislative change which sees medical malpractice treated increasingly as a civil, rather than criminal, matter.
He urged an audience member of the World Medical Association, which warned its members worldwide about the risks associated with working in the UAE, to take the matter further. "[As it stands,] to practice oncology in the UAE is a suicide mission," Bagraim said. Karabus noted, however, that the high salaries offered would likely still present a tempting option to underpaid medical staff. "That's why I went there," he said. "The pension is miserable here and you can earn quite a lot more there."
Karabus said that he was sceptical that stories about "certain individuals" intervening on his behalf had any impact on his case either. Bagraim hinted at a certain dissatisfaction with the South African government's initial response to Karabus's situation, despite its resolution being greeted as a diplomatic success for the Department of International Relations and Cooperation (Dirco).
"The elephant in the shul [synagogue] is our government," Bagraim said. He explained that the way they initially attracted the attention of Deputy Minister of Foreign Affairs Marius Fransman was to attend a public address Fransman was giving. "At the end we put up our hands and asked, 'What is the value of a South African passport in a case like this?' [Fransman] got quite angry." Bagraim also mentioned that a former Supreme Court judge wrote to Dirco to express concern about Karabus's detention and did not receive an answer.
When Dirco did become involved (largely from the beginning of 2013), Bagraim notes, it acted decisively in sending its UAE counterparts a demarche (strong diplomatic statement). But he is unsure how much effect such a communication would have had. "You're dealing with people who are not interested," Bagraim said. "They received it through their ambassador and did nothing."
Karabus did express his appreciation for the South African embassy personnel in the UAE, however, who he described as "just fantastic".
Bagraim paid tribute to the South Africans who donated small and large amounts of money to Karabus's legal funds, saying the family had received a number of big donations from individuals who wished to remain anonymous. "This has cost the Karabuses over R1,5 million," he reminded the audience. UAE attorneys demanded a cash payment upfront of $100 000, Bagraim said, and a change of attorneys was subsequently necessitated due to language problems.
When asked by a cheery-minded audience member whether Karabus had any positive experiences to take away from his enforced UAE stay, Karabus summoned up a few. One, he said, was the wonderful support he had received: hundreds of emails from complete strangers the world over, pledging their support.
And another? "I watched [Novak] Djokovic play tennis, which I don't think I'd have had the chance to do elsewhere," Karabus mused.
Written by: Rebecca Davis
Picture credit: Daily Maverick
This article was published on Daily Maverick.