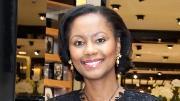 The Mail & Guardian caught up with Luminance owner Khanyi Dhlomo at her store, which has caused a media storm.
It is the fourth day since the luxury store Luminance's opening and Khanyi Dhlomo is pacing the coffee shop area, taking calls on her BlackBerry. Her delicate features are tense but she talks to the Mail & Guardian.
"Yes, I was taken aback by the negative reaction to the store. However, one of the reasons I have agreed to talk is because I'm beginning to realise the more information people get, the more they understand," the 38-year-old mogul says.
And in the controversy swirling around the mini-department store stocked with eye-wateringly expensive products, understanding hasn't been easy to come by.
After a glamorous function that opened the store in Johannesburg's Hyde Park last week, rumours exploded: the government's National Empowerment Fund (NEF) gave the wealthy businessperson R34.1-million of taxpayer's money; the head of the fund, Police Minister Nathi Mthethwa's wife, Philisiwe, was a co-owner; Dhlomo and her business partners used their political connections to score the windfall.
Even the details of the products were magnified: the store only stocked items that ran into thousands of rands and customers were not allowed to touch the pricey designer items. Staff wore white gloves when handling products.
It didn't take much digging to derail the sensational elements of the story. The R34.1-million was a loan, not a donation, and Dhlomo's company, Ndalo Luxury Ventures, had put up R15-million of its own and had already started repaying the NEF.
The repayment terms for this usually "patient lender" were stringent: five years instead of the maximum 10 to repay, with relatively high interest rates and a much larger down payment than normal, according to Dhlomo, as the loan was large and the concept new - factors that apparently led to commercial banks turning their noses up at the deal.
Applied like everyone else
The myth busting went on: Mthethwa had no ownership in the deal; Dhlomo and her mother, Venetia, owned 65% of it and wealthy local businessperson Judy Dlamini, the wife of First Rand chief executive Sizwe Nxasana, owned 15%, but 10% had been allocated to a collective of rural women at the NEF's behest and another 10% was for the staff.
And the company, according to the NEF, "applied like everyone else", something that Dhlomo said was an exacting process that involved due diligence, a reformatting of their ownership structure to include rural women and other requirements that took five months to fulfil before the loan was approved in August 2012.
When the M&G visited the store, there wasn't a white glove in sight and all items were available to touch, and try on when required, in plush changing rooms with friendly staff on hand. It is a concept shop in the model of the grand department stores in New York and Paris: think Bloomingdales on an über-micro scale.
Gem-encrusted Kara Ross jewellery, delicate Dior baby clothes and collections of deep-blue ceramics by Oscar da la Renta are laid out in sumptuous displays. You can get a cup of coffee for R25 or a baobab candle for R300 while eyeing a Stella McCartney dress for R63 200. A pair of leather court-heel stilettos by the store's private label will cost you just R2 520, a reasonable sort of price tag, at least in this shopping mall.
But even as some of the misconceptions cleared up, the bad taste lingered. On Wednesday, after Mthethwa addressed a session at the Black Business Council, one woman stood up and said: "As a woman, I would love to be able to defend you and Khanyi. But right now I have no ammunition."
Dhlomo's fans have defended and championed her. But many South Africans couldn't get past the fact that a successful woman like Dhlomo had been granted a loan from an empowerment body to import luxury goods. Julius Malema's radical Economic Freedom Fighters party demanded she return the money outright.
More sobering, Trade and Industry Minister Rob Davies, under whom the NEF falls, has called for a report on the loan, and has gone as far as questioning the NEF mandate, an agency that has disbursed R3.6-billion to 417 companies since 2005.
Untransformed sector
But the NEF's spokesperson, Moemise Motsepe, stands by their mission: "Our mandate is for the NEF to provide financial support to black people, not black people of a certain background or financial standing." The compelling factors for the NEF was that the business was in the "wholly untransformed sector" of retail where black women have little to no ownership.
It seems then that the backlash is a result of clashing ideas of what black economic transformation should look like, and the NEF's role therein. Critics of Luminance say the NEF should not fund women like Dhlomo and Dlamini, who are already visibly successful. But the NEF wants to further empower black people to achieve greater success.
"Our funding doesn't discriminate against people who have had a measure of success," said Motsepe. "We remain focused on growing SMEs into becoming black industrialists."
Dhlomo agreed: "I don't think empowerment is about 'OK, so you've got one deal, you've made your first million so thank you, we've empowered you, goodbye. I think that if you watch the more financially mature societies like the white society in South Africa, in business papers you read everyday repeatedly of deals being done that are financed and are being done by people who already are very wealthy."
BEE expert Paul Janisch pointed out that the current model of transformation that punts black ownership of 25% of existing businesses "is antiquated and never going to work".
"What this country needs is people like Khanyi to build businesses, to grow wealth, to become very strong capitalists and employ lots and lots of people."
Dhlomo's luminous career has reflected this ethos.
Foray into retail
She left a popular TV job to become a lowly beauty assistant at True Love magazine so she could learn the ropes of that industry and eventually became editor.
After a brief stint in Paris, she went to Harvard to get her MBA, was tutored by Jonathan Newhouse, chairperson of Condé Nast International, and came back home to start Ndalo Media, a joint venture with Media24, which publishes the high-end magazines Destiny and Destiny Man. Luminance is her first foray into retail.
She told the M&G: "I think that if we want true equality it's not about just allowing people to enter an industry. It's also about allowing people who have been able to get ahead in other industries and maybe want to grow into other industries to be able to do that and that's how we'll get equality and true levelling of the playing field."
But all that hard work seems to be lost when what is visible is, as the disgruntled textile union Sactwu puts it, that the NEF has funded "a boutique for the rich" that "undermines the local textile industry".
But for Janish it was merely good business sense: "Khanyi's problem is that she went to the NEF for funding and now it's in the public domain because the NEF is a government agency. If she had gone to a bank we'd all be applauding this brave black entrepreneur, we'd never have known how much she borrowed and she would have become the toast of Hyde Park."
Still, Luminance isn't the first business to get such a large loan from the NEF, nor the only one with already wealthy individuals involved.
According to the NEF, at least 20 loans of over R30-million have been granted in the past three years to businesses that include On Digital Media (R40-million), the film Long Walk to Freedom (R50-million) and Just On Cosmetics (R50-million). Dhlomo's loan was at the low end of the scale, it says, as the NEF makes up to R75-million available in its new ventures product.
Misdirected anger
"This is the first time a black, women-owned company has received such a high loan," said NEF spokesperson Moemise Motsepe. "The reaction has been very disappointing to say the least. It seems to be ok to award men but people hit out when the company is headed by black women."
Janish thinks that the pubic indignation in indicative of a larger disenchantment with failed BEE policies and corrupt deals. Dhlomo, it would appear, was caught up in the sentiment, even if she doesn't fit the mould, and has become a target for misdirected anger.
But questions still remain about the deal. It's not clear which banks turned them down, if any. Motsepe said they were turned down but Dhlomo skirted the question when the M&G asked her about it and she spoke about how it would have been generally difficult for black women to get a loan for this sort of concept.
It's also difficult to discount the fact that Dhlomo's partner, Dlamini, is the wife of First Rand's chief executive.
The store's PR spin appears to be about how 58% of the money invested is being spent locally. But that includes building and architecture. It is not clear what percentage of the stock in the shop is from South Africa. Neither could we determine what the 51 jobs created referred to - the local factory producing 50% of the in-house label was already an established business. Questions referred to Dhlomo about these details would not be answered later in the week as her PR office stopped interviews.
The balance of the Luminance label, particularly silks, leathers and complicated materials the local factory can't manage, is produced in Verona, Italy. The local products at the store also include arts and crafts under the Luminance Signature Collection, produced by some of the rural women who have a 10% stake in the business. A third local component exclusive ranges from SA designers like Stoned Cherrie which "take time" to be made available, just as the rural women crafts needed some honing before they're suitable for the store. The upshot of all of that is that it is not clear how much local content is available and will be privy to the export scheme Dhlomo envisions, where luxury goods go to international markets via the same channels that bring the controversial designer products into her store.
Another niggling question is the connections between Dhlomo and Mthethwa, which aren't hard to make. Mthethwa appeared on the cover of Dhlomo's Destiny magazine in the month the deal was closed, and Dhlomo was one of 500 guests at Mthethwa's wedding in February this year. Dhlomo said the pair first got in touch when they both lived in Paris, a fact the NEF contradicted when they told the M&G the pair had not lived in Paris at the same time.
Various bodies
The pivotal point for Dhlomo, however, is that they lost touch when she moved to Harvard and they are now "not close at all".
"She doesn't know where I live and she doesn't know the name of my children," said Dhlomo, clearly riled by the suggestion that a friendship could have influenced the deal. "She only became aware that I was an applicant half way through the process."
That Dhlomo is taking strain became clear as coverage of her store unfolded. Her habitual politeness in interviews became increasingly strained over the week as the negativity went up a notch from various bodies.
For a woman who has been universally adored by the South African public since she was 20, the criticism must be difficult to stomach, particularly as it's hard to pin down exactly why she's being criticised.
According to Janish, she has done nothing wrong - she merely used the tools available to her, and ticked all the boxes.
At the heart of the furore is whether South Africans are comfortable with these processes and this vision of empowerment.
But she has no regrets. "Absolutely not. I think we need to open up our notion and expectation about what are the opportunities for business for black people in this country. It isn't just building roads in rural areas or building RDP house in areas that don't have housing. That is important and we must continue to do that but we can't all participate in only that aspect of the economy. We've got to start going into places that are for markets outsides of our own that are in unexpected places and be agents of transformation, empowerment and economic inclusiveness everywhere.
"Just because you're not doing the expected thing doesn't mean you're doing the wrong thing."
Written by: Verashni Pillay
Picture credit: Mail & Guardian
Verashni Pillay is the deputy editor of the Mail & Guardian Online. This article was published on Mail & Guardian.