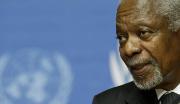 A point frequently returned to throughout the World Economic Forum on Africa has been the inescapability of the fact that Africa's economy will be shaped by its reserves of natural resources for the foreseeable future. Introducing the 2013 Africa Progress Report on Friday, Kofi Annan and his colleagues said that Africa's mineral wealth has the potential to transform the continent, but resource-rich countries are leaving their poor behind. He also hit out at "shady deals" between mining houses and countries.
One thing that events like the World Economic Forum make clear is what a bewildering quantity of annual reports on Africa are produced by various thinktanks and foundations. On Friday, it was the turn of the Africa Progress Panel to launch their annual publication. The Africa Progress Panel is one of Kofi Annan's post-UN initiatives: it consists of ten "distinguished individuals from the private and public sector", although one can hardly avoid noting that musician-turned-Africa-saviour Bob Geldof is among their number. So, however, are ex-Nigerian president Olusegun Obasanjo, Graca Machel and former US Treasury Secretary Robert Rubin, so their claims to having a "formidable capacity to access a wide cross-section of society including at the highest levels in Africa and across the globe" may not be too far-fetched.
Before the launch of Friday's report, Annan was quoted as having some pretty stern words for those in the extractive industries, and those in leadership positions on the continent, who sought to swindle Africa out of a just deal. Speaking to the BBC ahead of the launch, Annan told the BBC that African people are "not getting the revenues we deserve". At the heart of this issue, he suggested, is a lack of transparency around production-sharing agreements and the sale of assets to foreign investors. "No country better illustrates the high costs associated with opaque concession trading than the Democratic Republic of the Congo (DRC)," the report states. "Privatization of the DRC's minerals sector has been plagued by a culture of secrecy, informal deals and allegations of corruption".
The report's investigation of the DRC in this regard is extremely damning. It finds that the DRC lost at least $1,36 billion in revenues between 2010 and 2012 by underpricing mining assets sold to foreign companies. To make the enormity of this figure more stark, the report calculates that each DRC citizen, in a country of 67 million, lost the equivalent of $21 from these deals. Because the offshore companies managed to snap up the assets at such a steal - $275 million – their rate of return on these deals was on average 512 %, and as high as 980% in one deal. Those are profits which would have been warmly welcomed in a country that ranks lowest of all on the Human Development Index, measuring wealth, life expectancy and education.
The report is at pains to state that they are not explicitly accusing political leaders, officials or the foreign companies involved of deliberately engaging in illegal activity – although they do suggest that investigation be carried out to determine whether or not the assets were "knowingly undervalued". But in recent years, they note, other huge losses in the sector have been incurred through a mixture of "poor management, corruption and flawed taxation policies".
The issue of taxation was returned to a number of times at Friday's press conference. "Tax avoidance and evasion are global issues that affect us all," Annan said. He announced that the panel would be bringing a number of suggestions on taxation reform to the G8 summit next month. Among them, they want to see a rule-based global system on tax transparency adopted; countries which are hubs for offshore finance should clamp down on illicit flows; and all countries should agree to adopt measures equivalent to the Dodd Frank Act. This act, signed into law by Obama in 2010, is aimed at regulating financial services. Foreign-owned companies should also be forced to disclose the "ultimate beneficiaries of profit", Annan said.
At a WEF session the previous day, Oxfam International head Winnie Byanyima had warned against a "race to the bottom" when it comes to mineral rights, saying that African governments sacrificed too much while wooing investment. Linah Mohohlo, governor of Botswana, made much the same point on Friday. If tax concessions have to be given in order to attract business, she said sternly, all details must be made public and the duration of such breaks must be necessarily limited. Partnerships between African states and extractive industry players have to be clearly defined, Mohohlo maintained.
Mohohlo asserted her belief that such a partnership should not lead to a less than 50-50 split (between state and private companies) in revenues derived from a country's natural resources. In the question and answer session afterwards, a South African journalist asked whether she was endorsing nationalization. Not at all, she replied. But she felt it a point of basic fairness that "a country has to come out with a higher percentage of profits that will flow from natural resources".
But the report also lists a number of causes for optimism. Among them, there is an enormous opportunity to translate resources into improved outcomes for Africa's citizens because of the "commodity super-cycle": in other words, minerals can be sold at high prices. Annan said they estimated that these prices would remain high for another decade. "This is good news," he said. "Resource wealth can bring millions out of poverty. It is eminently possible…but it will take bold leadership."
Up till now, however, there has been limited success in using mineral wealth to transform societies. The report makes clear that many resource-rich countries are leaving the poor behind. One particular damaging statistic is found in the fact that nine of the 12 countries at the very bottom of the Human Development Index are rich in resources. The DRC, Chad, Mozambique and Niger all feature in the bottom 5. There are also a number of countries – like Mali, Niger and Tanzania – which are classified by the IMF as "resource-intensive", and yet still depend on foreign aid for at least 10% of their GNI. Other countries have seen their dependence on aid fall over the last decade as a result of natural resource revenues: oil exporters like Angola fall within this category.
One of the panelists, Strive Masiyiwa – the telecoms magnate who happens to be Zimbabwe's richest man – said that there was little doubt that the report amounted to "a bit of a reality check", especially as the panel had met to discuss its findings against the "sobering" backdrop of Marikana.
"The idea is not to put a damper on our confidence, but to look at all the issues," Masiyiwa said. "Is there equity in growth?" The answer is clearly: not yet, not even close. Masiyiwa pointed out that in Africa there are 30 million children who are not in school. The region's mineral wealth has to be converted to human capital, he said, with greater public investment in health, education, and basic social safety nets. Masiyiwa also suggested that the way business has traditionally viewed Africa also needs to change. The extractive industry has tended to be afflicted by "short-termism" in its approach to the continent, he said; by contrast, incentives need to be created for long-term, high-quality investments.
A notable omission from the discussion, as a journalist pointed out, was China – which is widely assumed to be embarking on a targeted mission to secure Africa's natural resources. Annan was quick to stress that their recommendations and critiques applied as much to China as to any western country. Nonetheless, as Brooks Spector pointed out for the Daily Maverick on Thursday, the 'C-word' – China – has been strangely seldom heard at the WEF. Whereas there are a relatively high number of Scandinavian speakers present on panels, for instance, a quick flip-through the programme seemed to reveal just one Chinese panelist: Zhong Jianhua, Special Representative of the Chinese Government on African Affairs, who was due to address a session on Friday afternoon on Africa's Global Partnerships.
Though many of the report's findings seem depressing, the panelists were keen to focus on the idea of the transformative potential of Africa's resources. Looking at the growth figures, a journalist wanted to know: Could this be a false dawn for Africa? "If it's a false dawn, it's been going on for a while," replied Masiyiwa.
Written by: Rebecca Davis
Written by: Daily Maverick
This article was published on Daily Maverick.