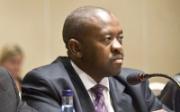 Closing the chapter on a long and controversial race, President Jacob Zuma yesterday announced the appointment of Mbuyiseli Madlanga SC to the Constitutional Court.

"I congratulate Adv Madlanga, SC, on this appointment and wish him all the best in this new role of promoting constitutional justice in our country," the president said in a statement. "We also acknowledge and thank all the highly capable candidates who were short-listed for this position," Mr Zuma said.

The appointment would take effect from August 1. The choice of Mr Madlanga was widely expected after the Judicial Service Commission (JSC) eliminated his main (some said his only) competition, renowned silk Jeremy Gauntlett, from the list of possible choices the president could make — a move that provoked a storm of criticism.

In the run-up to the interviews, there had also been widespread criticism that there were no women candidates nominated. However, once there were no women candidates, Mr Madlanga and Mr Gauntlett were always considered the frontrunners.

Mr Madlanga was the only one of the five candidates interviewed to have acted on the Constitutional Court and had been a rising star in the judiciary, with an acting stint on the Supreme Court of Appeal, an acting stint as judge president on the Eastern Cape High Court and an appointment to the Competition Appeal Court — all in just five years on the bench as a high court judge.

As counsel, his practice was 60% focused on constitutional and administrative law and he appeared in some ground-breaking cases in the Constitutional Court and the Supreme Court of Appeal.

During his JSC interview, he was charm itself and dealt deftly with potentially sticky spots such as his resignation from the bench in 2001 — something the JSC had frowned on previously. Mr Madlanga told the commission it was well known at the time that he had resigned because he could not afford to stay on as a judge. He said he went to the bench very young and had a young family, a bond and six children. His circumstances had now changed, he said.

Most recently, Mr Madlanga has been in the news as chief evidence leader for the Marikana commission of inquiry — established to look into what led to the deaths of 44 people during an unprotected strike at Lonmin's Marikana mine in August last year, including the 34 who were shot by the police on August 16.

General Council of the Bar chairman Ishmael Semenya SC said Mr Madlanga would be an "invaluable addition to the intellectual resource of the bench" and outgoing Law Society of SA co-chairman Krish Govender said Mr Madlanga was highly respected.

Nokukhanya Jele, spokeswoman for the National Association of Democratic Lawyers — which had supported Mr Madlanga's candidacy at the JSC— said he would "do justice to that bench".
Picture credit:
This article was published on Business Day.