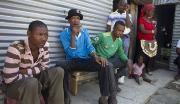 The final day of Mining Indaba 2013 was devoted to the discussion of two of mining's current buzzwords: "sustainable development". During the day's talks, two things became clear. Firstly, that mining knows it's got a bad reputation, and is working to change that. Secondly, that mining thinks we should remember exactly how much we need the industry.
Early on Thursday morning, the TV screens in the Mining Indaba press room were busily being packed away, as if the indaba had long since ended. Instead, it was the beginning of what some would consider the most significant part of the Mining Indaba programme: a chance to hear the industry discuss what it is – and should be – doing to improve lives and environments. But perhaps the Mining Indaba organisers assumed this wasn't at all as newsworthy as the corporate white-paper presentations that had filled the schedule for the preceding two days.
Anglo Gold Ashanti CEO Mark Cutifani gave what will likely be one of his last public addresses representing the mining house before he heads over to fill Cynthia Carroll's seat at Anglo American. The Italian-Australian has a reputation for being a self-deprecating good guy, and certainly he was very much playing that role on Thursday. The title of his talk – "Mining's contribution to sustainable development" – suggested a daunting task after the industry's last year. But Cutifani played it skillfully: his was one part mea culpa to three parts "mining is awesome", but the overall effect was plausible and likeable.
Cutifani said that mining should be a "development industry", but had lost its way. He claims to define capitalism's purpose as being "to support the desires of society to achieve the ends they want to achieve", which makes business sound like one big very appealing NGO. "Capitalism is not a dirty word," he reminded his presumably resolutely capitalist audience. "But we must never lose perspective that that [supporting the desires of society] is our duty."
Africa is definitely where it's at for business, Cutfani said, although sometimes there are barriers. He suggested one reason for this might be a distrust of capital "given our recent colonial past". As such, perhaps a reminder of mining's contributions, not just continent-wide but globally, would be instructive. Totalling up mining revenues and revenues from affiliated industries and products associated with mining, Cutifani estimated that the mining industry "supports and drives 45% of the world's GDP".
That is indeed an impressive figure. He did note that he had been challenged on it before, but his opponent could only suggest a lower base of between 30 and 40%, which he was happy to compromise on because it is still a significant amount. "Mining is integral to anything we do," Cutifani said. "For anyone to argue that mining should be stopped, they are on Cloud Cuckooland."
This has been a frequent refrain over the course of the Mining Indaba. Ivanhoe Capital Corporation's Robert Friedland made the point on Wednesday: "If you got here by airplane or car, you are dependent on platinum to get here." Others pointed out the minerals which smart-phone manufacturers depend on: if you have a BlackBerry or an iPhone, bits of it came out of a mine. Joyce Aryee, formerly with the Ghana Chamber of Mines, challenged the audience to name another sector which was not in some way reliant on mining. "Agriculture?" she asked. "Without mining, there are no tractors." SA Chamber of Mines chief economist Roger Baxter put it more bluntly: "Modern society is inextricably linked to the availability of minerals," he said.
It's a basic – and defensive – point, but a useful one nonetheless. Particularly in the wake of Marikana, mining is often painted as an evil, exploitative, planet-destroying industry. While there are some solid grounds for resentment, there's no getting away from the fact that people need mining to continue living, in particular, middle-class lives of convenience. We can't have it both ways: no mining, no iPads. So if you're a Steve Jobs acolyte with a knee-jerk hatred for the idea of mining, you might just have to make your peace with it.
Furthermore, said Cutifani, mining's environmental footprint is actually far less damaging than people assume it to be, taking up less than 1% of the world's surface. "We produce less than 3% of the world's carbon, and consume less than 3% of the world's water," he said, while admitting that many operations take place in bio-diverse, sensitive areas. (For instance, the Ambatovy rainforest in Madagascar, where Canadian company Sherritt is establishing the world's largest nickel mine. "Before us an 80ft-wide scar has been carved right through the primary forest like a four-lane motorway," wrote award-winning journalsit Dan McDougall when he visited the site in 2009.)
But despite all this goodness, Cutifani said, "we need to focus on what impact we have on local communities." The industry had not put the focus on those most affected by mining activities: "We've got the model wrong," Cutifani admitted, "and it's unfair to expect politicians to sort that out. Cutifani spoke candidly of Anglo Gold Ashanti's position in Guinea, where it provides 10% of the population with jobs. As a result, perhaps 20% of the population has a disposable income, so the price of goods and services rise. In total, he estimated, perhaps 80% of the community is disadvantaged by Anglo Gold Ashanti's activities. "And they have to look at a big hole," he added.
Cutifani suggested that mining companies need to look at securing access to water, generating clean energy, ensuring food security, allowing people access to "our vast tracts of land", engaging in municipal planning for sanitation and health, focusing on education and skills-building, and helping create infrastructure. That sounds kinda like government's role; and indeed, in some African countries it's clear that mining's role becomes blurred in this regard. "In Guinea, because we have the skills and engineers to do it, we run the power station," Cutifani said. It's also a way of buying the goodwill – and dependence – of the community.
Nonetheless, the industry needs the support of government. Wits Professor May Hermanus, speaking in a panel discussion later in the day, was particularly adamant on this point. In situations where governance is weak, she said, it is hard to achieve full socio-economic outcomes for any mining house. SA Chamber of Mines' Roger Baxter said much the same thing. Mineral assets in themselves are neither a curse nor necessarily a blessing, Baxter said. It is differences in governments, institutions and public policy which make or break resource-rich countries.
In South Africa, particular, Cutifani painted a picture of a fractious relationship between government and industry, "shouting at each other from our respective corners". Instead, proper engagement needs to happen. "Threats to licenses are out of order," Cutifani said, a veiled reference to government attempts to strong-arm Amplats after it announced the potential loss of 14,000 jobs. Mining houses need to feel safe because their timeframes are so long (10 to 30 years), or else investment won't happen.
But Cutifani was keen to tell a good-news story about South Africa, one he accused the press of ignoring. Since 1994, he pointed out, South Africa has seen an average economic growth rate of 3,2%. Over the same period, Australia has enjoyed 3.4% growth rate. "South Africa is only .2% behind Australia in compound growth rate over the last 18 years," he said, adding that you'd never guess that from the media's doom-and-gloom reporting. (Sorry, Mark!)
"We need to be a development industry instead of an extractive industry," Cutifani reaffirmed. "We have to support society and communities. If they don't achieve what they want to, we won't either." He concluded on a final exhortation to those present to continue the mining PR drive: "We have to promote our industry without fear or favour."
During the question and answer session, Cutifani was asked about the wage discrepancy between Australian and South African miners. The company pays Australian miners five times more than South African miners. "That's a profound question in terms of the issue of equity across society," Cutifani said smoothly. "Is it fair? No. Can we do something? Yes. But not overnight." He explained that the wage discrepancy was due to the fact that the production rate per Australian employee was seven times higher than their South African counterparts, due to investments in certain technologies.
In South Africa, Cutifani said, they haven't yet invested fully in mechanisms to achieve the same productivity. Though this will eventually happen, he warned that it would mean that fewer people will be needed. "So instead of 30,000 people we might need 10,000," he said. Eventually, Cutifani predicted, a situation will be reached where there would be fewer workers earning higher wages.
It's funny how frequently we've been hearing this refrain currently. Exactly the same discourse is currently operating around the farmworkers' minimum wages, where farmers have said that the net result is that they will keep on a smaller number of workers receiving higher pay. As we've previously observed, in a country as unequal as South Africa, that doesn't necessarily seem like a recipe for social equilibrium.
Written by: Rebecca Davis
Picture credit: Daily Maverick/ Greg Marinovich
Rebecca Davis studied at Rhodes University and Oxford University. This article was published on Daily Maverick.