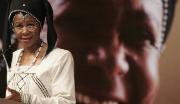 With reports that Mamphela Ramphele is to start a political party, she can expect a high level of interest in her public pronouncements from now on. Indeed, it is difficult not to see any current high-profile speeches as laying the stage for a future political career. Her address to the Mining Indaba on Wednesday gave some interesting glimpses into what Ramphele as political strategist might offer.
There is a great deal of animation among the chattering classes over the possibility of a Ramphele-led political party. Detractors continue to claim she commands no grassroots respect. Admirers over-hype her as the country's Messiah (as, perhaps, does she – if reports that Ramphele told an American audience last month that she was entering politics to "save her country" were true). When Ramphele eventually puts her political cards on the table, expect both these perspectives to be ramped up even higher, in our ever-shrieky political landscape.
Part of why Ramphele commands this polarised fervour already, despite the fact that her political career is only hypothetical at present, may be that many people don't actually seem to know very much about her. Of course, the biographical details of her life – the activism, the Biko relationship, the academic career and UCT vice-chancellorship – are on record. But the question of what exactly Ramphele currently stands for, or where she might position herself on the political spectrum these days, seems much less widely understood – beyond a distinctly opposition stance to the current ANC government.
Accordingly, ever since news broke that she was contemplating an entry into politics, there's been a high degree of interest in Mamphele-issued statements that might give some clue as to what kind of a politician she might be. When Ramphele accepted the invitation to talk at this year's Mining Indaba, it's likely she didn't know that City Press would splash her potential political arrival across the headlines only two weeks previously. But given that context, it was inevitable that ears were keenly pricked when Ramphele took the stage on Wednesday morning.
Of course, Ramphele has plenty of friends in the world of mining. She sat on the board of Anglo Gold from 2006 to 2012, before announcing her resignation effective 25 July 2012, ostensibly because she "wished to concentrate her efforts on her education and societal interests". Nonetheless, she stays as non-executive director and chairwoman of the board of Gold Fields. If she was to formally enter politics, it remains to be seen whether she would divest herself of her mining attachments, as Cyril Ramaphosa did last week.
While politicians' involvement in mining is not unprecedented, mining is such a politicised industry at the moment that it's hard not to think that affiliation might become a liability. Speaking of the nexus between politics and mining, it is surely nothing short of absurd that Mining Indaba vice-president Jonathan Moore was quoted in the Cape Times on Monday as saying: "We don't have a general practice of talking about politics, including labour." Discussing mining without discussing politics or labour, particularly in the South African context, seems oxymoronic.
Ramphele, for one, didn't hold back on bringing politics into the discussion – almost immediately denouncing the use of state mining revenues that "end up funding large rural estates for presidents". It was a statement that earned her a spontaneous round of applause from the audience. Beyond financial misuse, a running theme through her address was a mistrust for the overreach of government, particularly when it comes to business.
For instance, more emphasis was placed on the need for governments to listen to corporations, than the other way round. Ramphele revealed that she doesn't like the idea that "governments are the only credible representatives of public good interests", and also finds the notion of the state as "custodian of inter-generational long-term interests of the society as a whole" to be distinctly risky.
To Ramphele, a strong private sector is key. There was certainly a sense that hers would be a business-friendly politics. She called for a private sector which "confidently voice[s] its views", and while endorsing the Mining Indaba-wide view of the importance of public-private partnerships, warned that cosying up to a power-abusing government (the ANC?) "tends to come back to haunt industry players".
At the same time, though, Ramphele called the notion that "the business of business… is to make money", both "simplistic" and "unsustainable". She didn't shy away from placing many of South Africa's health and environment issues squarely at the feet of the mining industry. Silicosis, HIV/Aids, acid mine drainage and contaminated environments were "the legacy of the extractive industry mode of mining", she said. Later, however, she paid tribute to the mining industry's development of health interventions – led by Anglo Gold Ashanti and (cough) Gold Fields.
Saying that "business as usual is no longer possible" has in recent years passed "over-used" and sped into "cliché" territory. What was refreshing about Ramphele's address, however, was that she actually proposed ideas . Admittedly, most of them seemed cribbed from her friend Gunter Pauli (a Belgian entrepreneur who wrote The Blue Economy in 2012), but she presented them plausibly and at times excitingly. Ramphele repeatedly said that South Africa needs to move away from mining as a core enterprise, towards "a clustering of mining, agriculture and manufacturing using all available resources of the mine, from land to energy and waste like rock refuse and tailings."
She was at her best when sketching out an alternative path for depressed, denuded mining towns. Here it was possible to imagine – pleasurably – a taste of the politician she might be. Ramphele wants to see places like Rustenburg turned into "buzzing" towns with "green spaces" shrouding ugly mining shafts. We can reduce the need to pipe water long distances by reforesting mining zones, Ramphele said. Natural forests can regenerate and purify water cycles. She imagines the rejuvenation of rural Eastern Cape and KwaZulu-Natal, scarred by the effects of the migrant labour system. In her vision, these provinces stop being merely the producers of labour for mines in far-off cities and become agri-business hubs.
Others of her recommendations for what mining needs to do did not differ greatly from almost uniform pledges made by mining house representatives at the Mining Indaba thus far. Respect for human rights; an emphasis on local procurement; development of community infrastructure. These latter two points were particularly emphasised by the International Finance Corporation's Bernard Sheahan later on Wednesday. Sheahan presented the development of "large-scale multi-user infrastructure", largely funded by the private sector, as key to mitigating political risk in mining.
When it comes to labour, Ramphele had criticism for both workers and unions. Their obsession with preserving existing jobs and securing annual wage raises might be short-sighted, Ramphele suggested (though it would be interesting to see her tell that to a group of enraged rock-drillers or farmworkers). Unions should be at the forefront of promoting innovation, because it is only this that holds the longterm prospect of guaranteeing sustainable jobs. Ramphele painted a picture of union leaders as remote and aloof, "perceived" to be focusing on their own gains. Furthermore, they should stop making wages their sole concern, and fight for the wider rights and living standards of workers, including housing and education.
Education is always a bugbear of Ramphele's, and Wednesday's address proved no exception. Ramphele hit out at the failure of "successive post-apartheid governments" to deliver on education. This was a more tempered critique than she has previously delivered. You may recall that in March last year, Ramphele was reported as saying that the current South African education system was providing a lower standard than under Apartheid. "Maths literacy… what is that? It's worse than the arithmetic I did under Bantu Education," Ramphele reportedly said.
When Ramphele spoke about the value of a "meritocracy", and her desire to see the promotion of "the contributions of the best talents and creativity", alert listeners may have suspected that a critique of BEE was on its way. They'd have been right. Ramphele went on to note how BEE programmes have "seduced new black elites to become part of the closed patronage system. Very few BEE deals have really achieved what they set out to do."
Ramphele has made similar remarks before. Speaking at the Discovery Leadership summit in Johannesburg in 2010, she criticised BEE's "unintended consequences, like creating a culture of compliance rather than a culture of transformation." One reason recently cited for Ramphele's refusal to join the DA has been a difference of opinion on this issue. A source told the Mail & Guardian last week, "She's very clear that BEE needs to be retained but she wants a more grassroots-focused kind of a BEE."
What, then, have we learned? For a start, Ramphele gives a helluva speech: always a plus in politics. She is clearly pro-business, but the responsible kind. She has an eye on the environment and the resuscitation of barren spaces. Education remains key. Her suggestion that workers consider foregoing immediate job retention, or wage raises, in exchange for later benefits, possibly suggests a certain tone-deafness to immediate plights, as rational as the idea might be. Simultaneously, though, she seems to have a particular preoccupation with improving the lives of rural people, often ignored by the political elite (unless they live in Nkandla). Perhaps this stems from her own upbringing: on Wednesday she spoke of her time growing up in a rural area.
Primarily, though, she has ideas: something our political space sometimes seems awfully short of. At the end of her address on Wednesday, a hand was raised from the audience. Would she start a political party, the questioner asked plainly. "I would have been very surprised if someone wasn't going to try slip that one in," Ramphele said wryly. "Wait patiently."
Written by: Rebecca Davies
Picture credit: Daily Maverick
Rebecca Davis studied at Rhodes University and Oxford University. This article was published on Daily Maverick.