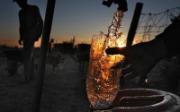 Almost 40% (36.8%) of the total municipal water supplied in South Africa is lost before it reaches municipal customers, from industry to households, according to research released by the Water Research Commission (WRC) on Wednesday.
This means the government loses an estimated R7bn every year because this water loss is not billed. It also means an estimated 1,580-million cubic metres of water is lost each year in a "water-scarce" country.
South Africa has a R2bn-a-year water infrastructure backlog, half the world's average annual rainfall, had already allocated at least 95% of its available fresh water by 2005. Of the "nonrevenue" water losses, 25.4% were "considered to be losses through physical leakage", the WRC says in the report.
Water and Environmental Affairs Minister Edna Molewa has set a target to reduce this "nonrevenue water" — water lost before it reaches a customer, through leaks, theft and metering inaccuracies — in municipalities to 15% by next year.
The WRC says this will be achievable only if billions of rand is poured into water demand management across the country.
If this money is not invested, the WRC estimates an "achievable" target of a 25% reduction within 10 years.
The study, The State of Non-Revenue Water in South Africa, is the most comprehensive of its kind to date, with data gathered from 132 municipalities throughout South Africa, representing 75% of the total volume of municipal water supply.
There are eight metropolitan municipalities, 44 district municipalities and 226 local municipalities in South Africa.
The report reveals that South Africa's water losses, while high in comparison to the developed world and low compared with the developing world, are in tune with the global average of 36.6%.
Municipalities are "in crisis management mode" and the lack of information available from more than half showed these municipalities "are not even aware they have a problem", says research leader Ronnie McKenzie.
WRC water use and waste management executive manager Jay Bhagwan says 61% of South Africa's municipalities have poor record keeping (18%), "worthless records" (30%) or no records (13%).
"We have a growing challenge. If it is not dealt with now in a systematic and incremental manner towards improvement, then the consequences will be great and disastrous," he says.
Mr Bhagwan says these consequences will start when water infrastructure deteriorates to the point that the government is faced with having to replace it instead of repair it and maintain it. Replacement will be "much more expensive".
Without repair and maintenance, or replacement, the pressure on the government to provide more water to consumers will ratchet up, but South Africa's water resources were already at their limits, he says.
Although he does not say so, the WRC has already done research that links water shortages to the continuing phenomenon of "public service protest", and water expert Anthony Turton has repeatedly warned that water shortages will have political consequences, most notably social unrest.
Early this month Business Day reported that water shortages plagued the northern half of the country, from Mafikeng in the North West to Nelspruit in Mpumalanga and Brandfort in the Free State. Experts pinned this on the lack of maintenance.
Department of Water Affairs spokesman Mava Scott says the department is "working closely" with municipalities to "urgently address these challenges", which include water quality concerns, and the department's rapid response unit has been dispatched to the affected areas. Progress is being made, Mr Scott says.
"In areas where issues of inadequate infrastructure have been identified, officials are undertaking upgrade and repair work; in others, the recent excessive heat ... (has) led to the reservoirs drying up and thus affecting water availability and supply," he says.
Mr McKenzie says many municipalities lack "even the most basic bulk meter readings", which means they "do not know they have a problem".
However, he says it is "reassuring to note" there has been a dedicated effort to provide safe drinking water to outlying areas that have previously not had access to water.
It is this focus on increasing access to water services that experts have blamed for the maintenance crisis. The percentage of the population with access to an improved water supply source has risen from 83% in 1990 to 91% in 2008, but this access is becoming meaningless in a variety of places due to compromised water quality and intermittent supply caused by poor maintenance. Ms Molewa has admitted that up to 25% of people who have access to a tap do not have an "acceptable level" of service.
Mr McKenzie says it is "pleasing to note that large metros and most of the large cities and towns are now monitoring their water use and trying to establish a proper and reliable water balance in line with international recommendations. Progress in this regard is certainly being made."
The Centre for Environmental Rights, in a blog written for Water Week this week, says "some good news" is that the draft second National Water Resource Strategy "has encouraged networking and co-ordination amongst civil society and community groups ... also incorporating detailed comments on water governance and regulation prepared by the Centre for Environmental Rights. Despite lack of planning and logistical challenges, the Department of Water Affairs has, to its credit, been open to engagement from civil society on the (strategy)."
Department spokeswoman Linda Page says the department has consolidated reports from the provinces and "inputs" from public hearings.
The final document is being drafted and is expected to be presented to Ms Molewa by mid-April and to the Cabinet in June.
Written by: Sue Blaine
Picture credit: Business Day Live
This article was published on Business Day Live.