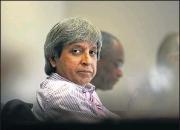 Adam Habib has ambitious plans to turn Wits university into the leading academic institution on the African continent, writes Nechama Brodie
'The issue is simple. It is crucial that I be willing to account for every single cent'
I'VE got CNBC or NBC at 4," Professor Adam Habib says, apologising for being late and pre-emptively apologising for having to end our interview early.
Habib, who officially assumes the role of vice-chancellor of the University of the Witwatersrand in June, appears to be unfazed by the current frenzy of media attention focused on the institution. He talks about his plans with confidence and incredible speed, a standard Habib trait.
Habib says he made the decision to "throw [his] hat in the ring for Wits" for several reasons: "Wits has incredible promise but at the same time a tragic lack of realisation of that promise."
He has no desire "to write a new plan. Frankly I think we've got too many plans".
He broadly supports Wits's existing Vision 2022, a strategic framework plan which, he explains, looks at how the university can "become a link between the global and the local, and make our conversation heard in the global [context]".
"My great project," he says, "is to have a world-class institute located in the African continent."
To do this, he says, Wits will need to become a post-graduate institution. Currently around 32% of students are post-grads; this will increase to around 50%, which, Habib says, will differentiate Wits.
A second focus is on research. "We can't build a post-graduate [culture] unless we build research output," Habib says, "both in quality — where Wits is very high — and quantity, which is where maybe we could do better."
Third, Habib says Wits needs to "become an institution that takes the best but doesn't simply become the preserve of the rich".
Wits must "[provide] hope for a student who is immersed in povertystricken circumstances and say 'You also have a space in our environment, and we will move heaven and hell to give you access' ".
Finally, Wits has to become a "happy place", where "people at least look forward to coming. If you don't create that kind of collective vision you're never going to be able to achieve any of the first three".
To apply this vision will mean making "hard choices". Driving research output requires decisiveness.
"Do we put investment into support or into academic programmes? Do we fund research centres or achieve a better balance between research centres and research incentives?"
Wits has launched six "new 21stcentury research institutes", each one of them "multidisciplinary and [confronting] global challenges".
But to drive quantity, incentives are needed in the form of additional research "carrots" and subsidies. Currently, for every research output at Wits, a subsidy of R10 000 is received.
"The University of Johannesburg gives R30 000," Habib says. "Should we match it?"
Another critical issue is how to "prepare students to pass". Habib says programmes need to be put in place to enable people to perform better at a higher education level, but in a way that doesn't become "ghettoised" — that doesn't mean "poor black students land up doing some development programme nobody wants to do".
Habib hopes to implement systems that "red flag" students who fail to perform in the first quarter, or repeat poor performance in the second.
Habib also wants to supplement the existing vice-chancellor scholarship programme with the vice-chancellor equality scholarships that will go to "the best of the best in quintile one and two schools [the poorest two quintiles]. Research shows that when you take the best from impoverished circumstances and equalise the playing field, they perform".
He intends to open up "millions" for "new top appointments, incredibly distinguished scholars and A-rated scientists". He says Wits will "engage robustly in the war for academic talent, globally". Habib seems buoyant about the university's ability to fund such growth. Wits gets the highest percentage of income from private research of any university in South Africa.
It's almost impossible to sit with Habib and not buy into his promises to implement, well, everything. He is forceful, convincing; a man of many words.
But he's also out to show he can and will take action, as he's attempting to do in response to the widely publicised cases of alleged sexual harassment on campus.
"We do have a challenge. A challenge in Wits University and a challenge in South African society as a whole. Wits is very much a microcosm of our society. That's not an excuse," he says, "it's an understanding of where we are at."
An independent inquiry has been initiated together with a "massive review of all processes and structures, to see if we are sufficiently responsive to sexual harassment. We've moved quickly. Could we do better? Obviously. We can learn, but we are taking it very seriously and are going to act".
Habib has also welcomed — initiated, even — public questioning of the costs involved in the proposed R9-million renovations of the official vice-chancellor's residence, a heritage property in Parktown.
"The issue is very simple. It is absolutely crucial that this public institution be accountable, and it is crucial that I be willing to account for every single cent. And if that means I am put through a little bit of inconvenience, then so be it. My inconvenience is far smaller than the importance of this institution being accountable to the nation."
Picture credit: Sunday Times
This article was published on Sunday Times.