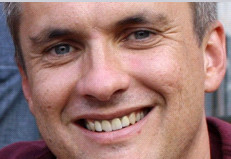 Matthew Krouse Tweet Fed up with people not knowing how incredible the City of Gold is, a keen resident decided to show them.
Our Coverage The Delushious Chrissy Teigen Cheap-cheap tuk-tuk taxis take over Jozi
Gerald Garner is the author of three books: Spaces & Places 2.0 — JoburgPlaces , Spaces & Places — Johannesburg and Johannesburg Ten Ahead , all published under his own imprint, Double G Media.
He describes himself as "a passionate Jo'burg ambassador and inner-city tour guide".
In addition to his work in the tourism and publishing fields, he is also a professional landscape architect, an environmental journalist and a scriptwriter. Garner wrote and co-produced the recent television documentary series Man Made Marvels SA. He holds a degree in landscape architecture from the University of Pretoria and a postgraduate diploma in journalism from Rhodes University.
Describe your project/production
Spaces & Places 2.0 — JoburgPlaces is a guide to Johannesburg's many surprising and unexpected gems. Most of it is focused on the mesmerising inner city. Between my book and my tours, it is my mission to show travellers (and locals!) the magic of this incredible city. My bigger project entails expanding the Spaces & Places series to include guide books to other African cities and areas. I am already working on Spaces & Places — Sandton Places . I am also dreaming about a Maputo guide and maybe a TV series too.
Tell us about the genesis of the idea
I love history and telling stories. I've always been the one who shows friends around Jo'burg when they visit. During the World Cup I showed a French journalist around. He couldn't believe how much there was to see in this city and how wrong his perception was. That was when I decided to write the first book because I was fed up with people not knowing what "Joziburg" had to offer. My tours grew organ-ically out of the books when people asked me to show them what I wrote about.
What's wrong with writers writing about Jo'burg?
Not enough of the countless and diverse stories are being told.
What's right with writers writing about Jo'burg?
They generally capture the magnetism of Jo'burg as a city of migrants.
What are you reading?
I love biographies and novels set in historically significant times. At the moment I am expanding my collection of Jo'burg-related books by reading Craig Higginson's The Landscape Painter.
Where do you like hanging out?
Anywhere in the inner city, from Braamfontein to Maboneng and everything in between. I am fond of the fashion district, little Addis and Main Street Mall in the corporate mining district.
What music are you playing in your car?
From classical to Johnny Clegg, U2, Paul Simon and Adele.
When you want to escape Jo'burg, which city or town do you like to visit?
I love the mountains of the Eastern Cape, on the border of Lesotho. My favourite village is Rhodes — picturesque, quiet and it is almost two hours by dirt road to the nearest other town!
Which part of Johannesburg do you like?
Apart from the inner city? I love the Parks. I live in Craighall Park, overlooking the Braamfontein Spruit and Delta Park — a real countryside setting in the middle of the city.
What is your favourite food?
A good meal with loads of friends, endless gourmet salads and a braai. Add fantastic wine or a few beers and I am happy. Otherwise give me prawns, a Thai curry or Indian cuisine.
What is the last film that you watched that blew you away?
James Bond — Skyfall . Incredible locations and cinematography to show off the best of London. Imagine if they shot the next James Bond movie in Jo'burg.
Wine or beer?
Beer in the afternoon with mates. But I love wine with a good meal.
Now to a cheesy question: cheese or chocolate?
Dark chocolate.
Do you watch TV and what is your favourite show?
I did renovations recently and have not yet connected my TV again. But I don't miss it at all! However, I love watching documentaries and, of course, sport.
On February 9 from 10am to 4.30pm, join Gerald Garner for an open-top bus tour that will include the Neighbourgoods food market in Braamfontein and the African market strip on the Kerk Street Mall. The tour will also visit the Fashion District and Little Addis. There will be lunch at the Fashion Café as well as drinks with a view over the city from the roof of the Reef Hotel. The cost is R450 a person. To book: gerald@joburgplaces.com
Caption: Gerald Garner: "I was fed up with people not knowing what 'Joziburg' had to offer"
Source: Mail & Guardian