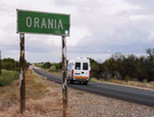 The Northern Cape Afrikaner enclave of Orania is a topic much beloved by documentary-makers and journalists. This is for one good reason: however much you might deplore the principle of cultural self-determination, Orania is fascinating.
The volkstaat has its own currency – the Ora – and the streets appear to be lined with North Korea-style billboards urging self-sufficiency. But a recent documentary, "Orania", neither satirises nor explicitly judges the Orania community. Primarily, it reveals what appears to be a suffocating sense of boredom hanging over the town.
In 2002, UK documentarist Louis Theroux, who specialises in playing a bumbling, soft-spoken Englishman exposing the absurdities of various sub-cultures, visited South Africa to tackle the topic of right-wing Afrikaners for his show Weird Weekends.
Theroux didn't go to Orania, but he travelled to another whites-only Afrikaner separatist enclave founded by one Pieter du Toit. In conversation with Du Toit's wife, Theroux establishes that she is a Lionel Richie fan, which surprises him: it seems contradictory to him that she would listen to the music of a man she would never allow in her home.
"Don't you think Lionel Richie would be upset if he saw you saying the kinds of things about?" Theroux begins.
"I think he would be, but I hope you're not going to show this to him," Du Toit's wife quickly responds.
It's a rather extraordinary moment, in a documentary which features many eyebrow-raising encounters. But if Theroux's piece is eyebrow-raising, then Orania – a 2012 documentary by German filmmaker Tobias Lindner – is almost the opposite.
With Theroux at the narrative helm, one is never in any doubt as to the product's subjectivity; he spends most of the documentary trying to persuade Afrikaner separatists that their beliefs collapse under logical scrutiny. In Lindner's film, the maker is invisible.
There is no explicit narration at all. Instead, Lindner specialises in turning his camera on to Orania residents and simply letting them talk, undisturbed, for periods which include long silences.
Some of the least compelling parts of the documentary feature members of Orania's founding family, the Boshoffs, defending the principles on which their "volkstaat" rests. Naturally, it would be impossible to make a film about a place as singular as Orania without explaining why it exists, but for South African viewers, many of the arguments will be all too familiar.
Orania, which now numbers over 800 residents, is 23 years old this year.
Their patriarch was the son-in-law of Apartheid's architect Hendrik Verwoerd, an Afrikaans theologian called Carel Boshoff who died shortly after Lindner completed his filming. (A journalist who has visited the town several times told me that the suit in which Verwoerd was shot is on display in the museum, complete with bullet holes.)
The town's stated raison d'etreis the preservation of Afrikaans culture and language, and comments made by the residents on film reveal that many still consider themselves to be in a state of siege in this regard.
"Natal is for the Zulus, the Eastern Cape, Transkei and Ciskei are for the Xhosas," Carel Boshoff patiently explains at the documentary's beginning. "Afrikaners also need to identify and concentrate themselves somewhere." What makes Orania different, his brother Adam elaborates, is its vision. "If you don't carry the ideal in your heart, then Orania will just be another pale Karoo village for you."
And indeed, aesthetically speaking, Orania comes across as substantiallyless charming than the average pale Karoo village. A sullen heat seems to hang over the place.
The voorkamers are cluttered and poky; the curtains drawn. Residents sit on their stoeps listlessly. An under-utilised community swimming pool owes its shimmering cleanliness to the efforts of its caretaker, the heroically-bearded "Pottie", who painstakingly tends to the pool's bottom each day by immersing himself fully-clothed in the water and sweeping it with a broom.
The film is loosely structured around a family moving to Orania for the first time, who have been through the necessary interview process with the town's elders to prove that their values coalesce with those of Orania's. People move to Orania, Boshoff says, not just because they hold dear the idea of an Afrikaner nation-state, but because it is so safe. (The land on which it stands is private property, bought by Boshoff and others in 1990.)
But a further purpose for Orania emerges: it appears it also functions as a kind of Boys' Town, where troubled youths from Johannesburg and elsewhere are sent to shape up.
"I didn't really want to come here," admits Christo, 17, whose family has just made the move from Zeerust in NorthWest. Christo left behind a girlfriend, and seems to spend much of his time glued to a smartphone. His parents have lodged him into a kind of boys' boarding house, where the stern master explains the house rules.
"Ons jol nie," (we don't party), he warns, showing Christo a video which serves as an introduction to the town. "Orania is nie vir sussies nie" (Orania is not for sissies), the voiceover intones.
Christo's dad has hit on an ingenious business plan for Orania, capitalising on a gap he perceives in the market: a bus service which will transport residents from Orania to the nearby town of Hopeville on a Saturday morning to do their shopping.
He is invited on to the local radio station to advertise his service. In advance, the radio show hosts explain that they will have to ask him the question on everyone's lips: Will the bus take "foreign" people? "We don't use the word 'colour'," one says.
On air, the vital question is duly asked: "I would like to know who can ride?" Christo's father has his answer ready, albeit somewhat haltingly: "If others, of foreign nations, would like to ride," he begins, they must pay for their own ticket, be sober, and speak Afrikaans.
It is the importance placed on this latter point that the Orania residents seem to present as their get-out-of-jail free card to elude accusations of racism. "We are not building a racist conflict-driven community here," Carel says.
Instead, they simply provide a place to live for "people who want space of their own culture, to conduct their own education and ensure the preservation of the Afrikaans language". If this does not happen, he warns ominously, there will only be a few words left of the language.
This apparent belief in the persecution of Afrikaans is utterly at odds with the reality of the South African linguistic situation, which shows Afrikaans thriving. Afrikaans remains the third most-spoken home language in South Africa, behind isiZulu and isiXhosa but ahead of English by some margin.
The reason for the stable position of Afrikaans in the South African language hierarchy is, of course, that vast numbers of black and coloured people speak it as a home language: more so than among the white population.
The Orania residents' insistence that it is language that provides their motivation for segregation, rather than race, is thus deeply disingenuous – however much they may use circumlocutions like "foreigners" to avoid mentioning colour.
The lie is exposed by the fact that when Christo's father's transport company fails to take off, he tells the camera that he believes he is being boycotted because he has publically stated that he will transport "others of foreign nations".
Though the people of Orania prize self-sufficiency above all other values, they cannot live entirely isolated from democratic South Africa. For one thing, the tuckshop at the pool needs stocking with Simba chips.
Accordingly, the film shows a delivery truck staffed by two black men pull up just outside the town limits to deliver the goods. They are not permitted to enter beyond the "private property" signs.
Yet one of the drivers, Hennie, reveals himself to be perfectly sanguine about this situation. "If what they are doing is their culture, it's their culture," he shrugs, though he admits to finding it all a little bit funny. "Maybe they are training soldiers there," he says, and bursts into laughter.
When Pottie the pool caretaker arrives to collect his Simba boxes, he puts on a grand show for the camera of interacting jovially with Hennie, who he calls his "old friend". They shake hands. "See, we're not mad with each other," Pottie says. "The most important thing is that we respect each other," Hennie agrees.
Judging by the film's footage, Orania seems to be suffering from a demographic hole: there are plenty of children shown, and plenty of middle-aged and elderly couples, but very few young adults.
One young couple, Boshoff's granddaughter Annabe and her fiancé Fritz, are preparing to start married life together. "Being for the Afrikaners doesn't mean you are against everything else," Annabe says softly. But Fritz also hints at another reason why a young person would choose to make Orania their home.
"You feel that with your little life, you can make a difference here," Fritz says. Elsewhere, he complains, it seems that life follows mechanical pre-plotted routes: a cubicle in an office. "Here in Orania new ground is being claimed," Fritz explains. The pioneering impulses of his forefathers clearly beat strongly within that one.
Orania is a fascinating study of a community that seems to live out of time. There are funny, oddly touching moments. At one point, the Internet goes down in the radio station's headquarters just before the weather forecast is due.
This is no problem for a people who count among their founding values the need to "stay positive" at all times. "Let's just speculate a bit about how the weather will be," the host says brightly. Unsurprisingly, they predict sunshine.
"Orania" will be screened at Cape Town's Labia Theatre on Thursday.
By: Rebecca Davis
Source: The Daily Maverick