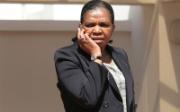 Communications Minister Dina Pule's position in the Cabinet appears to be growing more precarious, after consistent claims of corruption have been made against her.
At the same time, questions are growing about her response to these claims, and the decisions she has made in her department. And possible action by President Jacob Zuma here could have far-reaching implications for a ministry that has been in turmoil for the past decade.
When Ms Pule was promoted to this position, there were high hopes she would be able to improve its performance. Three presidents — Thabo Mbeki, Kgalema Motlanthe and Jacob Zuma — had all promised broadband internet access would become easier, faster and cheaper, and all have failed to make that a reality.
South Africa has also fallen behind in implementing international agreements in digital television technology, to the point that our analogue broadcasting spectrum will no longer receive protection by international bodies against transmissions from other countries.
But Ms Pule was almost immediately under pressure, after a series of claims, most notably in the Sunday Times newspaper, that she had behaved corruptly while organising an ICT Indaba. The main claim was that her romantic partner had received contracts, and that in effect she had channelled money through to him.
While these claims were first made over a year ago, it was only last week that she first issued a comprehensive public response. That took the form of a direct and personal attack on the three journalists who had written the original stories. She accused them of having business interests in the cellphone industry, and of being run by "handlers".
This attack appears to have been the first time since 1994 that a minister has personally attacked journalists, and it came across as desperation.
However, she did not supply details, and has refused to name the "handlers" she claims are responsible for these reports. The journalist trio were also able to comprehensively rebut her claims, with one of them claiming it was an attempt to "circumcise a mosquito".
The fact Ms Pule has not been able to properly back up her assertion that these stories are "a campaign to smear my name" weakens her claim, and has the effect of politically weakening her.
However, it is also her own actions as communications minister that could count against her. While she has given speeches indicating government is again pushing to ensure full access to broadband by 2020, in follow-up interviews she is unable to explain how exactly this will happen.
Key to broadband is the role of Telkom, which has a dominant position in the market. Questions around a comprehensive plan for the parastatal have not been resolved, and it does not appear that she has a concrete plan for the company.
On the question of digital TV, her plan involved a role for Sentech that would see it controlling some of the network transmissions. E.tv disagreed with this proposal, perhaps sensing it could allow a government entity to control the e.tv signal. As a result it went to court, and won. But Ms Pule appealed, and then dropped her appeal. This had the effect of delaying the start of digital broadcasts. It also has a knock-on effect on wireless broadband, as the spectrum currently used by analogue TV broadcasts can be used for broadband signals.
Mr Zuma does not have a reputation for acting decisively against failing ministers. However, he has in the past used the tactics of making several big announcements at the same time, in a way that limit the amount of news exposure given to each one. Ms Pule may have strong reason to fear his next official press conference.
Written by: Stephen Grootes
Picture credit: Business Day
• Grootes is an Eyewitness News Reporter. This article was published on Business Day.