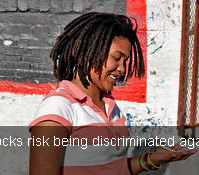 Activists cite dreadlock case as the latest example of government's lack of clear direction to schools.
Our Coverage Schools defend right to exclude pregnant pupils Another school in court over admissions Angies new school norms a slap in the face
The alleged suspension of a Western Cape pupil for wearing Rastafarian dreadlocks is the latest in a string of incidents in which pupils' rights have been infringed by individual school policies or by school principals acting on their own accord.
Rights activists say this controversy highlights the desperate need for the basic education department to provide clearer direction, including binding regulations, on school infrastructure, schoolgirl pregnancy, school uniforms and school admissions.
Without this, many schools will carry on operating in the grey areas left by a lack of guidance from the top and thousands of pupils' rights remain at risk.
"The principal told me I no longer belong to the school because of my dreadlocks," said grade 10 pupil Sikhokele Diniso of the Siphamandla High School in Khayelitsha.
He has not been at school since March 14.
"The principal told me I could come back if I cut my dreadlocks but I told him it was part of my religion. This makes me feel bad. I have a right to be at school."
But the Western Cape education department denied the school had suspended Diniso.
"The principal asked the learner to bring his parents to the school so that they could discuss the matter," the department's spokesperson, Paddy Attwell, said.
"[They all] agreed that their son should clean, comb and tie his hair. Apparently, the boy did not want to do this. Our district director will ensure that there is nothing to prevent the learner from returning to school on Monday."
Disrespect

Lisa Draga, an attorney at the non-governmental organisation Equal Education Law Centre, said the principal's actions amounted to disrespect for Diniso's right to freedom of religion, equality and a basic education.
The South African Human Rights Commission said it was investigating the matter.
"We have written to the Western Cape education department and are waiting for a response," its chief executive, Kayum Ahmed, said.
This is not the first time a pupil has allegedly been suspended from school for wearing dreadlocks.
In February, Equal Education wrote to the Western Cape education department about discrimination against Rastafarian pupils at other schools in Khayelitsha.
Equal Education was concerned "that schools in general remain unaware of how they should respond to issues of cultural and religious rights when determining … learner dress codes".
Knowing the policies
It asked the department what steps it had taken to ensure schools knew what "relevant statutory and policy framework" existed around this.
In 2010, the Mail & Guardian reported that papers were filed at the Equality Court about a Rastafarian pupil in the Free State who was expelled because of her dreadlocks.
The school readmitted the pupil and the matter was dropped from the court roll after the school agreed it would amend its code of conduct to accommodate religious diversity, the human rights commission, which represented the pupil, said.
The commission was not satisfied with the revised code of conduct and requested in February that it be amended.
For Draga, these cases illustrate a broader problem in education. "It's government's failure to ensure that sufficient direction is given to schools and principals so that pupils' rights are not inadvertently or blatantly compromised," she said.
The battle over individual schools' policies for admissions, for instance, has also gone to court , with two separate cases involving Gauteng schools awaiting court dates.
One of the schools refused to admit pupils because they didn't speak Afrikaans. The other said it was already full and could not admit even one more pupil.
Activists have asked the courts to decide who has the ultimate power to determine admissions — schools or provincial departments.
Inadequate direction
Infrastructure remains another key instance of inadequate direction from the top. After a two-year campaign, including court action, Equal Education in November won its first major battle to get Basic Education Minister Angie Motshekga to publish norms and standards for school infrastructure.
Without them, provincial education departments have no specific, binding regulations according to which they must build and maintain schools. As a result, thousands of pupils are in schools with no toilets, electricity or water, or in unsafe classrooms, Equal Education says.
In January, Motshekga published a draft of the norms, which the organisation said was totally inadequate . It has threatened to go back to court to secure the norms pupils deserve.
Diniso's case has stirred up controversy because the basic education department's national guidelines on school uniforms say: "A school uniform policy or dress code should take into account religious and cultural diversity within the community served by the school."
But human rights lawyer Fara­naaz Veriava said the guidelines were not good enough. "Binding regulations will make it easier to enforce constitutional norms on schools."
The basic education department had not responded to questions at the time of going to press.
Draga said: "When the department abdicates its responsibility for ensuring that there is a proper respect for learners' rights it amounts to turning a blind eye to ongoing violations."
Photo by: David Harrison
Photo Caption: Lock out: Rastafarians with dreadlocks risk being discriminated against at school.
By Victoria John
Victoria studied journalism, specialising in photojournalism, at Rhodes University from 2004 to 2007.
Source: Mail & Guardian