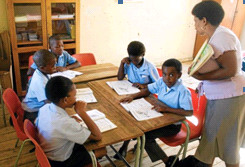 Education research doesn't inform policy enough, but a new umbrella body has plans to change that.
Is it possible for there to be one umbrella body that can unite South African research organisations, which have vastly different and racialised roots in pre-1994 academic practices?
Yes, says Shireen Motala, president of the newly launched South African Education Research Association, exuding confidence about the organisation's ambitious aims.
The association was launched in January, at a conference in Limpopo that drew more than 100 local and foreign academics. Motala, director of the University of Johannesburg's postgraduate centre for research and innovation, was elected president of the new body.
"In a developing country context like South Africa research can't be there just for research's sake," Motala told the Mail & Guardian. "Research has to meet some of the national priorities, some of the key developmental strategies, like the training of teachers.
"The vision of the association is to have an agenda that promotes academic excellence, on the one hand, but at the same time also promotes social relevance."
Motala will head an executive committee of 13 academics whose task now is to get the education research association up and running within a year. The committee includes the University of Stellenbosch's Aslam Fataar as deputy president; the University of the Witwatersrand's Hamsa Venkat and Nazir Carrim; the University of KwaZulu-Natal's Pholoho Morojele and Volker Wedekind; and University of South Africa academics Vusi Mncube, Kitch Semuli and Eldrie Gouws.
South Africa has eight separate education research associations. The umbrella body was created after a "long-time discussion among education researchers about a need for a national umbrella organisation", Motala said. The influence of academic research on public policy must be increased, she said.
"Education, which is one of the biggest crises in the country, is clearly one area where one can link theory about teachers to actually influencing and informing the practice on the ground. That's one of the important directions the association should follow," said Motala.
"If you look at where we are in education, even if you look at what the president signalled in his State of the Nation address, it's absolutely clear that we have very important research being done in South Africa, but the way in which it is actually informing practice is very limited."
At the January conference, it was evident that there is indeed a range of research that addresses problems bedevilling public basic education — teacher education, language, literacy and numeracy, and democracy in education.
Mncube's paper, for instance, considered ways of rooting out violence in schools. He found that corporal punishment and bullying are some of the factors that perpetuated the cycle of violence in schools.
"In one school in Newcastle [KwaZulu-Natal] a principal beat a teacher, in front of other teachers, for being late," Mncube told delegates.
Mncube said he aims to take his research to districts this year. "Teachers complain there's no alternative to corporal punishment. I believe there's an alternative: better-managed schools," he said.
But how will the association ensure that the large quantities of research being produced at local universities will contribute to policy? Motala said: "Certainly, we'll talk to the departments of higher education and training and of basic education to contribute to what they do."
The association should also work on encouraging "many more young people to become excellent researchers", she said. "There's a lot of discussion in academia at the moment about the ageing academic corps. When you talk about academics, many of them are white males in their 60s. We're not seeing enough young people joining the profession."
The burning issue among the country's education researchers concerns the future of existing research associations. These include the Education Association of South Africa, the Southern African Comparative and History of Education Society and the Kenton Education Association.
Some academics at the conference felt strongly that the organisations should close shop, mainly for reasons related to academic segregation during apartheid.
"We need to take a giant leap," University of KwaZulu-Natal Siphiwe Mthimkhulu, said to loud applause. "We need to give the new executive [a mandate] to say ... we want to see the old organisations closing down. I don't think this organisation will flourish if the others continue to exist."
Education for change: The newly formed South African Education Research Association discussed problems in public basic education such as teacher education and literacy at its inaugural conference in January
By Bongani Nkosi
Source: Mail & Guardian