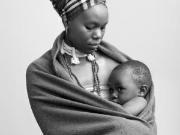 South Africa returns to the contemporary art exhibition, the Venice Biennale, with something of a reintroduction this year, with 17 artists, a long-term commitment from government and an actual curatorial vision, writes Theresa Smith
OSTRACISED for decades because of apartheid, we made a return to the Venice Biennale in 1993, but our presence has been spotty and fraught with controversy around choices and intent.
Minister of Arts and Culture, Paul Mashatile's decision in February to appoint the National Arts Festival (NAF) as project manager to stage the South African exhibition gave Brenton Maart a chance to curate the exhibition.
The writer/curator immediately stepped into hot water when the first tranche of exhibiting artists were announced, incomplete, with no black female artists.
A NAF artistic committee member, Maart was the focal point of much online criticism ranging from completely valid to vitriolic.
"It's been a fraught process because of the time frame," said Maart philosophically.
In the space of six months the organisers have done what most other countries take two years to do, and a second announcement of names mollified critics somewhat.
Using some of NAF's guiding principles of looking for works that focus on the integration of various forms of artistic production, representativeness and responses to socio-political conditions, the NAF visual arts committee set up an ad hoc committee to develop the concept of the exhibition, titled Imaginary Fact – Contemporary South African Art and the Archive.
Maart, NAF artistic committee chairman Jay Pather, artistic director Brett Bailey, artist/ researcher Nomusa Makhubu and head of the department of fine arts at Rhodes University, Dominic Thorburn, sat on the committee that approached specific artists who worked within this theme.
Tracking down an array of artists spanning beginners to very experienced proved difficult as only a handful have professional representation at galleries.
"There are very few commercial galleries, and those represent very few artists, so you find that a small sector of the visual arts sector is well organised whereas the rest do not have the same kind of support structure. So with the initial list, galleries gave the info we needed, but when we got down to who we 'should' have in the show… that's when we got the second round."
Maart and 14 of the artists leave for Venice by the end of the week to mount the exhibition and then take part in a series of networking meetings and openings.
But, the exhibition is not just about giving artists exposure to new markets.
"Because it's part of our re-introduction back in to the Venice Biennale, which is a massive international art scene, we thought what we needed to do was to show what South Africans have been up to over the past 10, 15 years. What we've been doing is developing quite a strong new art movement in South Africa, which is a focus on art history and aspects of the past."
While most countries use one or two artists, South Africa is drawing on 17, which, Maart admits, is a lot, but justifies it by bringing up curatorial intention.
"Normally, if you have a one-person show there's a kind of balance between what the curator wants and what the artist does. Because the curatorial intention was so clear we knew what kind of work we wanted."
Primarily what he wants to show is the new movement emerging in South African contemporary art: "That new movement is a renewed focus on records of the past. South Africa's contemporary visual arts has been through massive changes over the past 20 years and now we're at a point where we can identify this focus on history and products of history as a very specific new definable art movement.
"It's an art movement you find in a lot of countries classified as 'other'. Africa, South America, the Far East, in countries from those three continents you find a very strong movement in this field.
"Because there's been such a rapid shift in these countries, people feel out of breath and feel swept up in the rapid changes the countries are going through. So, what they want to do, certainly in South Africa, is slow things down a little bit and just look at where we come from and what the evidence of the past shows and what it can tell us about what we do now."
He's keen to move away from the overwhelming Western European influence of apartheid government archives and show that they do contain missing archives and other stories.
"For me, the driving force behind visual arts is that of perspective, how different people can look at the same thing and see totally different things or, depending on the position you're standing at, things appear different."
Maart also sees South African artwork being back on this level of the international art scene as a potential nation building activity, much like heavily funded sports such as rugby and cricket.
"Sport is heavily funded in this country because it is perceived as a viable nation building activity, but you can only do that if you're playing on the international field, you're not going to have the same kind of support if you localise your activity within the country."
Similarly with any other cultural activity.
"The people who have made it really big in culture in South Africa are people who may have started here, but have gone elsewhere. I believe it can work in any arena."
He strongly feels that one way to boost arts funding in this country is to develop a major movement behind it, "in this country and abroad and there's no better way to develop a major interest than to have this fantastic show that the international arts scene sees... the footfall of Venice is phenomenal".
What you can see:
The 55th Biennale di Venezia starts on June 1 and runs until November 24. The title chosen by exhibition director Massimiliano Gioni for the event is Il Palazzo Enciclopedico/ The Encyclopaedic Palace.
The South African exhibition is curated by the National Arts Festival and, titled Imaginary Fact – Contemporary South African Art and the Archive, it is housed on the first level of the Sale D'Armie building in the Arsenale.
It is 185m2 with "careful and clever dry-walling" to create a series of interleading galleries.
"So you only ever see one work at time, which was necessary because the works are so diverse, within various media," explained curator Brenton Maart. "The audio will animate the other spaces."
In addition to the indoor exhibition, Athi-Patra Ruga, Donna Kukama and Nelisiwe Xaba will mount public performances in Venice.
Kukama will adapt an existing work, while Ruga will present the latest incarnation of The White Women of Azania with four performers sourced from Venice and Xaba will perform an extension of her Saartjie Baartman project, titled Venus in Venice.
The other artists are:
Andrew Putter: Native Work is a series of black-and-white portraits of contemporary black South Africans in traditional costume in a critique of subjects typically viewed by white South Africans as primitive contrasted with a second series of images in which those subjects dress themselves for a formal colour portrait.
Cameron Platter: His medium quotes the complex history of access, his content reflects a younger generation with new and evolving artistic concerns and his work critiques contemporary South African popular culture.
David Koloane: The Journey is a series of drawings narrating Steve Biko's capture, interrogation, detention, death and autopsy.
Gerhard Marx, Maja Marx, Philip Miller: using the source material from their theatre production Rewind: A Cantata for Voice, Tape and Testimony, the artists will recall the Truth and Reconciliation Commission by creating an installation of seven films with audio.
James Webb: will translate and transform T.Rex's 1972 glam rock hit Children of the Revolution into a South African protest song for choir.
Joanne Bloch: explores the slippery issue of value in relation to archival object collections, in Hoard.
Johannes Phokela: His oil on canvas paintings put African figures, faces and objects in familiar European settings to contest allegory in history, reassign meaning and rebrand contemporary hindsight.
Penny Siopis: Makes further commentary on the rules of belonging in her single-channel digital video, Obscure White Messenger, about Dimitri Tsafendas, the man behind the 1966 assassination of then-prime minister Hendrik Verwoerd.
Sam Nhlengethwa: His 30 photolithographs revisit the 1950s and 1960s, reworking images of what affected peoples lives back then in
the townships.
Sue Williamson: By law, every black South African had to carry a passbook under apartheid, ready for inspection on demand – an indignity poignantly expressed with For Thirty Years Next to His Heart.
Wim Botha: Uses books to create sculptures which challenge the framed history of the very books they are comprised of.
Zanele Muholi: The photographer/ visual activist will show her body of work to date.
Picture credit: http://www.iol.co.za