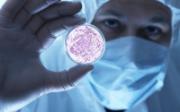 SA needs to start branding its science and research. While SA's development budget is very small, with little money to spare, it is becoming increasingly important to advertise what higher education and research councils are doing. Our science system is doing great work, but taxpayers, young people and the private sector have little idea of the opportunities available in science and technology.
Late last year, the Department of Science and Technology allocated an additional R800m to human capital development, which went unreported in most newspapers.
The need to market our science was my prevailing thought after a week in Germany, looking at its research and science. Initially, it was very disheartening to see a science system that works so well, mentally comparing it to what we are doing in SA.
In Germany, 3.64% of the country's $3.57-trillion gross domestic product (GDP) goes towards research and development; there is a 99% literacy rate and about 2.2-million students at university; and hundreds of universities and research institutions.
SA spends 0.92% of its $408.24bn GDP on research and development; it has a literacy rate of about 89%; 23 higher education institutions and a handful of research councils.
However, after about two days of wishing we had a system like Germany's, I realised there are a number of similarities, and the main difference — aside from money and size — is that SA does not market its research.
The co-ordinator for communications and development at the Einstein Foundation, Christian Martin, highlighted the importance of branding. Headquartered in Berlin, the foundation funds science and research, with researchers bearing the title of Einstein research fellow. With a staff of five people, it disburses about €15m a year, and has an endowment of €5m.
Asked why not rather give the money to the German Research Foundation to allocate instead of creating another foundation, Martin says: "It is mainly to increase international visibility. It adds to the reputation of Berlin as a science destination, and of research." The long-term goal is to attract money from the private sector, and this increases visibility, he says.
Now, compare this to the additional R800m allocated to human capital development in SA. I imagine that it did not feature on news diaries because it is not "sexy" — it was a government department pumping money into a government agency, doing a job it has been promising to do for years.
But imagine, instead, if a hypothetical Mapungubwe Foundation provided funding for a certain number of postgraduates and young researchers.
All of a sudden, you dramatically increase your chances of being published in a newspaper and broadcast on TV or radio. The visibility of science is increased.
The same could be said about the National Research Foundation's (NRF's) centres of excellence and research chairs, which are changing the South African research and teaching landscape. But the reality is that most people do not know about them.
When I mentioned this idea to a senior official in the Department of Science and Technology, he said there was so little money in the system that they did not want to waste it.
That is fair enough, but there is a difference between marketing to hide that you are doing very little work, and advertising some of the great work you are doing.
Gansen Pillay, deputy CEO for research and innovation support and advancement at the NRF, admits that "this is something we do poorly. The research chairs initiative should be a brand that is known internationally…. We need to be more in your face."
But "it doesn't take a lot of money — it just takes good ideas", he says.
SA's science and research space has a number of constraints and problems but, as Stephen Hase-Bergen, with the communications and marketing division of the German Academic Exchange Service, says: "If you have a good programme, you need to talk about it and make it known."
Written by: Sarah Wild
Picture Credit: www.businessdaylive.co.za