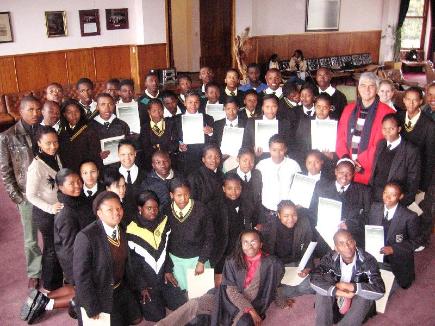 Eastern Cape remains short of thousands of teachers, arguing it does not have money to pay them, yet 9 000 teachers have not shown up for work in three years but have continued drawing salaries.

The result: pupils in the province sit outside classrooms instead of being taught or crowd into classrooms for lessons with as many as 152 other pupils.

Thousands went without teaching for most of the first term.

Lawyer Sarah Sephton, of the Legal Resources Centre in Grahamstown, said yesterday that correspondence from the shambolic provincial education department showed 9 000 staff on the payroll had either been on "sick leave" for 36 months or were dead.

Repeated attempts to get comment from both the provincial and national education departments were unsuccessful.

Earlier this month, provincial education spokesman Loyiso Pulumani said a team of medical practitioners had been set up to assess the "sick" teachers.

Schools are short not only of teachers but also support staff.

Since 2005 cleaners, secretaries and ground staff who resigned have not been replaced, leaving some boarding schools without security guards or caterers and many schools without secretaries.

The Legal Resources Centre and the Centre for Applied Legal Studies yesterday filed court papers to show that Minister of Education Angie Motshekga was in breach of an August court order, having failed to hire the 7 000 support staff, who include therapists at schools for children with special needs.

If she does not explain her failure in the next five days, the minister could be in contempt of court.

Wealthier government schools are paying teachers from school governing body funds.

But money is running out. The president of the National And Professional Teachers' Organisation of South Africa, Basil Manuel, said even former Model C schools were struggling to pay teachers' salaries they had not budgeted for.

"The Eastern Cape leaves one with a sense of hopelessness and depression," said Manuel.

Parents had marched this year in both rural areas and cities to demand teachers, he said. "But nothing changes." In fact, Motshekga announced last week that a national department team deployed in March 2011 to sort out the education mess would no longer be administrating Eastern Cape.

The province remains the worstperforming in education, with only about 61% of all matrics passing the national exams last year.

About 97% of its schools have no libraries and 96% are without computer centres, according to advocacy group Equal Education.

"Textbook delivery is also a problem", said Lawrence Mostert, a governing body member of two schools in Uitenhage.

The town is one of the hardest hit as the poorer schools cannot afford to hire staff.

About 25 schools in the district are short of 90 teachers.

After a second round of court action in March, in which Motshekga was ordered to provide 140 teachers to the Uitenhage area, the department provided 21.

The department is also facing claims of R21-million from schools that paid teachers last year from governing body funds and from teachers who worked for nothing.

This article was published on Sunday Times.