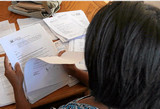 For 10 years the Eastern Cape has failed to deal adequately with sick teachers and vacant posts.
Our Coverage Unpaid teachers plead for salaries Uphill battle to fill teaching niche Eastern Cape schools win deal to fill teacher posts
Almost 5 000 Eastern Cape teachers are staying home for years on end, booked off sick. They are collecting a monthly salary. They can't be fired. They are in bureaucratic limbo.
Once a permanent teacher is medically boarded — an arduous administrative process — their positions may then be filled, and they may be able to retain some employment benefits.
But sick teachers who have not been medically boarded are just one face of the monster of vacant teacher posts that has wreaked havoc with the lives of thousands of pupils for a decade (see "Union also to blame for 'hot mess' of unfilled teaching posts")
According to a departmental memorandum sent to all schools on March 7, there are 4 814 cases related to ­incapacity leave.
Two teachers at Alphendale Secondary School in East London have been on sick leave for eight years. One of them, an Afrikaans teacher, sat at her dining room table and cried. "This is so embarrassing," she said last week, asking me not to publish her name. "These mental ­problems and stuff."
In 2005 she had a nervous breakdown at school and walked out of her classroom. She was later diagnosed with bipolar disorder.
In letters to the department her doctor has written that "she cannot cope with household chores, let alone teach in front of a classroom".
Lost forms
She said she had submitted the more than 50-page application for medical boarding to the department many times over the past eight years "sometimes five or six times in a year ... but it kept losing my forms".
While following up on her case one day at the local departmental office, she asked an official if she could see the book that records which forms are sent to other offices. "He told me: 'You think you're a clever one, ne?'"
She covered her face with her hand and started to cry again. It was 2pm and her dogs were barking at the schoolchildren walking home past her gate in Buffalo Flats.
In another example of severe maladministration, the department sent her a letter in 2010 saying her most recent application had been unsuccessful. But she only actually heard about the letter in 2012, so for two years she carried on applying to be boarded.
The same year she was also told by an official that since 2005 the department had received only two forms from her.
"Two forms? After all this?" she says, motioning towards the neatly stacked piles of paperwork on the dining-room table.
An empty teacher's post for eight years
While the battle to be boarded continues, her position at the school remains unfilled.
In its memorandum the department said there were 8 825 teacher vacancies and 6 781 excess teachers, although a court document the department submitted this month said there were 3 704 excess teachers.
More than 2 000 of these vacancies are filled by temporary teachers , according to the document.
The middle-aged Alphendale teacher feels "so bad for taking up a position without working in it".
"I just want this to be finished so I know where I stand because while this is happening, I can't work as a teacher, but I also can't even do something small like on days when I am feeling well."
The school's principal, Clive Prince, said: "The day these two teachers are medically boarded is the day I will hand in my resignation. I'm so tired of this, but I won't stop until it is fixed."
While these posts remain "filled" in the department's eyes, the rest of the teachers have to pick up the slack left by their actual emptiness. The workload this creates for them is ­"unbearable", Prince said.
Sick and tired: Alphendale principal Clive Prince says the unfilled posts exacerbate an already severe teacher shortage
One of his teachers is teaching 403 grade 9 pupils. "Can you imagine how much marking she has to do?"
Even without these two vacancies, the school would be short of teachers. This year, there are 1 317 pupils and 45 teachers.
"To give you a comparison. In 1989 there were 823 pupils and 76 teachers," Prince said. "The teachers just burn out. They get stress-induced health problems."
There were seven teachers absent from school on the day I visit. The other teachers' timetables were so full they did not have free periods to supervise the teacherless classes without teachers.
A different school has a teacher who has been on sick leave for eight years. His voice is barely audible at the other end of the phoneline. Parkinson's disease has ravaged his nervous system, leaving him unable to walk without balancing against the wall, his daughter told me later, and unable to talk properly.
All the proof at his fingertips
"I cannot even sign my own name. How must I teach maths to a classroom of children?" he said, asking to be kept anonymous to preserve his privacy. He has been applying to be medically boarded for seven years. In that time, he said, "there has hardly been any correspondence from the department".
He found out, however, that his application was unsuccessful because he had allegedly not consulted a specialist doctor, even though he has submitted specialists' letters since 2006 to prove it.
When his words became so muddled that whole sentences were incomprehensible I spoke to his daughter. The 27-year-old, who is her father's primary caregiver, said departmental officials who had visited him on many occasions had seen her father's condition for themselves.
But every month he collects a salary and every month his teaching post remains empty.
The department did not reply to the Mail & Guardian 's questions
Union also to blame for 'hot mess' of unfilled teaching posts
The reasons for Eastern Cape pupils sitting in classrooms without teachers are historical and murky. For 10 years the department has failed to fill the number of posts it has said it would in public documents sent each year to all schools.
As demographics change, so do the needs of schools. Certain teachers become redundant at some schools when pupil numbers drop, for example.
There are 6 781 of these excess teachers in the Eastern Cape, according to departmental documents. The province has about 65 000 teachers in total.
In 2003, the department and unions signed a collective agreement that stipulated what process to follow when moving these teachers. "But since then, hardly any excess teachers have been moved to where they are needed," said Legal Resources Centre regional director Sarah Sephton.
The South African Democratic Teachers Union (Sadtu) is partly to blame for the problem because it has been telling teachers not to move. According to Mncekeleli Ndongeni, Sadtu's provincial secretary, the department is not following the correct processes, a claim Sephton thinks is "unfounded".
The department this year obtained a court order interdicting the union from preventing teachers from moving. But still, excess teachers remain where they are not needed, and the vacancies go unfilled because the the department says it does not have the money to fill the thousands of posts by employing more teachers.
But the excess teachers are the department's employees, not Sadtu's. So, why is the department not moving its employees to where they are needed? If the teachers do not co-operate, surely they should face insubordination charges?
The politics around the department's seeming reluctance to take firm action over excess teachers is a "hot mess and a mammoth hindrance", Sephton said, something even departmental head Mthunywa Ngonzo admits.
"The root of the problem," he said in recent court documents, lies in "the respondents [including the department] being hamstrung by … the unions".
Unfortunately, Sephton said, the department appeared "to put its relationship with the unions above the needs of children, leaving thousands without teachers".
Lawyers turn up the heat
The Legal Resources Centre played a card last week that has probably never been played before in the history of education litigation in South Africa.
Following years of court action over vacant teacher posts, it asked the Grahamstown High Court to attach the state's resources if a group of 24 struggling temporary teachers, who have not been paid for months, are not paid within five days of a successful court order. The matter is due to be heard on Friday May 24.
Last year the centre asked the same court to order the department to fill the thousands of vacancies with permanent teachers. It submitted papers detailing schools that in some cases had more than 20 vacancies. Other schools had paid millions from their own funds to pay temporary teachers while waiting for the department to appoint permanent ones.
The court ruled in the schools' favour, but the department has not implemented this order, said Sarah Sephton, the regional director of the Legal Resources Centre. It was against this backdrop that the centre changed tack in its most recent case.
"We've seen that even when we win cases, the department doesn't listen to what the court orders," she said. "We have to get serious if these teachers are going to get paid. Thankfully it looks like they will be getting their money before the court date."
By Victoria John
Victoria studied journalism, specialising in photojournalism, at Rhodes University from 2004 to 2007. Read more from Victoria John Twitter: @Victoria_JohnMG
Source: Mail & Guardian