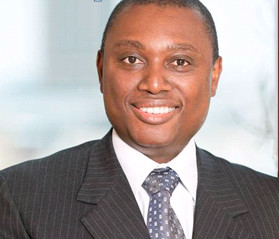 Although most of the focus at the Brics summit naturally fell on whatever the leaders of China, Russia, Brazil, India and South Africa had been saying about that Brics bank of the future, there were other opportunities to learn interesting things that were not part of those group photo opps and the leaders' anodyne joint statements.
One of South Africa's key new-generation business leaders, Sim Tshabalala (recently appointed co-CEO of Standard Bank Group), spoke with the Daily Maverick's J BROOKS SPECTOR on the fringes of the summit.
In his comments, Tshabalala spoke enthusiastically, even passionately, about the challenges of his new position, his bank's role in an increasingly internationalised business universe, Standard Bank's relationship to its big Chinese shareholder and the possibilities and pitfalls evolving out of the new Brics initiatives.
Simpiwe "Sim" Tshabalala became joint chief executive of Standard Bank Group and chief Executive of the Standard Bank of South Africa – sharing the tasks with Ben Kruger – only a few weeks ago, after having worked for the bank for 13 years. Tshabalala first worked in the bank's structured finance division but steadily rose through the ranks, becoming group deputy chief executive in 2009, before his most recent vault to his shared position at the top of the heap.
Earlier, Tshabalala had studied law at Rhodes and Notre Dame universities, as well as further academic studies at Wits and Harvard University, although Sacred Heart College was his first rung up the ladder of success.
In our conversation, Tshabalala demurs over the idea that the only real purpose of this Brics meeting was to launch their highly publicised bank. Tshabalala instead offers that "the characterisation of the meeting being solely focused on finance is not fair, it's not consistent with the facts…
"There have been a series of discussions about setting up the Brics business forum and my understanding of how the authorities thought about including a Brics business forum was to enhance business-to-business relationships, and enhance inter-Brics trade and trade and investment conversations.
"In that context, by way of example, there were a number of panel discussions and forums yesterday between representatives of business and government from among the five nations on infrastructure, agriculture, beneficiation, as well as finance," he says.
Tshabalala adds that these "conversations covered the broad economic spectrum and the broad economic issues that confront the Brics countries. And my distinct sense is that business had an important voice and had a lot to say, and that was listened to carefully by the decision makers… Finance dominated the media, yes, but didn't dominate the actual conversations prior to the actual [five leaders'] summit."
While he wasn't the official representative of the entire South African banking sector for these encounters (Cas Coovadia of the sector-wide Banking Council was in attendance as well, for example), Tshabalala does note, rather unsurprisingly, that his bank is the largest one in Africa, measured by market capitalisation.
He further boasts that with boots on the ground in 18 African countries – as well as a presence in London and New York City among other major developed world markets – it has the means to participate in the conversation – and in the flow of goods, services, people and capital.
He turns the page in some mental briefing book – although there are no notes in front of him – to explain that because some 20% of South Africa's total foreign direct investment (FDI) is in Africa, "the point is that as the prototypical African bank we should be here [at the Brics summit] – to provide people with advice and services.
A large number of our clients were here and we've had a series of one-to-one meetings with them as a result." Moreover, Tshabalala adds that looking beyond Africa, trade between the Brics nations has hit $310 billion and is estimated to grow to $500 billion in 2015. "Trade is burgeoning," he says with a broad smile.
In a speech he gave half a year earlier, Tshabalala had set out reasons why South African banks need to be so involved in regional economic growth, saying how important it is to get on top of regional financial integration. Speaking then, he had said, "the SADC has been experiencing consistent, stable growth for a number of years now, and it is expected to grow 3.5% in 2012, and possibly up to 4% in 2013.
"Total exports from the region are increasing rapidly – 17% from 2009 to 2010. Total FDI inflows to the SADC region were over $20 billion in 2010. And finally, the World Bank's "2012 Doing Business" report shows that the average number of days it takes to start a business in the SADC region dropped from 81.5 days in 2004 to 41 days in 2012.
"In other words, there's a lot to play for. The figures are clear evidence of the SADC's impressive growth and reforming energy – but the region has the potential to reform yet further and to grow even more quickly if we can loosen the constraints the region has placed upon itself," he said.
Tshabalala adds that to support these discussions in Durban (and all those opportunities to do a little bit of business, make a deal here and there, write some cheques, sign some contracts, make some money), the bank had called in staff from its offices in Brazil and China, especially the latter.
The China connection is key, of course, even beyond the fact that Standard Bank is now 20% Chinese-owned, partly because China is in pole position in terms of total trade with South Africa (even though it still trails behind that of the total of the euro zone).
Turning to discuss the Brics bank itself, China comes back up again a bit later on, when asked whether he has an inside track on where this Brics bank will be based, "Re: that Brics bank, where will it be based, in some vacant office space on Sandton Drive?" Tshabalala replies, "I don't know, there will be an announcement. There has been a task force between the finance ministers.
"As a banker," he adds, "Where it should be housed, [we] have to have an open mind awaiting policy directives."
As for the two schools of thought on the bank's best location, Tshabalala says it is easy to argue that both choices – Shanghai and Johannesburg – "are valid propositions".
"What is also true, also fair, is there are already existing development institutions and they each have a role to play. As financiers, we order our affairs accordingly [as we] buy their products and provide services."
Making the case for Johannesburg, Tshabalala explains South Africa has a highly regulated financial sector, it is rated highly as a location in financial management and transparency, it has the accountants and other specialised technical personnel necessary for sophisticated financial institutions, it has the human capital, and being in Johannesburg would allow for easy access to the entire African continent.
Turning to the often-expressed annoyance by some spokesmen for the "South" about those irksome World Bank conditionalities under the "Washington Consensus", and responding to the comment a Brics bank would have to impose its own conditionalities to maintain its fiduciary responsibilities to its funders, Tshabalala explains, yes, "The Brics as an organised body and set of institutions is in its incipient stages.
If, over time, it ends up establishing a bank and people provide capital to that bank – taxpayers' money, mobilising additional resources, maybe issuing bonds – I would expect the funders to want their money back (and a decent rate of return)."
After all, if Standard Bank is asked to lend money for someone to buy a house, Tshabalala says the process would be, "we'll first ask if you are a person of character – that's the willingness to pay; do you have the cash flow to repay; and what assets could you sell to pay. We have to be certain to repay deposits and that manifests itself in a series of conditions we put to you."
With a Brics bank, the "point of our debate will apply to any financial institution. The big difference is a worldview difference. The authorities are speaking eloquently of development and south/south relationships."
If on the other hand, as for the Brics bank, Tshabalala comments, its future organisers "could well say the mandate is to be absolutely developmental and the funding provided to it is going to be almost entirely risk [capital], and people are happy to write it off or may be concessional in nature.
My view is that if you have an AAA rated entity – and it is likely to be one – and if it has a mandate that actually assists in development, we as a bank we would love to participate in transactions that are 30 years in duration."
Turning to the newly proclaimed Brics business council, and noting that while mining magnate Patrice Motsepe will be the chair of the South African contingent, and that he, Tshabalala is not a member himself, nevertheless he will be watching developments closely. And, naturally enough, his next meeting, right after this conversation, is with Motsepe. Actually, their connection goes way back.
Tshabalala and Motsepe were both young, go-getter candidate attorneys at one of Johannesburg's major law firms in the early 1990s.
Turning again to the role of China, Tshabalala notes that the 20% investment share by the Industrial and Commercial Bank of China in Standard Bank cannot be increased without the agreement of the regulatory authority, shaking off a comment that such an investment effectively makes Standard Bank a stalking horse or a channel for Chinese business interests in Africa.
He does point to this as "strategic convergence" to describe the imperatives bringing Chinese and Standard Bank interests together as ways to carry out major infrastructure transactions to rebuild African infrastructure.
Finally, turning to the potentially vexing question of what will be the global currency of the future and how this will impact on the proposed Brics bank, the trade and investment deals among the five members, and the proposed currency stabilisation fund, Tshabalala, when asked if that next reserve currency will in fact be China's renminbi, parries with his parting comment: "My view is that it will be based on the economic realities and the development of trade – and remember – at some stage the reserve currency of the world was the pound."
Bets now thoroughly hedged, Tshabalala is rushed away by aides to deal with yet another corporate client or potential investor – a man to watch in the future.
Photo: Sim Tshabalala
Story by J Brooks Spector
Spector settled in Johannesburg after a career as a US diplomat in Africa and East Asia. He has taught at the U. of the Witwatersrand, been a consultant for an international NGO, run a theatre, and been a commentator for South African and international print/broadcast/online media, in addition to writing for The Daily Maverick from day one.
Source: The Daily Maverick