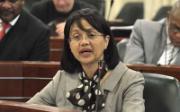 South Africa is fast losing its status as one of the world leaders in sustainable fisheries management, with considerable consequences for an industry that, according to Department of Agriculture, Forestry and Fisheries figures, has an annual turnover of about R80bn and contributes 0.5% to the gross domestic product.
Problems include Agriculture, Forestry and Fisheries Minister Tina Joemat-Pettersson's not having met with any industry body since taking responsibility for fisheries in April 2010 through her department, and the navy's inability since last March to perform biomass surveys to determine the health of commercial fish stocks.
The country's 1.5-million-nautical-mile exclusive economic zone is not properly patrolled, and the fisheries department is in crisis.
The department has had eight acting deputy directors-general since December 2010, and it looks increasingly likely that the once proud department, responsible for 22 commercial fisheries, will this year be unable to set the quotas for eight of these fisheries up for reallocation in the final quarter of the year. Public Protector Thuli Madonsela is investigating claims of corruption in the department.
Perhaps most damning is the hake long-line fishery's inability to attain Marine Stewardship Council (MSC) accreditation, which resulted in the 90% black-owned fishery's collapse in 2009 when the international market switched to other species. SA's hake-trawl industry still retains the accreditation.
A few years ago, SA was a world example of excellent fisheries management — Australia uses SA's anti-abalone poaching programme to combat the crime. Fisheries management was based on sound scientific principles. That is all gone now, and fingers point at Ms Joemat-Pettersson, accusing her of mismanagement, cadre deployment and corruption.
It increasingly appears that the management of SA's fisheries has even become embroiled in the struggle for leadership of the African National Congress (ANC) in the Western Cape, and the party's ambition to wrest the province back from the Democratic Alliance in next year's national election.
A large portion of SA's fishing industry is located in the Western Cape because that is where the fish are. This makes this part of the department an ideal vehicle to use for jobs for pals to ensure their continued allegiance to the ANC faction that supported President Jacob Zuma in his bid for the party's presidency at the ANC's Mangaung conference last year, and supports his second term as SA's president.
Ms Joemat-Pettersson's spokeswoman, Palesa Mokomele, says if these allegations are "gossip" it "makes it difficult for me to respond to these as they (the questions Business Day e-mailed) have very little to do with the minister's work in her portfolio".
However, the ANC itself decried the factionalism that marred provincial nominations processes in the lead-up to the Mang aung conference, and the Western Cape has been one of the most illustrative examples of this. Ms Joemat-Pettersson is a known supporter of President Zuma.
Ms Mokomele says a turnaround strategy for the fisheries department, or part thereof, may be made public tomorrow. Whether the minister is guilty of corruption or incompetence, one thing is sure: the fish, and the R5.5bn-a-year industry they support, not to mention thousands of jobs, are in jeopardy.
Almost everyone interviewed for this piece agreed that SA's fisheries are "in crisis".
Rhodes University ichthyologist and fisheries science expert Kevern Cochrane, previously the director of the Food and Agriculture Organisation's resources use and fisheries and aquaculture conservation division, says while there is "no real international management community in the fisheries world" that judges fisheries management, SA's judges will be the markets.
"Some of (the markets) will be looking for products that clearly come from responsible and sustainable fisheries, while others will be less selective but will still be looking for reliability and quality.
"If SA cannot manage its fisheries well, both of those markets will be put at risk, with important social and economic consequences."
The MSC requires a survey of SA's hake stocks by the end of next month. If the deadline is missed, up to 9,000 jobs could be in jeopardy.
Written by: Sue Blaine
Picture credit: Trevor Samson
This article was published on Business Day Live.