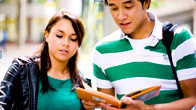 On the 8 December 2012, the British Council hosted the Higher Education Roundtable meeting at the Townhouse Hotel, Cape Town. Professor Nazir Carrim, a Senior Lecturer in the Witwatersrand University School of Education, was commissioned by the British Council to complete a report on Higher Education in South Africa.
With the help of Gerald Ouma, Professor Carrim completed the study report in October 2012. The report illustrates key issues on the state and landscape of tertiary education in South Africa; covering issues such as graduate employment and the skills conundrum.
During the Roundtable, the report was discussed with invited guests who were given an opportunity to deliberate the outcomes of the report. Roundtable participants included Piyushi Kotecha, the Chief Executive Officer of the Southern African Regional Universities Association (SARUA); Adam Habib, an influential leader in political education and the deputy-vice Chancellor of the University of Johannesburg and Nasima Badsha (CHE), the Director of the Cape Higher Education Consortium. Several professors and lecturers from Stellenbosch University, the College of Cape Town and the University of Cape Town also attended.
As a result of the meeting, responses from the report comprised of acclamations and suggestions that encompassed issues such as:
A need for universities and professional bodies to work in unison for the betterment of graduate employability and comprehensive opportunities.
Transformation at a student and teacher level through structural financing and quality.
Internationalization of higher education through partnerships, open access to resources and joint degrees.
We plan on rolling out the best practise of the aforementioned recommendations and many more by encompassing them into our plans for 2013 Higher Education programme, where the British Council will engage with key stakeholders in the education sector to try and increase the capacity of the report and its responses.
Article by Thobile Zulu
This article appeared on www.britishcouncil.org.za/state-of-higher-education-in-south-africa-report