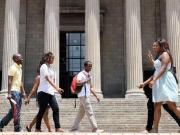 Universities are owed millions of rand by students, with some of the debt dating back to the early 1980s. Even though some institutions feel the pinch more than others, the debt mountain takes a heavy toll because tuition fees form a significant part of the income of universities.
For those students who don't pay up, their diplomas or degrees are withheld until their debt is settled, often putting them in a Catch-22 bind.
Jabulani Mathebula finished his public management diploma at the University of Johannesburg last year and is due to graduate in April.
But he owes the university R6 000 and if he doesn't raise the money before April he won't get his diploma.
"It's the most frustrating thing... I won't be able to get a good-paying job if I don't have my diploma," said the distraught 22-year-old. Both Mathebula's parents are unemployed and he estimates it could take him six to 12 months to get a "good job" that would enable him to pay back the institution. He also fears that even though he is applying for internships, he would be overlooked by prospective employers without proof that he actually studied for his qualification.
Jeffrey Mabelebele, the acting chief director of Higher Education SA, an association of vice-chancellors, sympathises with students like Mathebula. However, he emphasises that universities must fund their running costs and students need to pay back their debts. "Unpaid student debt impacts on operations of universities because the money they owe in terms of tuition contributes to the efficient and effective running of our institutions," says Mabelebele.
The University of KwaZulu-Natal has a total of student debt which includes loans running to about R220 million.
Executive director of corporate relations at the institution, Nomonde Mbadi, says students who owe the institution money are not allowed to register for further study until they settle their debts.
Director of corporate communications at North-West University, Louis Jacobs, says, "Quite often students in arrears who have successfully completed their studies pay the outstanding amounts closer to graduation ceremonies, because they realise they will not be receiving their degrees or diploma."
Some institutions such as the University of Venda have carried the burden of student debt for decades. The institution still has debt dating back to 1982. Although spokeswoman Welheminah Mabogo could not provide the total owed, she said it was more than R100m owed by 15 000 students.
And the problem is not unique to the University of Venda. Spokesman for the University of the Western Cape, Luthando Tyhalibongo, said many of their alumni owed fees to the university. Even though the debt went back many years, the institution did not write off student debt and held on to student records.
The University of Limpopo is similarly struggling. In 2009 the institution had a student debt of R50m which had risen to R81.9m by the end of last year.
Unisa has 83 905 students dating back to the 2011 academic year in debt to the university.
Gerard Grobler, Unisa's director of communications, says R166m is owed by students. The overdue balances are carried over a period of two years from the last academic year of registration. Thereafter the accounts are written off and handed over to a debt collector.
Lebogang Manyani completed her media studies degree at Wits in 2006 and was not able to pay her debt. After finishing her studies Manyani stayed at home, unable to get a job without proof of her qualification.
But why couldn't she pay the debt? "My dad died and it was just my mom so she couldn't carry the load alone," she says.
Why hasn't she managed to make a plan to pay back her debt in six years? She has done odd jobs to keep her alive, but isn't getting paid enough to pay back the university.
Manyani felt the way the institution had treated her was "unfair" as they could have made some arrangement with her to see how she could pay back her debt.
In 2007, Wits started sending her letters "demanding" their money. "I got upset at the way they hounded me, threatening to take me to their lawyers and blacklist me if I don't pay them their money," she says.
She only got a permanent job last year in March, and even though she has aspirations of pursuing a career in the media industry that dream looks far-fetched without her degree. "You end up doing useless jobs, and you get bosses who don't even recognise your other talents."
Her plan is to get a better-paying job, and start paying off her debt.
She said she believed universities should "cut a deal" with students who were unable to pay their debt; that they should give them their results and make an arrangement on how to pay the institution.
Professor Tawana Kupe, deputy vice-chancellor of finance at Wits, says that if a student does not "voluntarily" discuss ways of repayment, the institution contacts the student or the person responsible for payment to develop a "repayment schedule".
"Only if this process is not successful will the university embark on implementing the formal debt collection process," he said.
Kupe said Wits was one of the more "fortunate" institutions as it had the "lowest burden of debt". He attributed this to a "number of flexible-payment options offered to students".
In January last year, the institution had R13.3m in outstanding fees. He said all outstanding monies were recovered in January, before registration for the current academic year.
"The university continues to collect any shortfall throughout the year and does not permit a student to escalate their debt through a further year of registration... It would be irresponsible of the university to encourage an escalation of such debt," said Kupe.
At the University of Cape Town the situation is similar. According to executive director of communication and marketing Gerda Kruger, they have a small percentage of outstanding debt and just more than 1 percent of fees raised in 2011 was outstanding by March last year.
Department of Higher Education and Training spokeswoman Vuyelwa Qinga said that in addition to the normal National Student Financial Aid Scheme (Nsfas) allocations to universities, in 2011 the department made an additional allocation of R200m in loans for graduates with outstanding fees who met the scheme's criteria. The money assisted graduates who completed their studies between 2000 and 2010, but had not received their certificates because of outstanding fees.
"The aim of this special funding was, first, to assist unemployed graduates get their certificates, thereby improving their chances of getting employment, and, second, to improve the cash flow of universities by settling eligible students' outstanding debts," she says.
Qinga said from the R200m allocated in 2011, R52.4m benefiting 3 521 students was claimed from Nsfas by universities.
For the 2012 academic year, a historical debt allocation of R30m was made available and by the end of December 2012, universities had claimed only R16.8m.
She said the department had made another amount of R350m available for universities to settle historic debts for continuing students. Qinga said, however, that a report by Nsfas showed that R220m was claimed by universities at the end of last year.
Institutions such as the Walter Sisulu University have used the helping hand by the department. Spokeswoman for the university, Angela Church, said "longstanding debt has been taken care of in various ways".
The department made "special provision" for final-year students so that they could successfully "exit the system".
Written by: Bongekile Macube
Picture credit: Sunday Independent
This article was published on Sunday Independent.