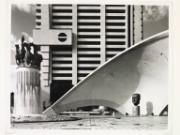 The story of an apartheid-era statue suggests one way universities have used artworks to negotiate between troubled histories and uncertain futures.
In his short story entitled Propaganda by Monuments, Ivan Vladislavic imagines a scenario in which a South African shebeen owner secures one of Russia's colossal "surplus" statues of Lenin to adorn his premises in Atteridgeville.
In response to his letter sent to Russia in early 1992, Boniface Khumalo receives the provisional promise of a 7m-high head of VI Lenin to enable a transformation of his business from the Boniface Tavern into the VI Lenin Bar & Grill. With the letter indicating the positive response to his inquiry in his pocket, Khumalo visits the site in Pretoria formerly known as Strijdom Square.
Unveiled in 1972, Strijdom Square contained a gigantic bronze head of JG Strijdom, prime minister from November 1954 until August 1958, sculpted by Coert Steynberg. Teetering on its pedestal, the head was shielded by a dome that seemed, equally, to defy the laws of gravity.
But during this visit, Khumalo realises that the head of VI Lenin is actually about three times larger than the Steynberg sculpture and that it may well require a pedestal the size of a double garage — indeed, one that will not even fit into his yard. Yet Khumalo also finds in his visit to Strijdom Square the inspiration not to withdraw his request for the Lenin head. Standing at a distance, and with his eyes half closed, he "began to see how, but not necessarily why, the impossible came to pass".
While best remembered for its head and dome, Strijdom Square included a third component — a sculpture by Danie de Jager. Comprising four galloping horses, the piece was set into a 15m-high plinth that was, in turn, the centrepiece of an absurdly bombastic water feature. Carrying the title
Freedom Symbol, the sculpture was intricately linked to Afrikaner nationalist agendas.
As the artist's widow Elsa de Jager explained, the work "was related to South Africa becoming a republic and in the process getting away from its British colonial past and the very tragic implications it had in particular for the Afrikaner". The representation of "four horses in full gallop was intended to depict this new-found freedom of the republic consisting of four provinces, symbolising the joy, energy and confidence in going forward into the future".
The high base that supported the sculpture worked to associate it with the headquarters of Volkskas Bank, which served as its backdrop. Designed by Samuel Pauw, the Volkskas building was the tallest in Pretoria at the time of its completion in 1978. If the building served as a statement "of nationalism triumphant and economic dominance", as Melinda Silverman suggested, this message was reiterated through De Jager's horses on their lofty support.
Five years after Vladislavic's story was published, there was another instance of the apparently impossible coming to pass. On May 31 2001, the 40th anniversary of South Africa becoming a republic, the footings of the dome shielding Strijdom's head gave way and both tumbled into the parking garage below.
While the De Jager sculpture was unaffected by the accident, it was inappropriate to retain it on a site that was being redesignated as Lilian Ngoyi Square, in honour of one of the women who led a historic march to the Union Buildings on August 9 1956 to protest against Strijdom's intention to extend the pass laws to include women. Although one might have assumed that the state's public works department would have found itself in a quandary about what it might do with a seven-and-a-half-tonne relic of apartheid South Africa, this was not the case.
On March 14 2007, Professor Calie Pistorius, vice-chancellor of the University of Pretoria, wrote a letter to Pallo Jordan, then minister of arts and culture: "In view of the University of Pretoria being a public institution and one of South Africa's leading educational and cultural assets, I would be most grateful if you would approve the relocation of this beautiful work of art to our campus.
"As the university will be celebrating its centenary in 2008, I would like to suggest that this would be an opportune time for you to do this."
On July 6 2007, the university received notification that the proposal from the vice-chancellor had been approved; and just over two weeks later, a meeting took place on campus to work out a plan of action.
Placed on a new, lower podium outside the LC de Villiers Sports Centre, a building designed by Brian Sandrock and completed in 1983, the work was formally introduced to its new home by Jordan. And, despite its history, the post-apartheid government covered the cost of its relocation — R430 920.
De Jager's widow was not in favour of placing the sculpture at the University of Pretoria. On October 8 2007, she wrote to Hans Botha, the architect who built the dome in Strijdom Square, indicating that she had learned that new locations were being mooted for the sculpture. Having ascertained that Botha might also be involved in the process, she asked him to instead consider relocation to the Voortrekker Monument's Heritage Centre.
In another letter written on the same day, Elsa de Jager indicated that she feared that "the sculpture's past associations could make it a victim of disrespectful vandalism" if it went to the University of Pretoria.
Whether to address her concerns or because it in fact shared them, the University of Pretoria labelled and displayed the work in such a way that it divested the sculpture of obvious links to apartheid and its histories.
Thus, rather than indicating that the title of the sculpture is Freedom Symbol or mentioning that it was formerly part of Strijdom Square, the commemorative plaque accompanying the work states only: "This Danie de Jager Equine Sculpture was unveiled in its new position by the minister of arts and culture, Dr Z Pallo Jordan. It was donated to the University of Pretoria by the Gauteng provincial government."
The surrounding milieu, which includes not only the LC de Villiers Sports Centre but also a picturesque pond and ducks, invokes reference in some ways to a rural idyll. The idea seems to have been to divest the horses of symbolic reference to the former republic and to enable them to allude simply to untamed nature.
But can such a sculpture be rehabilitated? Is a simple act of decontextualisation sufficient to liberate it from its ignominious past? Discourse is a powerful weapon, and if it is understood that meanings and associations are not intrinsic to works of art but are ascribed to them, it is clearly possible to shift the signification of an object. Annie Coombes makes this point in her book History After Apartheid: Visual culture and public memory in a democratic South Africa, in which she explores how one can destabilise meanings in examples of public art not by physical adjustment but rather through what Gayatri Spivak termed the "reader as translator" who reads "against the grain".
Focusing on that former bastion of conservatism, the Voortrekker Monument, Coombes examines photographs of and comments by Tokyo Sexwale included in an article published in the Sunday Times in 1996. One photo shows him opening the gates to the monument, which are topped with assegais. But rather than reading these assegais as symbols of Zulu endeavours to thwart the progress of civilisation, as they had been intended, Sexwale remarked: "It was precisely the assegai at its height that turned the tide. Umkhonto we Sizwe, the spear of the nation, opened up the path of civilization."
Such a rereading should not, however, be confused with denial — and this is the sentiment, I would argue, that ended up being at play in the relocation of De Jager's sculpture to the University of Pretoria. Rather than critically revising the potential meanings of motifs within the sculpture, as in Sexwale's engagement with the Voortrekker Monument, the approach seems to have been to excise the work's associations with apartheid and, through that, to enable the Equine Sculpture to be enjoyed by a diversity of people simply for its ingenuity and grandeur. In other words, the approach seems to have been to encourage amnesia rather than a reworking of meaning.
Yet there seems to have been a second imperative at play. While its plaque makes no reference to Strijdom Square, the sculpture surely appeals to that sector of university stakeholders concerned that the impetus towards transformation may mean that the university will no longer direct itself towards affirming a white Afrikaner heritage and identity.
It is worth noting in this regard that the two architects who designed the Volkskas Building and the LC de Villiers Sports Centre were both graduates of the University of Pretoria, and that the numerous commissions that Sandrock had received from the institution were in fact the result of introductions Pauw orchestrated when a young student in the former's office.
Thus, while changing the name of the sculpture, and not mentioning on the accompanying plaque that its former locale was Strijdom Square, the University of Pretoria provided De Jager's Freedom Symbol with a new home that has an implicit link to its old one. One imagines that there are alumni, as well as university staff, who recognise this.
De Jager's sculpture, while probably appealing to those keen to see the University of Pretoria affirming and preserving monuments to white Afrikanerdom, has nevertheless been displayed in such a way that it might also have a certain appeal to diverse audiences. But the accommodation of varied viewers is not through the work speaking of democratic ideals. Rather, the sculpture has been divested of signifiers that would make clear its Afrikaner nationalist origins: emptied of connotative meaning, it purports to be nothing more than a virtuoso rendition of four wild horses.
While the University of Pretoria's acquisition of De Jager's sculpture is clearly a more complicated case, keynote artworks placed on South African campuses in the post-apartheid period have to date tended to articulate messages about inclusiveness to a wide range of stakeholders.
Sometimes speaking critically to the imperialist assumptions that underpinned the founding and early development of many South African universities, they may also celebrate the demise of inequalities imbricated in apartheid or represent the post-apartheid university welcoming diversity. While sometimes reflecting critically on what the post-apartheid dispensation might signify, artworks on campus tend to position themselves as marking new beginnings.
Written by: Brenda Schmahmann
Picture credit: www.collections.vam.ac.uk
Brenda Schmahmann is professor in the University of Johannesburg's faculty of art, design and architecture. This is an edited extract from her new book, Picturing Change: Curating visual culture at post-apartheid universities, published by Wits University Press. This article was published on Mail & Guardian.