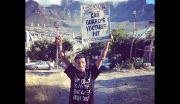 A car guard in Cape Town who used to sing to himself as he helped motorists into parking bays has suddenly found himself a viral hit. After years working the streets, Alen Abrahams's Afrikaans parodies of popular pop songs look set to hit the big-time – thanks to social media and the efforts of two men who believe he deserves to be famous. Rebecca Davis met the singing car guard and his mentors.
Cape Town's newest musical sensation is running late. But he has a pretty cast-iron excuse: he's at Home Affairs, applying for an ID book. Alen Abrahams's old book only had one page remaining, the one with his picture on it. He never found much point in replacing it, and as a car guard, he couldn't spare the money for the application. After two weeks which have seen his former life turned upside down, though, it's time to get properly documented.
Abrahams, when he arrives, is a polite, scrawny 31 year-old with idiosyncratic dental equipment. When he starts talking, he's a natural poet. Every line ends in a rhyme, a word-play or a quip of some kind. He is whip-smart: it's hard to keep up. This linguistic facility – in combination with a great singing voice – is what has won him thousands of fans for his songs, which take popular hits and substitute the English lyrics for a subversive Cape Flats Afrikaans version. Justin Bieber's Baby becomes Meisie; Shaggy's It Wasn't Me transforms into Wassie Ekkie.
The strange and wonderful story of Cape Town's singing car guard starts two years ago, marketer Marlon Kruger – now Abrahams's manager – explains. Abrahams had been guarding cars on Cape Town's streets for years previously – he can't even remember how many years. But in 2010, a Capetonian returning to her car after a night out heard his singing and was tickled by it. She filmed a clip of Abrahams on her cellphone and uploaded it to YouTube. The clip – featuring Abrahams performing an Afrikaans parody of a Michael Jackson song – was quickly passed from cellphone to cellphone. Heart 104.9fm DJ Aden Thomas saw it and phoned up his friend Kruger. "Michael Jackson's alive and well and living in Cape Town!" he said.
Thomas and Kruger discussed how much they'd like to get Abrahams on Thomas's radio show, but nobody knew anything about the mysterious car guard, or where he could be found. Two weeks ago, however, Thomas brought up the issue again.
"He challenged me," explains Kruger. "He said: 'You claim to be a social media guru, try find this guy'. I said, 'Fine.'"
Kruger started his hunt by asking Twitter if anyone knew the singing car guard. Many people replied, confirming that they had seen and heard him around Cape Town, but nobody could give him any concrete details. By this stage there were a few clips of the car guard on YouTube, so Kruger decided to try to contact the people who had uploaded the videos, to see if they could help.
"I searched online for a guy who had uploaded a clip of him. I found out he worked in IT for Vodacom, so I called him up," says Kruger. "He said he had no details."
Kruger moved on to another YouTube video, and started scrolling through pages of comments. Then he hit paydirt. Someone had written: "I know this guy! I grew up with him. He's very talented." Kruger embarked on another lengthy online search for the identity of the commenter, and found that he worked as a chef in Nigeria.
"So I called Nigeria, got put through to a switchboard, asked for the guy's name and waited," Kruger says. "He came on the line, and I said: 'Are you the guy who posted that comment? Do you know this guy in the video?' And he replies: 'Alen. That's Alen.'"
Kruger asked him for a surname, but he couldn't supply it. He hadn't seen Alen for years, he said, although he knew that Alen used to participate in karaoke competitions around the city. He suggested that Kruger try looking in the area around Long Street, in the Cape Town CBD.
Off to the streets went Kruger, asking car guard after car guard if they knew a guy called Alen who liked to sing. He came up with nothing, until one woman recognised the description. She pointed Kruger towards the Grand Parade, outside Cape Town central train station. There a frail-looking man begging for money told Kruger that he knew that Alen had a girlfriend who lived in the BoKaap.
In the BoKaap, Kruger finally met with concrete success: a number on which Alen could be reached.
"I phoned the number and they very suspiciously asked me what I wanted with Alen. Then somebody went to find him," Kruger recalls. "I said I was phoning on behalf of Heart 104.9 fm DJ Aden Thomas and that he wanted him to come on his show. Alen replied immediately: 'I knew this was going to happen.' Then he was crying and I was crying…"
Kruger wanted Thomas to bring him on to his show immediately, but Thomas admits he was apprehensive. "I thought, I can't just take this guy and stick him in this situation – it might backfire," Thomas says. "So the following Thursday I brought him in to get him familiar with the studio set-up and the microphones and everything. As it turned out, that was all completely unnecessary, he was an absolute natural."
Thomas and Abrahams went around the corner from the studio to get something to eat from a café. By pure chance, local music producer Gabi le Roux – responsible for some of the biggest acts in SA music, from Mandoza to Brenda Fassie – happened to be walking past.
"He stops to say hi to me, but I can see he's kind of looking past me to Alen," Thomas says. "Then he goes: 'Jy's mos daai ou van die Internet!'" (You're that guy from the Internet!)
It turned out that Le Roux had also been undertaking an unofficial search for Abrahams after seeing a clip of him online. Le Roux had even blogged about him. When Le Roux left the two, he told Abrahams to come and see him, citing the quality of his voice, his musicality, and the originality of his parody lyrics. "Any doubt I had about Alen's talent got wiped away by that chance meeting," says Thomas.
Abrahams was due on air on Thomas's show the following morning, and almost didn't make it.
"I took the MetroFail [ahem, MetroRail] home the day before and my phone got stolen, so there was no way for them to reach me," Abrahams said. "But somehow they got my mother's phone number."
The minute Abrahams started singing on air, Thomas said, the switchboard went crazy. "All these people phoning, SMSing, emailing, asking where they could find him and whether he has a CD," Thomas says. "I was like, the man was parking cars until 5am this morning, he doesn't have a CD."
Written by: Rebecca Davis
Picture credit: Daily Maverick
Rebecca Davis studied at Rhodes University and Oxford University. This article was published on Daily Maverick.