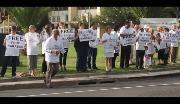 Seventy-seven-year-old Cape Town doctor Cyril Karabus remains under house arrest in the United Arab Emirates, almost six months after being detained at the Dubai airport on charges of manslaughter relating to his treatment of a patient over a decade ago. On Monday, supporters gathered in Cape Town to demonstrate for his release, anxious that international attention on the case doesn't wane.
Early on Tuesday morning, a group of around 30 white-shirted protestors stood outside the Cape Town International Convention Centre (CTICC). Their T-shirts read: "Free Dr Karabus", and they carried banners reading "Bring Professor Karabus Home From Abu Dhabi Human Rights Violations". The choice of the venue was not arbitrary: the 6th World Paediatric Cardiology and Cardiac Surgery Congress is currently taking place at the CTICC, and Karabus supporters were keen to catch the eye of both participants and media. Cyril Karabus, who still awaits his fate from a house in Dubai, is an internationally renowned paediatric oncologist, and his ongoing legal predicament has caused outrage from global medical bodies like the World Medical Association.
In November, the Daily Maverick reported on what Karabus' family insists is a farce of a trial. To remind you, the facts in brief: In 2002, Karabus worked a five-week locum stint at the Sheikh Khalifa Medical Centre in Abu Dhabi. In the course of his duties, he treated a young Yemeni girl with acute myeloid leukaemia, who subsequently died despite what he insists were his best efforts at treatment. In 2003, after Karabus had returned to Cape Town, he was tried in absentia and convicted of manslaughter. The first occasion on which Karabus was informed of this was on 18 August 2012, when he was detained during a stopover in Dubai airport and arrested.
The grounds on which the case against Karabus rests are the accusations that he failed to give the three-year-old patient blood platelets, and that he subsequently falsified the relevant medical records. The case is being heard by a criminal court because in the UAE, medical malpractice is not considered a matter for civil law. In November, Karabus' local lawyer Michael Bagraim explained to the Daily Maverick that the documentation Karabus needed to prove his innocence – the medical records of the week when Karabus was ministering to the child – were mysteriously absent from the files which were to be presented to the medical committee considering the case.
At the time, Bagraim voiced concern that the files may have been destroyed years previously, which would render Karabus' defence far more difficult. But at the end of December last year, Karabus' legal team finally heard some good news. "The matter was postponed for the ninth time to 2 January 2013," Bagraim emailed the Daily Maverick on 28 December. "We had fantastic news in that the medical file was discovered which completely exonerates Dr Karabus." Bagraim warned, however, that it wasn't yet plain sailing: "The judge has indicated that he wanted to see the original file, which appears to be still missing".
It's a case that seems to have been characterised by prosecutorial fumbling throughout. On 13 January, however, the tide finally seemed to be turning for Karabus, as he was scheduled to be given the chance to appear before the medical committee elected by the judge and make his case. At the time, while expressing satisfaction that Karabus had been given an opportunity to defend himself, Bagraim voiced concern that there were no oncologists on the panel. "It would have been better if he got a chance to defend himself before oncologists – his peers who had an insight on the matter," Bagraim told the Cape Argus.
But Karabus's daughter Sarah told the Daily Maverick late on Monday that Karabus never got the chance to make his appearance before the medical committee last week. "They cancelled at the 11th hour with no explanation," Sarah said. This medical committee is now supposed to advise the judge in the trial whether the case should be pursued or not, though it's not clear on what they'll base their counsel. The judge, in turn, is supposed to make his ruling on the matter on February 27th – though Karabus's family aren't holding their breaths just yet. "I am not really sure where we stand at the moment," Sarah said.
The case has had implications beyond Karabus' fate, both in terms of diplomatic relations between South Africa and the UAE, and the willingness of foreign doctors to take up posts in the Emirates. Initially, the South African Department of International Relations and Cooperation (Dirco) came in for strong criticism of their handling of the case, both by Karabus' supporters and local health lobby groups like the Treatment Action Campaign.
Dirco, as is their wont, initially maintained that it was not possible for them to interfere in the judicial processes of another sovereign country. As outrage mounted over Karabus's detention, however, Dirco has been sufficiently pressured to take action. In early January, South Africa sent a demarche – a strong diplomatic statement – to the UAE demanding that Karabus' case be expedited.
At the time, Dirco spokesman Clayson Monyela said in a statement: "Minister Maite Nkoana-Mashabane has written a letter to her UAE counterpart requesting that authorities deal with the case in an expeditious and fair manner, as it is placing a strain on the existing good relations between South Africa and the UAE in the field of medical co-operation." The UAE ambassador was reportedly also called in for a chat on the issue.
In January, it was also reported that the case had resulted in a growing wariness among foreign medical practitioners about taking posts in the Middle East. South African Medical Association (SAMA) spokesman Mzukisi Grootboom said that the medical body was advising nurses and doctors "to think twice before going there", given the possibility of legal dramas like Karabus'. Expatriates make up an estimated 98% of the Middle East's medical work force, and when accused of malpractice, consequences can be severe: including having their right to legal representation blocked and being forced to pay so-called "bloody money" in fines.
Bagraim told the Daily Maverick on Monday that the impact of Karabus' case might cause changes to existing legislation in the UAE on these matters. "We know that the Dubai government itself is debating in Parliament currently that the medical malpractice legislation should change to be civil law and not criminal law," Bagraim said. "This is very much on the back of Dr Karabus. They have seen how it has affected the ability of foreign doctors to come and give of their time, and our understanding is that once it's passed through the Dubai Parliament, it will spread throughout the United Arab Emirates."
Bagraim expressed confidence about the outcome of the 27 February ruling in the Karabus case. Among other things, he said, "We have noticed that the local press in Abu Dhabi and Dubai are reporting positively about Dr Karabus, and this is a complete swing and turn around from when he was first arrested."
Speaking on condition of anonymity to the Daily Maverick, however, an editor at a leading English language daily in the UAE said that the idea that there was an apparent switch in media bias towards Karabus was not one she would support. "I would suggest the court proceedings have unfolded in such a way that the facts we've presented speak for themselves," she said via email. "As newspapers, we are bound by strict media laws when it comes to court reporting. We cannot editorialise around an ongoing case, we cannot (usually) name suspects beyond their initials, we cannot reach out to suspects or their family members for interviews. Anything that might be seen to be meddling in the justice process is a 'no-no'."
The editor also said that it was the South African press's coverage of the case that had largely served to make Karabus a household name in the UAE. "That publicity has, to a certain extent, freed several newspapers in the UAE to name the professor in court reports – something I believe has humanised the case for local readers." She said it was her impression that the Karabus trial would reach an end shortly. "The language used by the judge in the most recent hearings suggests major impatience with the prosecutors. I don't expect the trial to continue beyond another one or two hearings."
If the judge rules that the trial should be dropped on 27 February, Karabus may finally be able to return home to Cape Town, after a detention that will then have stretched just over six months. It will be an enormous relief to the elderly professor's family, who have expressed concern over Karabus' health and the fact that 77-year-old wears a pacemaker. Karabus missed the birth of a grandson at whose delivery he was supposed to have assisted in late January. At the time, Karabus' son Michael said: "On the one hand we are ecstatic about my son's birth, and on the other we are gutted that my father was not there."
Sarah Karabus says that her father is "depressed and despondent but hanging in there", though he is having angina attacks more frequently. "I hope he survives this," she said.
Written by: Rebecca Davis
Picture credit: Daily Maverick
Rebecca Davis studied at Rhodes University and Oxford University. This article was published on Daily Maverick.