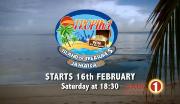 SABC1 opted to go ahead with Saturday's airing of the first episode of reality show Tropika Island of Treasure, despite the tragic death of star Reeva Steenkamp just three days previously. Reactions were mixed: some believed the decision was clearly motivated by a desire for higher ratings. Others felt it helped to flesh out Steenkamp's personality for the public beyond her status as a victim. There are still conflicting reports about whether her family was properly consulted.
This is the fifth season of Tropika Island of Treasure, an SABC reality show where celebrities and members of the public compete against each other in an exotic location to win R1 million. The show doesn't seem to have had a particularly high profile in past years, although its viewing figures weren't bad: an estimated 2,5 to 3 million viewers watched the show on average. Its 2013 incarnation, however, has attracted unprecedented attention due to the participation of Reeva Steenkamp, the 29 year-old shot dead by Oscar Pistorius last Thursday.
The show has been cited as evidence that Steenkamp's career was on the verge of really taking off: while she had experienced success previously as a model, and had secured some small TV roles, this would have been her first wide exposure on local TV. It has been reported that she was extremely excited about the airing of the show, telling family and friends that she hoped they would watch it. Steenkamp's cousin, Sharon Steenkamp, told Associated Press on Saturday that Reeva was "proud of being in the show".
Nonetheless, nobody could have anticipated the shocking events of Thursday morning, only three days before the show was due to air its first episode. On the same day as Steenkamp's death, it was announced that the show would go ahead regardless. The series' creator and executive producer, Samantha Moon, subsequently released a statement saying that it had "taken much deliberation to come to the decision to continue screening Tropika Island Of Treasure 5 as planned". Moon said that she felt it would be "an injustice" to deny those who did not know Steenkamp personally the chance to see her onscreen.
"Every episode that she is in, every frame that she so ably dominates – shines with her light and her laughter echoes in every conversation, and we want to share these special memories with the rest of South Africa," Moon said.
SABC1 released its own statement, only expressing condolences for Steenkamp's death, without attempting justification for the airing of the show. "As SABC1 we are deeply saddened by the tragic turn of events involving one of the players on our show, Tropika Island of Treasure 5," said Vukile Madlala, SABC1 publicity manager. "Our thoughts and prayers during these trying times are with the family and friends of the dearly departed Reeva Steenkamp."
For some, the decision to air the show was a no-brainer. Tropika Island of Treasure host DJ Fresh defended the choice in a Twitter discussion, writing: "An entire season of a game show will never be canceled coz 1 contestant 'left us'. HOW TV WORKS." DJ Fresh said that there was nothing "evil or sinister" about the decision, and denied that SABC1 or the production company would be essentially profiting off Steenkamp's death: advertising space would have been sold out months in advance, he said.
DJ Fresh seems to be correct in claiming that it would be common practice for a reality show to go ahead despite the death of a participant. For instance, Mexican-American singer Jenni Rivera, who died in a plane crash in December last year, was the star of a reality show called I Love Jenni. Following her death, it was announced that not only would the existing series continue to be broadcast, but production would continue on filming the series, featuring her children's struggle to adapt to life without their mother.
In other cases, however, it has been considered tasteful to at least delay the airing of an affected series or episode. Singer Peter Andre's reality show Peter Andre: My Life, focused heavily on Andre's brother's battle with cancer. When his sibling passed away in December last year, the decision was taken by the ITV network in the UK to postpone the scheduled airing of the affected episodes until early 2013.
SABC1 did not entirely ignore the death of Steenkamp in its broadcast: a very short tribute package was put together to air in the moments before the first episode of Tropika Island of Treasure was broadcast on Saturday evening, featuring footage of flickering candles and heart-stirring music. On the Tropika Island website, too, there is a tribute message on each page. "We are deeply saddened and extend our condolences to Reeva's family and friends", it reads, without giving further context.
Certainly, the show itself won many viewers who wouldn't normally have given it the time of day, due to Steenkamp's involvement. The SABC itself reported as much after the first episode, announcing that Steenkamp's appearance had "attracted thousands of additional viewers". Other than Steenkamp, there doesn't appear to be much to keep them hooked, unless you're an undiscriminating reality TV junkie. The show presents as a much less successful Survivor, featuring an array of boisterous and attractive young people competing in various challenges and then begging not to be kicked off the island (Jamaica).
Naturally, practically every frame of Steenkamp is touched with poignancy, viewed retrospectively. The clip of Steenkamp saying: "Not just your journey in life but the way that you go out and make your exit is so important", has been viewed by millions worldwide and judged eerily prescient. The New York Daily News expressed this in true tabloid style: "Slain model Reeva Steenkamp, two days after her surreal murder, resurfaced on reality television to deliver her own haunting epitaph."
But it is alleged that the show's producer is charging news outlets a pretty penny for the right to broadcast clips like that one, lasting only a few minutes. The UK Independent reported on Sunday that Moon was charging $3,000 (just over R26,000) to international media to buy these tiny clips. Amid calls from women's groups to donate such proceeds to charity rather than profiting from the death of a murdered woman, Moon's husband Graeme told the Independent that "queries over profits from the Tropika show should be addressed to SABC". But when the Independent contacted the SABC, the broadcaster said that the profits were an issue for the production company.
It may be argued that this matter – profiteering off the selling of clips from the show for international audiences – is separate from the issue of whether the show should go ahead on terrestrial channels for local viewers.
Communication strategist Sarah Britten is among the camp which argues that the broadcast of Tropika Island is ultimately a good thing, in terms of the exposure it gives us to Reeva Steenkamp. While noting that Tropika Island is "a vapid reality show filled with crashingly unsubtle product placement", and as such amounted to "a rather lurid obituary" for Steenkamp, Britten argued in a blog post on Sunday that the show served to balance the scales a little between the two protagonists at the heart of the Steenkamp death story. "In the fame stakes, Oscar Pistorius is at a huge advantage," Britten wrote.
"This will be Oscar's story no matter what, because of its sheer scale. That's why it's so important that we see Reeva. Why it's so important that she's not just a victim in a bikini, but a laughing, breathing, talking human being. Someone we like. Someone we can relate to. Someone who talks to us, even if it's through a TV screen and it's from a past where the possibility of being shot by your celebrity boyfriend was blissfully unthinkable."
Britten makes a strong case. But one unresolved aspect which heightens the controversy of SABC's decision is the question of whether Steenkamp's family was actually properly consulted on the matter of the show's airing at all. Moon told the BBC's Newshour that she made the decision "after consultation with her family". But Steenkamp's family told Associated Press on Saturday that they had not been contacted by either the SABC or the show's producers.
Perhaps this is a case of crossed wires, or of certain family members being unaware that others had, in fact, been consulted. The family added nonetheless that they had no objection to the show's airing because Steenkamp had been so excited about it, and ultimately this seems to be the most important aspect. However, questions certainly remain over the ethics of selling footage at such a high price of a woman who met a violent, terrible death just days previously.
Written by: Rebecca Davis
Picture credit: Daily Maverick
Rebecca Davis studied at Rhodes University and Oxford University. This article was published on Daily Maverick.