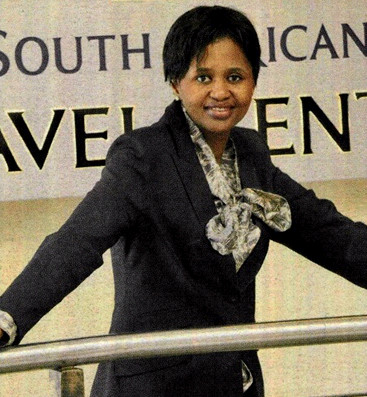 It has been my privilege to spend time with many national and international leaders from many walks of life and a range of sectors of business and civil society. Each has shared something that has assisted us, through this column, to improve and grow as leaders.
But there is a particular group I especially admire and I cannot help but sing their praises whenever possible. It isn't that this group necessarily achieves greater things than the other leaders I have been able to spend time with, nor is it related to the organisation they work for, its position in the market or impressive financial figures.
It simply comes down to the way I felt while I was with them, and the way I felt about the future, either of their business or that of our country, after we parted. This feeling is not related to charisma, nor to how charming or enigmatic the leaders were able to present themselves as being. Analysing a leader begins long before one actually sits with the individual. I look carefully at the organisation he or she represents.
Careful consideration is given to macro and micro economic factors that can affect this organisation and its relevant sector. And where I am able, I conduct pre- and post-discussion interviews with peers and subordinates. And, on arriving at the offices of the leader, I look carefully at the building itself, its furnishing and fittings.
I also watch employees carefully because everyone, from security guards and reception to personal assistants to sales, tell me about the business and its culture. After all this has been assessed, there is meeting the leader. Here, everything from a handshake to how they walk or talk tells me about the leader. How do those in the office respond to them, is there gratitude for the tea and coffee offered, and do they call me by name?
Taking all of this into consideration, and more, I am ready to see if what they say aligns with what I have learnt about them. In many cases, as with this special group of leaders I am speaking about today, when this alignment occurs, a sense of confidence and optimism is felt. As I spent time with Bulelwa Koyana, chief executive of the SA Travel Centre, I felt these feelings again. Koyana is well educated and has a wide range of experiences to draw on as she assists the South African Travel Centre towards its vision of becoming Africa's leading centralised travel fulfilment and facilitation consortium.
Her education includes a BSS from Rhodes University, honours in psychology from Unisa, and a number of post-graduate courses, including participation in an executive development programme at the Gordon Institute of Business Science. But I feel the key to her success as an individual and leader is not to be found on her formal CV.
Many top leaders have inherited traits, behaviours, and values from parents and guardians that have a profound effect on the everyday decisions they make and directions they choose in their lives. As I sit with more and more leaders, it is interesting to compare them, and the data reveals increasingly that we are the sum of decisions we have made, influenced by, and largely based upon, examples and behaviour in our lives from a young age.
As a side note, it is interesting and possibly alarming - to ask ourselves - who and what is it that my child (whatever their age) is seeing in me every day? What am I teaching them about life and leadership? As I explored this with her, Koyana revealed that her principal role model, her mother, taught her a many lessons from a very young age.
These included lessons in vision and goal creation; discipline and moral alignment; putting first things first, such as education and inclusive decision-making. "Your mother sounds like she is a very strong woman, and a pusher?" I asked at one point. "How much of that have you inherited?" "One hundred percent," Koyana said simply.
As a strong woman leader, she emphasises her direction and goals. Koyana feels her role is one of asking tough questions and mentoring, much more than the idea that leadership is about control and dictating the way forward. "Leadership, and business, are helping others to create a vision and assisting them to get there," she said. Consistency in this reliance on the values and early lessons she received in her life can be seen as one compares what Koyana is at home with the person she is at the office.
She says she is the same person: she expects similar things, and there is no deviation in character. One of her colleagues confirmed this when she told Koyana after a visit to her home: "Now I understand why you are who and what you are." This consistency inspires great confidence in all who rely on her to lead them. A question for all of us to consider: are we consistent, or do we wear masks?
Consistency is a key feature of extraordinary leaders. Our conversation then switched to challenges. Koyana believes her biggest challenge right now is dealing with a dynamic, ever-changing environment while maintaining focus on deliverables and the bigger picture. Her solution is understanding people, what they respond to and how they think. "We must understand peoples' backgrounds and the dynamics involved in decisions they make. "Critical to me is the principle of taking ownership and inspiring ownership."
Koyana places extremely high value on her studies in psychology and feels these have played a vital role in her development and success as a leader. Mark Cutifani, chief executive of AngloAmerican, has a similar approach to Koyana's. He told me that "Leadership is all about people". The three critical elements are character, consistency, and understanding people. These are some of the reasons behind my confidence in the future of the South African Travel Centre and their chief executive. This is not to say Koyana is a perfect leader, but there is something there that allows me to feel the ship is in hands that can help the team navigate the waters.
Leadership Gem
Anger tells a lot about you Anger is the root cause of the bulk of human pain, yet anger also has a legitimate existence. It is when anger is misdirected that it hurts and destroys. Anger against evil acts and negative practices are necessary in our quest to improve our self and our society.
Anger aimed at people is almost always misdirected and if unchecked will have negative consequences. Anger against things around us as we stumble over them is also misdirected and serves no useful purpose. Anger against people and things are often direct indications of emotional immaturity, whereas anger against the wrongs of life is often an indication of moral and emotional excellence. —Louis Groenewald
By: Gareth Armstrong
Article source: THE STAR, Workplace