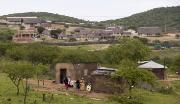 At its peak in 2003, the UK's aid programme to South Africa was worth £40 million. By 2013, this amount had dwindled to a relatively modest £19 million. Nonetheless, the UK government's decision to cut direct aid to South Africa has been greeted with thinly-veiled outrage by the South African government. Some have suggested that the aid amount is uncannily close to the bill for Nkandla. But, writes REBECCA DAVIS, the decision has been coming for some time.
When UK international development secretary Justine Greening announced that the UK will be pulling the plug on its aid programme to South Africa in 2015, the response from the Department of International Relations and Cooperation made clear how it felt. Spokesman Clayson Monyela described the decision as "tantamount to redefining our relationship" – a statement which reads as tantamount to a threat. Monyela claimed the department's beef was with the manner the UK went about announcing the cut, implying that the UK government had failed to follow protocols and not allowed for "proper consultations".
But the Guardian quoted a spokesperson for DfID – the UK's Department for International Development – as saying that this was, essentially, nonsense. "Today's announcement comes after months of discussion with the South African government," the spokesperson told the Guardian. "DfID ministers and senior officials have met with the South African government on many occasions to discuss our decision." Foreign secretary William Hague insisted the same on BBC radio on Wednesday, hinting that there might be some "bureaucratic confusion" on South Africa's side.
In 2011, British Prime Minister David Cameron returned from a trip to Africa to say: "The aid sceptics are wrong. Aid is essential." But despite this apparent turnaround, there's no way that the Department of International Relations and Cooperation could have been genuinely blindsided by the announcement. The Conservative government has been under pressure to cut aid for some time, with debates raging in the press about whether the UK's enormous aid budget is defensible. Lately, in particular, Chancellor George Osborne has been leaned on to raise funding for defence and cut money spent on aid, but the UK has been demonstrating a sterner attitude towards aid deployment for the last few years.
In 2011, the UK froze aid to Malawi after erstwhile Malawian president Bingu wa Mutharika expelled the British ambassador to Malawi for referring to Mutharika in a leaked diplomatic cable as "autocratic and intolerant of criticism". Aid resumed, however, once Joyce Banda took the helm – an enormous relief to a country where Britain's aid is worth about 40% of the government budget. (In South Africa, by contrast, the aid received has made up less than 1% of government expenditure and around 0,3% of national income).
In November 2012, the UK also decided to withhold aid to Rwanda worth £21 million in the wake of allegations that the government was financing DRC rebels. The UK channeled a subsequent aid tranche through humanitarian organisations rather than the government – an approach that has become an increasingly common solution for European donors faced with the problem of corrupt or politically-problematic African regimes.
In the case of South Africa, however, the decision to cut funding is portrayed not as a rebuke for poor governance but a matter of the country's economic growth since democracy; a point frequently aired over the past few days is that South Africa's economy is now roughly equivalent to Austria's. It's the same reasoning that led the UK to announce that India's aid would similarly be cut by 2015 in November. In the case of India, the amount at stake was far larger – £227 million a year to a country with one of the world's fastest growing economies. To quote the BBC: "Many [Conservative MPs] believed that the UK should not be giving money to a country which has a multi-million pound space programme".
Most tellingly, however, the decision to cut aid to India was greeted with "little more than a shrug" in that country, as the New York Times pointed out. "We don't really need the aid," said finance minister P Chidambaram in response to the news. Analysts suggested that this blasé attitude – very much at odds with South Africa's – was due to India's sense of itself as a player on a global stage capable of being a partner to countries like Britain, rather than a poor cousin tugging on its sleeve. The rejection of aid, then, is as much a political statement of identity as it is motivated by financial considerations.
Those who support cutting aid budgets point with alacrity to African economists like Dambisa Moyo, whose 2009 bestseller Dead Aid argued that aid to African governments fostered a culture of dependency, encouraged corruption, and essentially perpetuated the cycle of African poverty. This view is certainly not shared by all economists. Jeffrey Sachs argued in favour of more of certain types of aid in 2009, pointing to successful historical precedents: "US aid to India for increased food production in the 1960s paved the way for India's growth takeoff afterwards".
Sachs suggested that aid channeled at low-cost health interventions, such as those carried out by the Global Fund to Fight AIDS, TB and Malaria, could play a particularly important role in helping to turn around the fortunes of impoverished governments. "Rich people have an uncanny ability to oppose aid for everybody but themselves," Sachs wrote. "When Goldman Sachs got into financial trouble it got bailed-out by the US government."
In the UK, the decision to cut aid to South Africa has certainly not been controversy-free. The opposition Labour party described the move baldly as the "wrong decision". Shadow international development secretary Ivan Lewis said in a statement: "This looks like a serious breach of trust with one of our most important strategic partners… Behaving in what looks like a high-handed and patronising fashion towards South Africa is in no way to treat one of the world's key emerging nations and is not in Britain's national interest". Deputy Prime Minister Nick Clegg, who as head of the Liberal Democrats is in a ruling coalition with the Conservative Party, defended the move, however, saying it was the "right" principle.
Labour also accused Greening of having made the cut "to please certain sections of the press". Local elections in the UK are looming, and right-wing newspapers like the Daily Mail have been vocal in calling for a cut in overseas spending for years. A 2011 article in the Mail headlined "Somaliland: The former British colony that shows Africa doesn't need our millions to flourish" is illustrative of this, painting a picture of a country doing swimmingly well despite decades of being denied international financial aid. ("A group of women swathed in bright robes wafted by, talking with cutglass English accents," the journalist notes.)
In austerity-hit Britain, however, it's clear that a "charity begins at home" mentality is increasingly endorsed by taxpayers across the political spectrum seeing domestic social services slashed. Even the left-leaning Guardian readers appear to support the decision to cut South Africa's funding. A poll run on the Guardian website, asking "Was the British government right to cut aid to South Africa?", found 83% of respondents answering in the affirmative at the time of writing.
Among UK charities, on the other hand, sentiments were very different, with Action Aid criticising the abrupt manner in which the funding was being withdrawn, without "the progressive phasing that would help communities adjust to new realities". Oxfam acknowledged that South Africa should fund its own development, but said that UK aid was "still a lifeline" in the face of poverty and inequality.
Writing for the Guardian Africa network, Gateway to Africa editor Jeremy Kuper argued that the decision to cut aid to South Africa was misplaced for several reasons. For one, Kuper pointed out that South Africa has traditionally been Britain's most strategically important African partner, and this perceived "slap in the face" would render the South African government more likely to seek out China and other EU states to fill England's trading role in future. Furthermore, he suggested that Britain had a moral obligation to continue funding South Africa due to the role the UK played in propping up Apartheid by not applying sanctions earlier.
Lastly, Kuper noted that international development secretary Justine Greening is the MP for Putney, an area of London which is a stronghold for expatriate South Africans. The move to cut aid, he suggested, would "damage her stock". The Daily Maverick put this idea to Heather Walker, editor of The South African, a newspaper distributed to the expat South African community in London. Walker wasn't sure she bought Kuper's suggestion in this regard.
"From what I have gathered over the last couple of years, Justine Greening is quite well-respected among the London SA community," Walker said, citing the fact that South Africans in the UK are, after all, UK taxpayers. "The handful of the Wandsworth-based South Africans I have spoken to have applauded Greening's decision. Some of them have cited concerns that their UK tax money is being used to fund Zuma's home at Nkandla, among other controversial projects."
Written by: Rebecca Davis
Picture credit: Reuters
This article was published on Daily Maverick.