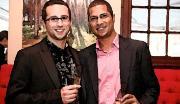 Unlike heterosexual Americans, gays in the USA have no right to bring a partner to live with them in the country. For gay Americans in relationships with foreigners, this can force an often agonising choice between one's country and one's partner. As a result, little colonies of 'love exiles' have set up all over the world in gay-friendly countries, and South Africa is no exception. REBECCA DAVIS spoke to some of the couples living in Cape Town and beyond who are affected by the USA's marriage and immigration laws.
William Daniels was 23 years old when he met Jerome* and fell in love. The year was 1990, and the place was Ohio, USA, Daniels' home, but not Jerome's. Jerome was South African, studying in the States as a Fulbright Scholar. Today, almost two decades on, Daniels still chokes up over the phone as he remembers driving Jerome to Cincinnati to cast his vote from afar in the 1994 South African elections – the first time Jerome was legally entitled to participate in the democratic processes of his home country.
In 1997, the pair moved to South Africa. "We didn't have the option of staying together in the US, and we wanted to be together," Daniels explains simply. There, they joined together with five other same-sex couples, the National Coalition for Gay and Lesbian Equality (NGLCE) and the Commission for Gender Equality, in asking the Cape High Court to compel the Department of Home Affairs to issue immigration permits to the foreign same-sex partners of South Africans. After a lengthy passage through the courts, the Constitutional Court ruled in December 1999 that to deny same-sex couples the immigration benefits accorded to their opposite-sex counterparts would amount to unfair discrimination.
Three years later, the old Aliens Control Act was replaced by a new Immigration Act, which expanded the definition of 'spouse' to include someone in "a permanent homosexual or heterosexual relationship, which calls for cohabitation and mutual financial and emotional support". It is as a result of this act that Daniels and Jerome have been able to live together in Cape Town for over 15 years.
But in America, the same rights are not granted to the couple. The Defence of Marriage Act (DOMA), signed into law by President Bill Clinton in 1996, restricts marriage benefits – including immigration rights – to opposite-sex marriages. It doesn't matter that there are now 10 states in the union which permit gay marriage. Immigration is a federal issue, not a state issue, and the federal government will not recognise same-sex marriage, regardless of where it was performed.
"We have no way of bringing our partners to the US," explains Dan Brotman, a 26-year-old from Boston who has been living in Cape Town since April 2011. "If we were straight, it would be comparatively easy." Brotman met his South African fiancé, Keith, while on exchange at the University of Cape Town. After visiting each other while they were parted, the two knew that they wanted to be together. Keith sponsored Brotman for a partner visa to South Africa, and two years later, they find themselves engaged – to be married at a wine farm at the end of the year – and the co-carers of a dachshund called Peanuts.
It is Brotman who has been largely responsible for mobilising Cape Town's community of same-sex bi-national couples over the past few months to protest their situation. He runs his finger down a short list he has drawn up naming some of these couples, and listing the reasons why their inability to live in the States is causing them trouble or heartache. One couple has had to be separated for up to a year at a time so that the American individual can return to the States to care for a mother with cancer. Another was disabled in an accident in South Africa and consequently hasn't seen her ailing parents in the US for over three years.
For Brotman personally, the issue is primarily one of choice and injustice. "Don't get me wrong: I love South Africa, but as long as I want to be with Keith, I am stuck here," Brotman says. "I never know whether I'll be able to live near my family again. We simply want the option of being able to choose which country to live in. We are 21st century citizens, and, like many, we want to move according to where opportunity lies for us."
Brotman organised for a small group of couples in the same situation to visit the US Consulate in Cape Town last Friday in order to explain their situation to US Consul-General Erica Barks-Ruggles and two other senior US diplomats. It was the first meeting of this kind to take place here. "They were very sympathetic. I think they understood our plight, though of course there's not much they can do," Brotman says.
The US Supreme Court is expected to rule on whether DOMA should be overturned at the end of June. President Barack Obama's administration has indicated that they support the legislation's overturning. The matter is, however, entirely in the hands of the nine Supreme Court judges. "It is disturbing to me that nine elderly people are determining the course of the rest of my life," says Brotman. "Determining whether I will ever be able to move back to my country."
Meetings like the one organised by Brotman with the US Consulate are currently taking place in many cities around the world. An organisation called Love Exiles, in Amsterdam, was founded by an American woman called Martha McDevitt-Pugh to bring together gay couples who find themselves unable to live in the USA due to DOMA.
"I realised I avoided talking about the real reason I moved to Europe: that as a US citizen I didn't have the right to live in my own country with my wife," McDevitt-Pugh told the Daily Maverick via email on Monday. "I was on the way to becoming bitter and resigned about being a second-class citizen, so I decided instead to create a community that could advocate for change. And we have done that, starting with making the issue of 'love exiles' visible, organising events and lobbying for fair immigration law."
McDevitt-Pugh says there are around 30,000 US citizens living in the Netherlands, and she estimates that "thousands" are gay and lesbian Americans. "Every American I meet in the Netherlands knows a love exile," she says. "It is a pervasive problem. We have communities in Canada, the UK, the Netherlands, Germany, Australia, Spain and France, to name a few."
One of the most active advocates for US immigration reform for gay couples is Brandon Perlberg, a 34-year-old lawyer from New York who reluctantly moved from the US to London in early 2012 when his British partner's US visa expired. Perlberg said the move has affected his life in a number of negative ways. For one, he had to give up his pro bono work in New York assisting single mothers. "My parents [are] getting older, my cousin [is] sick with cancer, and my circle of close friends from college and law school [are] now so far away that they are unable to take part in my life in any meaningful way," Perlberg told the Daily Maverick. "When you take someone's life away from them by forcing them into exile, you necessarily affect a wide range of people. So while LGBT immigration equality is often dismissively referred to as a 'gay issue', it is, in reality, much, much bigger than that."
Perlberg was unable to put a precise figure to the number of Americans living as love exiles in London, but also estimates that it is high. "My partner, Benn Storey, and I are constantly meeting bi-national LGBT couples living here in London because of the discriminatory immigration laws in the US," he said. "There's a real community. Everyone's sacrifices are different, but we all share a common goal of obtaining the right to come home."
Back in South Africa, another individual affected by DOMA is DA Shadow Minister Dion George, 46, whose partner Michael is American. George says the term 'love exile' is not appropriate in his case, however. "I have no intention in the immediate term to go to the USA, and I love living in South Africa," George says. "But if some dire circumstance were to occur, why should it be that I have to swim upstream to be with my husband?"
George had a taste of this kind of scenario two years ago, when his husband suffered what he describes as a serious medical problem. "At that point it became quite stark that there might be a problem," George says. "If he had needed a type of medical assistance that he could only receive in the USA, it's not an automatic thing that his spouse could enter with him. That seems grossly unfair."
George is at pains to point out, however, how comparatively lucky South African citizens are in this regard. "If you have an American citizen living in Uganda who wants to live with a same sex partner, clearly they can't get married in Uganda, and then they can't take their partner to the USA either. In South Africa we're not that badly off because South Africa does permit same sex marriage."
It's a point also returned to by Brotman. "Keith and I are given dignity here and not in the US," he says. "A lot of people don't really care, but it's important for South Africans to know how lucky they are; how many rights are given to same sex couples, at least in law. I am very fortunate to have a South African partner."
Written by: Rebecca Davis
Picture credit: Daily Maverick
This article was published on Daily Maverick.