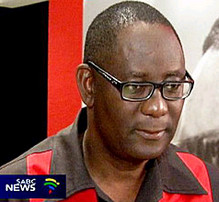 Sometimes, communists are driven out of trade unions by conservatives. Here, the communists are the conservatives and it is they who want the left out of the labour movement.
Last week saw a seemingly curious attack by Congress of South African Trade Unions (Cosatu) general secretary Zwelinzima Vavi on the National Development Plan (NDP). He branded it "the last straw" for unions in their attempt to persuade the African National Congress (ANC) to heed union concerns.
That Vavi, like the National Union of Metalworkers of SA's Irvin Jim, found sections of the NDP unpalatable is not odd — it does contain proposals Cosatu has consistently opposed. What is curious is that he labelled as a "serious assault" on Cosatu sections of the NDP that the government shows no interest in implementing.
The NDP, despite the scriptural status accorded to it by some, is more a broad vision than a plan. It is a basis for negotiation, not a manifesto, and no government could implement it all immediately: it would have far too much to do. So the ANC and the government's commitment to the NDP means they plan to implement only some of it.
Government statements suggest the sections they want to implement are those that seek to build a "capable state" — government able to address the challenges facing society. This is why Trevor Manuel, the NDP's architect, has become the chief advocate of a more effective public service. Policy issues in the plan are on the back burner because they might divide the ANC and would need to be negotiated with economic actors.
Why, since there is no sign the government intends to implement the sections in the NDP that deal with labour markets, do Vavi and his allies brand them a mortal threat? The answer is that the NDP has become a proxy for a battle within Cosatu.
Unionists loyal to the ANC leadership want to push Vavi out of his post because they believe he and his supporters are too critical of the ANC leadership. Mediators are seeking to prevent a clash but may not head off the bid to drive out Vavi.
At issue is not Vavi's leadership style. Still less is it the claim that he faces corruption allegations. It is his habit of criticising the ANC leadership in public. Before last year's Cosatu conference, supporters of the ANC leadership hoped to vote Vavi out of office. It became clear he had too much support to make this possible and so he was re-elected unopposed. Now they hope to remove him in committee meetings where workers have no direct vote.
Vavi's attack on the NDP is an attempt to prevent this. For him and his supporters, the NDP is a new symbol of ANC insensitivity to worker concerns.
His attack is designed not to win a policy battle with the ANC but to persuade Cosatu members that the progovernment faction is endorsing policies that undermine workers' interests.
So Vavi has attacked policies that seem unlikely to be implemented because he believes this is his best hope of pointing out what the government might do if Cosatu loses its status as (a friendly) ANC critic.
At stake is the soul of Cosatu. If Vavi is forced out, it will cease to be an independent voice — until, at least, those who are silenced leave Cosatu or fight back.
The South African Communist Party's (SACP's) role in this is unclear. What is clear is that those who want Vavi out identify themselves as its loyal supporters. The SACP has become a largely uncritical ally of the ANC: it has, for example, welcomed "the broad vision" of the NDP "without necessarily agreeing with every detail", according to deputy general secretary Jeremy Cronin. And so, to back the SACP is also to reject left criticism of the ANC.
When Cosatu unionists endorse the SACP, they back the ANC leadership and its approaches. They do not want the ANC to move leftward — and, as many of them also seem to want Vavi out, they also want to silence left voices in the union movement.
All this cautions against simplistic analysis of ANC politics. The SACP has always been good at getting people into key positions in the ANC — and bad at using this to influence policy. Now it has become a firm ally of the present policy direction and an opponent of those who would push it leftward.
It also creates a dilemma for mainstream ANC opponents. They endorse Vavi's warnings against corruption in the ANC but oppose left policies. They have reasons both to fear and to cheer attempts to push him out.
But we should all worry about the effect of pushing out a popular union leader because he is critical of the government. This will weaken Cosatu severely, and could prompt it to split.
The past year has shown that trouble in Cosatu would usher in not a golden age for business, but a period of turmoil as worker disenchantment with union leadership grows — prompting, perhaps, more strikes. So it is not only Cosatu that may lose if SACP loyalists drive out its general secretary.
By Steven Freidman
Friedman is director of the Centre for the Study of Democracy.
Image source: www.sabc.co.za
Source: The Daily Maverick