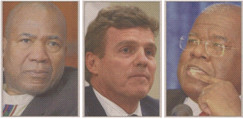 Best candidate is not one with many degrees, but one with insight, good judgement and courage FOUR of the country's universities will soon begin the arduous task of finding new vice-chancellors.
It's a task many dread and it's easy to find out why - running a university comes with a lot of headaches. Some vice-chancellors soldier on and do what they can to run their domains and may become unpopular with the university community, while for others putting out the tyres burnt by protesting angry students can prove to be too much.
Take Professor Casper Rautenbach, for example. He was vice-chancellor of the University of Pretoria (UP) for 22 years, between 1948 and 1970 or Dr Derek Henderson, who was at the helm of Rhodes University for 21 years from 1975 to 1996. Both were the longest-serving in their positions at their universities. And they didn't have it easy.
The shortest-serving vice-chancellor was Nicolaas Marais, who only served for two years at UP from 1925 to 1927. He later became the director of education in Transvaal. In a few months the four universities searching for new vice-chancellors as the incumbents' terms come to an end will look into the illustrious careers of top academics to find inspiration - and wisdom - to select suitable and capable leaders to take their institutions forward.
However, this is at the discretion of university councils, as they can decide to renew the terms of some vice-chancellors. Cape Peninsula University of Technology has already advertised to replace Professor Lineo MazwiTanga. Mazwi-Tanga became the first vice-chancellor after the merger of the Peninsula Technikon and Cape Technikon in 2005.
As with other vice-chancellors, Mazwi-Tanga's term has not been without its challenges. In 2011, students protested that under her leadership the services at the institution were becoming "poorer". The institution has also had numerous student protests against fee hikes. However, Mazwi-Tanga has survived all of that and is tying up loose ends.
She is one of four women vicechancellors in the country Meanwhile, the term of Professor Malegapuru Makgoba at the University of KwaZulu-Natal is also coming to an end at the end of next year. Makgoba, who is chairman of the Oversight Committee on Transformation in South Africa's Public Universities, is serving his last term at the institution and will then retire from UKZN.
Another university that has to look for a new vice-chancellor next year is the North West University Dr Theuns Eloff is serving his second five-year term at the institution. His term ends next May. He took over at the institution in 2004 after the merger of Potchefstroom University and the University of Bophuthatswana.
The North West University has been accused of race, gender and sexual discrimination and students labelled Eloff 's management as "arrogant" when dealing with student issues. In 2011 the university was in the spotlight after a black student drowned in a swimming pool during an orientation programme.
Cosatu in the North West accused the institution of driving the "activities of the Boeremag" and of being untransformed. Outspoken Professor Jonathan Jansen of the University of the Free State is serving the last leg of his five-year term at the institution. His term comes to an end next July.
However, as with other institutions, it is up to the university's council to decide whether they will extend Jansen's term or not. During his term Jansen also had to put out fires when the country woke up to the video of the Reitz Four The white former students were accused of humiliating five black workers in 2007 when they made them drink a mixture that seemed to have been urinated on.
They were convicted in court. Vaal University of Technology vice-chancellor, Professor Irene Moutlane, is also serving the last leg of her 10-year term at the institution. She was placed on special leave last year after allegations of being involved in tender irregularities. The institution was also put under administration last year and its council was disbanded.
Higher Education and Training Minister Blade Nzimande appointed former Wits deputy vice-chancellor, Professor Patrick FitzGerald, to take over the duties of council at the institution. FitzGerald announced Moutlane's special leave. Professor Alwyn Louw, deputy vice-chancellor at the university, is acting vice-chancellor until the probe on Moutlane is concluded. Meanwhile, the term of Dr Mvuyo Tom, vice-chancellor at Fort Hare University, was supposed to end next December. However, the council has asked him to stand for another two years "for stability while searching for a replacement".
The iconic university made headlines recently when students protested over fee hikes and Tom decided to close the Alice campus for a few days to bring calm. Also vacating his position in two months is Wits vice-chancellor Professor Loyiso Nongxa after heading the university for 10 years. Nongxa's successor is former deputy vice-chancellor at the University of Johannesburg, Professor Adam Habib, who is shadowing Nongxa. He will officially take over the hot seat in June.
Former Unisa vice-chancellor Professor Barney Pityana, who led the institution for almost a decade, said universities are complex organisations and vice-chancellors must be able to manage them. "The way to do that is to be astute about managing people... you can't run an organisation on your own, you must run it through people," Pityana told The Sunday Independent this week.
He said it was important for vice-chancellors to have very good relationships and trust the council of the university. The relationship between the chairperson of council and a vice-chancellor was .especially important because the chairperson had to work with the vice-chancellor, support them, and make them accountable. "If that relationship breaks down so much else breaks down," he said.
A vice-chancellor must be an ethical leader who leads by example and had to be "fair on everybody". "The best vice-chancellor is not the one who has many degrees but one that has insight, good judgement and courage," he said. Professor Rolf Stumpf, who was vice-chancellor at the former university of Port Elizabeth (UPE) and was later vice-chancellor at the merged UPE and Port Elizabeth Technikon that formed the Nelson Mandela Metropolitan University believes the best vice-chancellor is the one who listens.
"A VC has to listen a lot and get around the institution and not sit in their little office - go to students, playground, academics and staff. Spend a lot of time getting to know people," said Stumpf, a vice-chancellor for six years. He said leading a university required a lot of characteristics but at the top of the list it needed someone who had a passion for higher education and who liked people.
"You have to have respect for all staff and students as genuine human beings who have rights to their own views and opinions. "You need to treat every student and staff member with respect and dignity and respect of human beings," he said. bongekile.macupe@inl.co.za
Caption: Professor Malegapuru Makgoba, Professor Theuns Eloff, Professor Jonathan Jansen
By BONGEKILE MACUPE
Source: SUNDAY INDEPENDENT