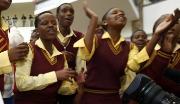 Helen Zille's latest DA Today newsletter puts the blame for SA's parlous education system squarely at the feet of teachers, based on a report released just over a week ago. But education activists continue to insist that the conditions under which teachers work are equally important. The latest organization to try to lend a hand to setting educational standards in the country is the SA Human Rights Commission, whose Charter of Children's Basic Education Rights aims to flesh out what we mean when we talk about someone having the "right" to education.
The South African Human Rights Commission (SAHRC) is most frequently invoked as an institution to which people are reported when they are racist. And indeed, it does do a fair amount of that: its website reveals that this month it has already "successfully facilitated a mediation" between the FW de Klerk Foundation and a man accused of tweeting racial hate speech. But the organisation also has been increasingly involving itself in lobbying for improved educational standards. This is nothing new: since 1996 the commission has been commenting on education-related legislation, strategising on aspects like alternatives to corporal punishment in schools, and generally monitoring the government's provision of basic education.
This year, however, the SAHRC has stepped things up a notch, with the publication of the SAHRC Charter of Basic Education Rights. Explaining the motivation for this, in January the organisation explained that it had grown to realise the murkiness that surrounded discussions about the "right" to education. In practical terms, what does that right encompass? Does it entitle one only to a teacher who shows up to work sober every day, or also to a computer lab and sports fields?
This is precisely the problem that drove NGO Equal Education to approach the courts in 2012 to compel the minister of basic education to prescribe minimum norms and standards for schools. In November last year, Minister Angie Motshekga entered into an agreement with Equal Education whereby she undertook to publish a draft of these regulations in January. Equal Education's conclusion on the draft norms and standards were that they were neither legal nor appropriate: they failed to provide clarity, for instance, on issues like the desirable number of students per classroom. Equal Education made a lengthy submission to Motshekga with its recommendations for improving the draft, and the final text of the minister's norms and standards is supposed to be published on 15 May.
Given the fact that there has been movement on this problem from the Department of Basic Education, however, one might wonder why the SAHRC would bother to produce its own charter – which, in making recommendations for "optimal realisation of the right" [to education], would appear to amount to much the same thing as a norms and standards document. The SAHRC explains, however, that "it has increasingly been recognised at an international level that national human rights institutions are best placed to determine the monitoring indicators for economic and social rights due to their independent nature and knowledge of local conditions".
The SAHRC Charter has been drawn up in consultation with Unicef, academics, Equal Education and the Department of Basic Education. Presenting the document to Parliament's portfolio committee on basic education on Tuesday, commissioner Lindiwe Mokate said that only Ireland and the UK have published similar charters internationally, and the UN had found that of the three, the SAHRC's was the most comprehensive. The charter is intended to fill in "gaps in our understanding of what it means to realise the right to basic education," Mokate said. It aims to educate caregivers about children's rights; serve as a tool for infrastructure planning by schools; and give all role-players in the educational situation an indication of their responsibilities.
The charter is structured around a UN-developed model called the 4A Framework, which stipulates that education must be Available, Accessible, Acceptable and Adaptable. "Available" covers the need for trained teachers and adequate infrastructure in a government-funded education system. "Accessible" means that the education system must be open to all. "Acceptable" refers to the quality of education, its non-discriminatory content, and a safe school environment. "Adaptable" denotes the fact that the education system must be able to respond to children's different needs, and be able to change to meet a changing society.
In terms of the "Available" component, one of the charter's biggest recommendations is that legislation should be amended to make one year of pre-school (Grade R) compulsory, and to make education compulsory for all children from the age of 4. Jane Keen, director of the South African Education & Environment Project (SAEP), told the Daily Maverick that though this would certainly be a positive move in principle, it would require increased logistical support.
"As it is, educare centres that want to offer Grade R face monumental challenges in registering with the Department of Education, obtaining subsidies, and recruiting and retaining qualified teachers. Centres that are registered often wait months for their subsidy payments to come through from government, and can't pay their teachers or provide for children's basic needs in the meantime," Keen said. Nonetheless, she added: "Any move to increase the number of children attending Grade R and pre-Grade R programmes is to be encouraged, provided it is done in an integrated way."
The "Available" component also covers the all-important issue of teacher performance, which DA leader Helen Zille highlighted on Tuesday in her DA Today newsletter. Drawing on a report compiled by the National Education and Evaluation Unit (Needu), Zille identified one primary reason why children are failing to achieve basic literacy and numeracy skills: "A large proportion of South African teachers can't teach, and many won't make the effort required to do so," Zille wrote.
Equal Education coordinator Doron Isaacs told the Daily Maverick that he felt this assessment was simplistic. "It is true that there are critical weaknesses in skills and professionalism in the teaching profession but these won't be remedied by a punitive approach," Isaacs said. "If teaching is denigrated there is no chance of attracting a new generation of teachers into the profession. Where is the plan to attract good teachers into township and rural schools? Where is the plan to create a national service scheme for all graduates, not only teaching graduates, to boost schools? The Western Cape could lead on these things."
The SAHRC aims to address the teaching problem through conditions like ensuring that all teacher posts are filled, all teachers have met minimum qualifications, and all teachers undergo regular evaluations to ensure sufficient levels of curriculum knowledge, to name a few. The charter also specifies that "Ninety percent of teachers attain a minimum standard in anonymous and sample-based assessments of their subject knowledge", however, which DA shadow education minister Annette Lovemore told the Daily Maverick wasn't good enough.
"Why not 100%?" Lovemore asked. "Last year there were about 392,000 teachers employed in public schools. This means that it is acceptable that 39,200 teachers do not exhibit adequate subject knowledge. Assuming each of those teachers teaches a minimum of 30 children, 1086,000 children will be taught by teachers with inadequate subject knowledge. Is that achieving the right to basic education?"
Also under the "Available" component, the SAHRC Charter wants to see the national education budget increase. It currently stands at around 6,5% of the GDP; the SAHRC calls for this to be increased to 9%. Lovemore voiced concern, however, that this figure seemed arbitrary. "What difference will this make?" Lovemore asked. "It is not a right" – a reference to the fact that the 9% figure is contained in a column in the charter headlined "Indicators/rights". There is also a lack of financial detail evident elsewhere: the charter prescribes that all provinces should allocate "sufficient funds to ensure the availability of adequate infrastructure", without an indication of what would constitute a sufficiency.
When it comes to "Accessible" education, the charter wants to see 100% of children aged between 7 and 15 enrolled at school, and remaining enrolled until they complete this cycle. Beyond the age of 15, the charter recommends that 80-90% of pupils complete their secondary schooling. It also wants to see the rate of pupils repeating grades drop from its current 9% (higher than other developing countries) to 5%. With regards to fees, the charter believes that it is a right for no child to be excluded from school due to an inability to pay school fees. Primary schooling must be free at all public schools, the charter states.
This is another aspect that Lovemore takes exception to. "By all means, provide access to free public primary education for all those who need it," she told the Daily Maverick. "But this implies that no school may charge fees for primary education. This is not practical, and certainly does not translate into achieving a right."
Under its regulations for "Acceptable" education, the SAHRC focuses on literacy and numeracy targets. It wants to see all pupils in the foundation and intermediate phases spending an hour a day practicing maths and engaging in daily writing exercises: Needu's evaluation found that pupils had insufficient reading materials and were not given enough work in mathematics. By Grade 3, it calls for 60% of pupils to be performing at the minimum competency levels required for literary and numeracy by the Annual National Assessments, and for the same ratio to hold for Grade 6 pupils.
One of the charter's most ambitious recommendations – though surely one of the most important – is to do with the difference in outcomes for poor and rich pupils. It wants to see the difference in educational outcomes (as measured by, for instance, matric results) between children in poorer and richer schools and provinces, to fall to less than 10%.
For the charter's final A – "Adaptable" education – it stipulates that full educational services must be made available to pupils with disabilities and learning barriers. It also calls for children awaiting trial or in detention to be provided with education. The charter concludes with a recommendation that human rights education be incorporated into the school curriculum, including information on gender and sexual rights and the rights of people affected by HIV and Aids.
You can see why the UN would gush about the SAHRC Charter: the vision it sketches of a fully-functioning South African education system is in most regards promising and ambitious. "There is much that is excellent," Lovemore conceded. But she suggested that the document had nonetheless fallen short on detail on its aim of truly defining the right to basic education. "I would call on the SAHRC to consider the current report a draft… [and] to admit that the document does not answer clearly and coherently the answer to the question 'What does the right to a basic education comprise?'," Lovemore said. "Let's get a document in place that we can really use."
Written by: Rebecca Davis
Picture credit: Daily maverick
This article was published on Daily Maverick.