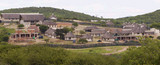 The release of the Guptagate report by the task team charged with investigating it clearly states that the Waterkloof Air Force Base, contrary to widespread public belief, is not a National Key Point.
As a strategic military base, the report states, it has even more stringent security measures than a National Key Point. This rare piece of official clarification on the security status of a public installation only increases the mystery around National Key Points: if a military air base isnt one, what is
The notion of National Key Points only really entered the public understanding last year, when City Press secured its major scoop on what would quickly become known as Nkandlagate.
As Gill Moodie wrote recently for Grubstreet , Mandy Rossouw had originally broken the story about renovations to the presidents residence for the Mail & Guardian in 2009, but at the time she had been fobbed off with the line that the renovations were being effected with private money.
In 2012, however, investigation by City Presss Adriaan Basson and Paddy Harper produced proof that public money was being used for the upgrades. The spectre of the National Key Points Act was then invoked to prevent further details on Nkandla being released, or the renovations being photographed. Because Nkandla was a National Key Point, the argument went, the release of such details could compromise its security.
Naturally, the public effectively mobilised by the Right2Know Campaign then wanted to know what the other National Key Points were, especially as it seemed that the notion was ripe for abuse by its very nature.
The R2K Campaign submitted a Promotion of Access to Information Act (PAIA) request to gain access to the list of National Key Points, but government has repeatedly refused to release this information due to security concerns.
The news that Waterkloof Air Force Base is not a National Key Point, but the presidents private home is one, renders the situation yet more perplexing. In a statement released on Monday, DA shadow minister of police Dianne Kohler Barnard pointed out that the South African Police Services (SAPS) budget for 2013/2014 indicated that there would be 197 National Key Points by 2015/16.
If our airforce bases are not even on this list, we must question what makes up the 197 National Key Points, Kohler Barnard wrote . South Africans deserve to know what has been declared a National Key Point by the government to enable them to work out for themselves whether or not any further corruption scandals are being hidden behind its archaic secrecy clauses.
The National Key Points Act 102 of 1980, amended by two acts in 1984 and 1985, is not terribly helpful on this score. It does make clear just how great the powers given to the Police Minister are with regards to classifying places as National Key Points, however. If it appears to the Minister at any time that any place or area is so important that its loss, damage, disruption or immobilisation may prejudice the Republic, or whenever he considers it necessary or expedient for the safety of the Republic or in the public interest, he may declare that place or area a National Key Point, it states.
Importantly, it also makes absolutely clear that if security upgrades are necessary, these steps to be carried out to the satisfaction of the Minister must be effected at the expense of the owner. If the owner fails to take the necessary steps within a certain period, he or she can be made to pay a fine not exceeding R20,000 or even imprisoned, for a period not exceeding five years.
But the Act gives little assistance when it comes to determining more precisely what would constitute a National Key Point, and how these would differ from strategic installations like Waterkloof. Its a question the R2K campaign has been working on for some time. Strategic installations dont appear to be defined in law, national coordinator Murray Hunter told the Daily Maverick.
Based on SAPS budget votes and performance documents, we believe that there are just under 200 National Key Points and 248 strategic installations. We assume that places are either one or the other. Hunter has written to the SAPS requesting clarity on the matter, since the SAPS has oversight over both types of places, but he has yet to receive a proper response.
Since applying to officials for answers was clearly going nowhere, R2K launched an attempt this month to try to crowdsource information about National Key Points. It appealed to the public to come forward with any evidence they might have to support the classification of a place as a National Key Point.
One reason why the organisation was surprised to hear that Waterkloof was not one, Hunter says, is because he was contacted by a consultant who worked at Waterkloof in 2008. He said it was drummed into him for security reasons that Waterkloof was a National Key Point, and that there were signs identifying it as such, Hunter says.
In the face of the official denial, however, Waterkloof is now off the list. The publically-accessible document which stresses it is only a working draft, and its suggestions should be treated with caution still lists around 95 other sites, however, and explains why R2K believes they are National Key Points.
Some of this information is derived from documentation: it is on record, for instance, that all Reserve Bank branches are National Key Points. Some of the information was submitted via the direct experience of civil society organisations, and other pieces are based on personal familiarity with the sites.
There are more than a few surprising inclusions. The State Theatre in Pretoria may be one, for instance, based on the testimony of a member of the public who records: Was stopped when I took photos of the building and told by a security person it was a NKP.
The reservoir in Oranjezicht, Cape Town, may also be one: I tried to take a photo of the reflections in the water, and I was stopped. I think that theres a notice, an individual has submitted. SABC offices countrywide also bear signs attesting to their status as National Key Points.
Our crowdsourcing efforts are ongoing, though were reaching the limit with what we can do, Hunter explains. The next step is to clean up the data and categorise it. Based on some individual buildings being classified, it is possible to extrapolate that all such buildings are National Key Points: this is the case with provincial parliaments, for instance.
It's critical that official forces step in at this point and supply information, Hunter says. If this fails to happen, R2Ks next option may have to be an approach to the courts to compel the release of the information.
Hunter doesnt deny that sites like military bases should be given special protection, but he says that the confidentiality of the National Key Points should be of concern to all citizens. These are laws and powers that are being applied extraordinarily widely, and with stifling implications for citizens right to information, freedom of expression, and right to assembly. As a practical example, he says that civil society organisations and unions have repeatedly been denied the right to protest outside certain sites quite arbitrarily.
Someone who has first-hand experience of this is Desmond DSas, chairperson of the South Durban Community Environmental Alliance. DSas has been denied permission in the past to organise protests around the Engen and Shell refineries in the area on the basis that they are National Key Points.
We have been trying to organise around the refineries, which are on the frontline of our communities, DSas told the Daily Maverick. When we try and organise protests we are always told, by Metro Police and the petrochemical industry, that we cannot picket on the fence of these refineries even though they are in our community. DSas says that on occasions when he has taken schoolchildren on tours to educate them on the environmental impact of refineries, he has had police threatening to arrest him.
Securocrats like [State Security Minister] Cwele are sending police after poor people trying to fight things that impact on health and the environment, DSas said. Why arent the Guptas arrested If we would be arrested for entering a protected site then surely they should be This is an unequal country.
Hunter says that State Security officials are shooting themselves in the foot when it comes to their refusal to make public information like the National Key Points list. There is a serious lacking in current thinking about national security which creates this level of secrecy that fosters confusion and ambiguity, he says. We need a law that is informed by public participation, and it is possible to do that without harming security.
Fundamentally, Hunter believes that the secretive National Key Points Act is not a law in keeping with the society envisaged by the South African Constitution, and the values of openness and participation which underpin the Constitution.
It feels like a dinosaur has survived the extinction and is wandering around in contemporary society, he says. DM
R2K's crowd sourced list of National Key Points
By REBECCA DAVIS
Rebecca Davis studied at Rhodes University and Oxford before working in lexicography at the Oxford English Dictionary. After deciding she'd rather make up words than define them, she returned to South Africa in 2011 to write for the Daily Maverick, which has been a magnificilious decision.
Photo: Nkandla (Reuters)
Source: The Daily Maverick