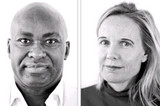 With personal histories spanning Cameroon, South Africa and a number of countries in between, they are well placed to expand the institution's horizons.
On the day I went to interview Sarah Nuttall, the director of the Wits Institute for Social and Economic Research (Wiser), she was in purple: purple jacket, purple wallet, purple pants. In fact, purple was so dominant in her office that a purple chair had just being delivered that day. Cape Town's anti-apartheid activists, garments soaked in purple dye spouted from water cannons, would have chanted, as if in a chorus, that, indeed, "the purple shall govern".
Appointed director of Wiser earlier this year, Nuttall is settling into the role. Not that she is a complete stranger to the Richard Ward building that houses the research body. She joined Wiser in 2000 and was there until she left about 18 months ago to teach at Stellenbosch University's English department. Her move to the Cape followed the installation and subsequent turbulent reign at Wiser of Abebe Zegeye, who left under a cloud of plagiarism allegations.
"Wiser went through a difficult time and I wanted to step back. My mother was ill," Nuttall says of why she went to the Cape. She savours the precious last moments she spent with her mother, who died a few months ago in Cape Town. About her return, she says, "Jo'burg is the heart of the country." But she still maintains contact with her friends in the Cape.
"I still talk to people in the Cape: Imraan [Coovadia], [choreographer] Jay Pather, [and others]…" Indeed, Coovadia, the University of Cape Town-based novelist, was recently at Wiser to deliver a lecture on JM Coetzee, excerpted from Coovadia's latest book, a collection of essays titled
Transformations.
"It's an exciting job for me, because Wiser has been around for a while. There is a record to build on," Nuttall says. She explains that when Wiser was founded in 2000 it was the middle of the country's transformation project. More than a decade later, "there is an interesting shift in terms of what questions we should be asking. The [challenge] now is to find and name the common project."
Nuttall sees the task facing her as the need to "build a critical space in which people think of their condition". She says that since January, when she was appointed, "there has been a real impetus" at Wiser.
In that time, the institute has hosted the launch of Isabel Hofmeyr's new book, Gandhi's Printing Press: Experiments in Slow Reading; a two-way conversation between photographer Santu Mofokeng and Achille Mbembe (Nuttall's spouse); a discussion between Nuttall herself and Antony Altbeker about Oscar Pistorius's late girlfriend, Reeva Steenkamp and a discussion featuring literary critic Karabo Kgoleng, artist Zen Marie, a taxi poet and Coovadia on taxi poetry.
This is, one might say, what Nut-tall means when she speaks about attempts to "desegregate the conversations, bringing in people around the table and making sure the conversations are as wide as possible".
Our talk soon shifts to the literary, Nuttall's forte. A graduate of the then University of Natal and University of Cape Town, in the mid-1980s, she was awarded a Rhodes Scholarship which enabled her to study at Oxford University.
So involved was she in student politics (she once served as president of the Students Representative Council), that when she applied for the scholarship she had to consult local United Democratic Front structures. Politics was something that had been a staple at the dinner table for the Anglican, Durban-born daughter of a newspaperman, Jolyon Nuttall.
She did her Phd under the supervision of one Kate Flint in three years. (Flint, she claims, didn't know much about South Africa), returning home when she was 29, at about the time "Nelson Mandela was about to be released". The shift from the feisty student politics of South Africa and a rather staid and genteel Oxford atmosphere was a big one and she sought and found guidance in the South African exile community, especially academic and author Liz Gunner.
"Writers have taken Njabulo Ndebele's essay, The rediscovery of the ordinary, in a way that provincialises it," argues Nuttall about the state of South Africa's fiction. "[Writers] are writing about people who look like [themselves].
Fiction is going to grow through being able to write about other people's lives to the extent that you are able to write about your own. And nonfiction is already doing that, in its investigative journalistic way… Our [Wiser's] emphasis is visual arts, for art and artists are addressing question that fiction is not able to." Of course, Nuttall is well placed to know this. She is, after all, chair of the judging panel of the 2013 Sunday Times Fiction Prize.
"One of the most exciting things about being an academic," she says, "is the question: What is the future of thinking? But people want to be experts and specialists. The concepts of curiosity and bravery have been lost." This is, in part, the result of an outcomes-based education that seeks to link training to the job market. "The risk," says Nuttall, "is that it empties out, intellectually, the forms of thinking people are able to undertake."
It is a trend she hopes to undermine as head of Wiser. "We want to deepen the research agenda," she says. Hosting the forthcoming Johannesburg Workshop of the Theory and Criticism and, later in the year, convening a medical humanities conference are some of Wiser's interventions to revitalise South Africa's critical space.
Nuttall, who receives 100 emails a day, "decompresses" by walking, swimming, reading magazines and watching some television. She still finds time to write and is working on a book of essays dealing with, among other issues, questions such as, "What does a JM Coetzee sentence look like?"
Now that she is caught in a bureaucratic web, "my intellectual heart has fallen back to the literary".
Not many people are fortunate enough to share their professional life fully with their spouses, but Nuttall is one of the lucky few.
Intellectual fraternity isn't just in the Mbembe-Nuttall household. She finds it elsewhere, too.
"It's important to be in conversation with two people, Isabel and Achille. It's important to be in the same city as them. They are not exactly my mentors, but people who [help] shape my thinking," she says.
In fact, Mbembe isn't just in the same city, he occupies the same floor as she does at Wiser, and the two also share a home in Johannesburg's Melville and have two children together: an energetic, football-loving boy with a "made up name", Aniel, and a somewhat reserved six-year-old girl, Lea, (named after Mbembe's sister).
Mbembe was born and raised in a locale 60km south of Yaounde, Cameroon, to parents involved in that country's nationalist struggle. He was educated by Jesuits near Douala. He was active in the student politics of Cameroon and one day his father, a public servant who doubled as a farmer, told him it would be better if he went away for a while as his actions were attracting the attention of the gendarmes.
The choice was stark, to flee either to Harare, or to Paris. He chose Harare. (Perhaps if he had obeyed his mother's wish and become a farmer, none of this would have happened.)
A step ahead of the authorities, Mbembe flew from Douala to Kinshasa, where he spent a day sleeping on an airport bench. He then caught a connecting flight on Sabena (the now defunct Belgian airline) that flew via the then Jan Smuts Airport.
For an instant, Mbembe was right at the centre of the nightmarish South Africa daily experience invoked and demonised in his native land.
"I cannot truly recall a single week of my youth in which the government of my country did not issue a condemnation of the 'colonial, minority, fascist, racist and immoral regime of Pretoria'," he wrote in an essay in At Risk, a book edited by Liz McGregor and Nuttall. But it wasn't blood and gore that he remembers from his fleeting moment on South African soil. What struck him the most from his elevated view in the plane was the "number of swimming pools" in Johannesburg.
He was soon in a "pristine, colonial Harare", where he hung out with South African exiles and Zimbabwean youth from the Catholic church. He met Kallie Hanekom, brother of Braam Hanekom, founder of People Against Suffering, Oppression and Poverty, and others in the ANC community in Harare.
"I was a vagabond. I went to places, talked to people," he says of his year in Harare, reeling off the names of Zimbabwean people, places and provinces: Canaan Banana (the first ceremonial president); the eastern province of Manicaland; the southern region of Matebeland; pungwe (Shona for "all night political gathering").
"I was also amazed by the light in Southern Africa." A natural enough feeling for a person coming from a region shielded from the sun by a Harmattan haze.
Mbembe soon left for postgraduate study at the Sorbonne in Paris (he already held a BA in geography and history). He arrived in a France that had just elected François Mitterand, its first socialist president in a long time and a man of ideas himself. His new government was involved in a number of reforms, including the abolition of the death penalty.
The government of the place he had just left would soon embark on killings on a massive and brutal scale. "When I got to Paris, I heard about the killings in Matebeleland [but] I had this lovely image of Harare."
France in 1980s was a fascinating place, intellectually and culturally. Formidable giants like Simone de Beauvoir, Jacques Derrida, Michel Foucault, Claude Levi-Strauss and others still held court in Parisian cafés and university halls. "I attended one of Foucault's last lectures."
Armed with a Phd from the Sorbonne, Mbembe left to teach at Columbia University, New York, in 1988. In his essay in At Risk, he writes that in France, "whole archives of knowledge and human thought were opened to me. I devoured them to such a point that today, I conceive of myself as a legitimate claimant to its heritage."
Being in New York was a "real culture shock" and not just because of the language (he is from the Francophone part of Cameroon), but also the "immensity of the urban fabric" of the New York metropolis.
While in the United States the poly math and theorist learned enough English to write confidently in the language. Still, he plays down his proficiency: "I don't really write in English. I am translated. I don't know how to write in English. I am not responsible for what I write in English."
Forever the migrant, Mbembe soon left New York for Dakar, Senegal, where he took up a position as the executive director of Codesria, a social science institute. In windswept Dakar he had the late Sembene Ousmane (dubbed the "father of African cinema" and author of God's Bits of Wood and Last of the Empire, novels that should be in any definitive catalogue of 20th-century fiction) for a neighbour. "I was fond of Dakar, but it would be only a transit point for me," he has written of his time in the West African country.
Mbembe says he could have gone back to the United States or France but instead he looked south, just as he had done in 1981 when he went to Harare.
He found himself in Cape Town, "one of the strangest cities in Africa". Nuttall was then based there. The two had met in Nairobi in 1997. It was during this Cape Town interlude that he set down his critically acclaimed work, On the Post Colony. Both of them would soon move to Johannesburg to take up appointments at Wiser, where they conceived and jointly edited Elusive Metropolis, a ground-breaking book that explores Africa's number-one metropolis (Afropolis, if you like).
Johannesburg, he has written, is the place that signifies "South Africa's deepest potential". Yet he has misgivings about its trajectory. "We live in an age that believes that to think, to think critically, isn't important. Many people have opinions, but an opinion isn't a thought. Thought has been divorced from the object of freedom, wellbeing and happiness, without which democracy doesn't make sense."
"Our lives have been colonised by the logic of entertainment and I don't mean simply all those spectacles one has in mind," Mbembe says. "I also mean the way our politics operates. We sing, we dance, but we don't think critically. We build cities, but they are not cities of the imagination. They are cities of hedonism and consumption but, I guess, that's the logic of neoliberalism."
Nuttall's purple reign and Mbembe's polymathic interventions are certain to revitalise Wiser.
Photo Caption: Dynamic duo: Wiser director Sarah Nuttall (right) finds intellectual fraternity in spouse and staffer Achille Mbembe (left).
Photos by: Madelene Cronjé
By: Percy Zvomuya
Source: Mail & Guardian