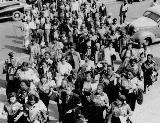 Little has changed for women since1994: worse, they face a backlash from their supposed equals.
Two decades ago most South African women had no rights. They worked in menial jobs and lived their lives in the private sphere. Apartheid had disenfranchised them. Then, in 1994, things looked up as everyone became equal, at least in theory — the new Constitution said so, after all, and of course everyone could vote.
But, for many, little has changed in the past 20 years. The space for discussion about women's rights has become increasingly restricted to civil society because of societal and economic pressure on the state.
The hope of the time was embodied in the 1994 Women's Charter for Effective Equality. It began: "As women, citizens of South Africa, we are here to claim our rights." The patriarchal order at the heart of their marginalisation "confines women to the domestic arena and reserves for men the arena where political power and authority reside".
The charter called for a new hope: "Women want to control their lives." But in the streets and in homes, in public and in private, there has been scant progress. Women still have to battle every day for the rights they are supposed to enjoy. Casual sexism is rife, as is the extreme violence meted out on women's bodies.
This is a country that seems to be at war with its women. "We have a deep misogyny in our society and, without a doubt, a war on women's bodies," said Professor Shireen Hassim, professor of politics at the University of the Witwatersrand. "This is a depressing time worldwide ... We had a phase where everyone agreed that gender equality was good for all," she said. "But now feminism is being seen as a real threat [to men's hegemony] and we are experiencing a backlash."
Such backlash can be seen in threats of violence such as those received in Britain by feminist campaigner Caroline Criado-Perez, who lobbied for Jane Austen to appear on the United Kingdom's £10 note. At the height of the abuse she was receiving 50 deaths threats an hour on Twitter.
It is also seen in very real violence, in the proliferation of rape in South Africa, and in the way men talk about women here. "The problem in South Africa is that men in power feel that they are entitled to sex from women," said Hassim.
Professor Jane Duncan, the Highway Africa Chair of Media and Information Society at Rhodes University, said women lacked a unified national movement. The last attempt, the Women's National Coalition in the 1990s, led to a few women entering the higher levels of government.
When the ANC chose to have its Women's League take up all issues of gender equality, "this meant that women were left without an independent voice," said Duncan. A lack of leadership on women's issues at the top levels of government meant that it fell to civil society to carry women's issues, said Hassim. This left women with few choices on where to turn.
In a collection of essays titled (Un) thinking Citizenship: Feminist debates in contemporary South Africa, the authors argued that the vibrant gender activism during apartheid had dwindled because of the large-scale reform of law after 1994. Steps had also been taken to give women equal representation in Parliament — South Africa ranks in the top 20 in the world in this regard. But the government's economic policies in the late 1990s hurt some women more than men, reducing their spending power, said Duncan.
President Jacob Zuma's economic and social policies had encouraged more conservative gender relations. "Women are seen as objects to be collected by powerful men, playthings, punchbags, second-class citizens and altogether thoroughly expendable," she said. This has been matched by a growing "nanny state" mentality that have banned sexually explicit media without compelling reasons to do so, said Duncan.
"This drives public discussions about gender underground, and turns them into issues for the private domain. This allows unacceptable forms of behaviour to continue unchallenged." And women have nowhere to go to remedy this. "The feminist movement is doing badly. This is a big failing of South African politics," said Duncan.
As a result, men could continue as usual. "There is simply too little pressure on men to change. And why should they — the problem of women being seen as less than human goes right the way to the top," she said. There maybe very vocal movements campaigning for women's rights —such as the One in Nine Campaign that works on the ground in communities to change people's immediate circumstances — but in the end it is the task of legislation to enshrine women's rights.
Jen Thorpe, editor of FeministsSA. com, said women have more legislative rights than ever before, but the onus is on the state to protect these rights. "The main thing we see is a lack of implementation of legislation to support women, outdated views on women's roles, and high levels of violence against women," she said. "These infringe on their ability to exercise these rights."
The violence against women is part of the general backlash against women, she said. For example, the Traditional Courts Bill, which is expected to be reintroduced in Parliament this year, was "an excellent example of the significant backlash against women in other areas". The Bill, which seeks to harmonise traditional and national law, is seen by many as upholding patriarchal ways of living.
A comprehensive report, written by the Women's Legal Centre, a nongovernmental organisation, said "grave challenges of implementation" are undermining these rights. Not enough people are working to protect them, and those that are often don't have the required skills to do so. Political will to improve things is needed, the report said.
The real fight is happening in the private sphere, in homes where women still work and live according to old divisions of labour along perceived sexualised fines, they said. One rape is reported every eight minutes in South Africa. Campaigners estimate that perhaps only one in nine women report this and that the annual number of women raped is about 330 000 — 37 an hour.
Last year, Interpol called South Africa the rape capital of the world, and said a woman was more likely to be raped than educated. In 2009 the Medical Research Council released a study saying one in four men admitted to raping a woman. The most vulnerable women in the country were black, making up 40% of the population.
They have the lowest per capita income, the least access to land, the lowest education levels, and the highest levels of unemployment of any group in the country. They were also subject to customary law, said the report. Census 2011 echoed this. Although women make up 51% of the population, the census showed that nearly two million more men were in formal employment than women.
There were also half a million more unemployed women than men. More women had bachelor and honours degrees, it found. But 1.9-million had no schooling, compared with 1.3-million men. Thorpe said more women had to be given more chances to voice their problems. "We need to make sure we break prevailing narratives about women's roles," she said.
And though feminism is "alive and well" in South Africa, the representation of women in the media still has a long way to go, she said. The dominant voices remain male, with women often only appearing to write on soft topics. August has been declared Women's Month and August 9 is Women's Day.
It commemorates the day in 1956 when 20 000 women marched on the Union Buildings to protest against the pass laws. "When you strike a woman, you strike a rock" was the cry of those who marched. That is the kind of leadership we need today. It must be loud, because people aren't listening. It must be now, because we are already slipping backwards. And, above all else, it must come from the government. See Page 29, "Plague of misogynist trolls" Causing a stir.
The most interesting feminist discourse happens on the web and on Twitter. These women are among those stirring debate. *Amy Heydenrych has published several short stories, one of which was published in the People Opposing Women's Abuse 2011 Women's Writing Anthology.
In 2012 she won the Short Story Day Africa fiction writing competition. Find her at @AmyIleydenrych Jen Thorpe edits FeministsSA.com, a platform for writers of all levels of experience. She also started My First Time, a project for women to write about their first experience in anything.
This was published as a series of books. Find her at @Jen Thorpe *Amy Jephta hails from Mitchells Plain, Cape Town. She is one of the Mail & Guardian's 200 Young South Africans, a columnist for Biglssue, a committee member of Women Playwrights International and writes about women's rights. Find her at @ thegravegirl
Photo Caption: The August 9 holiday commemorates the day in 1956 when 20000 women protested against the pass laws. Photo by: Robben Island Mayibuye Archives Global campaign group One Billion Rising held a stop rape vigil at Constitution Hill in February.
By Sipho Kings
Article Source: Mail & Guardian