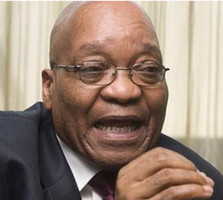 At the weekend the City Press newspaper reported that Magistrate Stanley Gumede and Adv Guido Penzhorn are going to be appointed by President Jacob Zuma to the posts of national director of public prosecutions (NDPP) and head of the Special Investigating Unit (SIU) respectively.
Both of these posts have been open for some time, but Presidency officials won't yet say if or when these appointments will be made. However, questions are now being asked about Mr Zuma's decisions, and about the length of time it's taking for him to make the appointments.
Mr Zuma has previously lost a Constitutional Court case relating to his choice of National Prosecuting Authority (NPA) head, after judges ruled his choice of Menzi Simelane was "irrational" and "unconstitutional".
They went further, saying the constitutional requirement that the NDPP be a "fit and proper person" was an objective one, and thus not simply up to the president to decide. They also said that if there was prima facie evidence of dishonesty, as there was in the case of Mr Simelane, it would be illegal to appoint him to this post.
This means that there is already a legal test Mr Zuma's appointment has to pass.
However, at present, it's understood Mr Gumede has several complaints outstanding against him at the Magistrates' Commission. While the commission hasn't yet spelt out what exactly these complaints relate to, many people would expect the NDPP to be a person of spotless character. Thus, Mr Zuma is likely to be asked what qualities Mr Gumede possesses that override any complaints against him.
The NPA has had an acting head, Adv Nomgcobo Jiba, who has herself been mired in controversy, for over a year.
The Constitutional Court finally struck down Adv Simelane's appointment five months ago, but Mr Zuma has shown no hurry to fill the post. His critics have previously suggested that in cases relating to the criminal justice system, Mr Zuma's inaction is often action, in that leaving posts unfilled weakens the institutions affected.
Considering Mr Zuma's own history with the NPA, and the fact it is still technically possible he could face corruption charges again soon, it has to be asked whether his priority is to strengthen the Authority, or to weaken it further.
His apparent intention here to appoint someone already facing complaints could convince his critics it is the latter.
At the same time, the length of time it is taking to make this appointment has also opened the space for there to be speculation about not only his decisions, but also his motives. If Mr Zuma had appointed someone to this position shortly after Adv Simelane's departure, there may have been no anticipation of his choice. Now it is likely to be scrutinised very closely, because the delay has led to questions of motive.
Mr Zuma's choice will be examined to see whether there are any links to him, amid claims that he is simply strengthening what has been called "Fortress Zuma" in the justice system.
If it is assumed that Mr Zuma has a personal motive here, and he does appoint Mr Gumede, he may face another challenge, on the same grounds as the case against Adv Simelane. However, the result of that case may not matter to him.
Rather, the NPA would be weakened further, as there would be uncertainty about Mr Gumede's future. This would simply see history repeating itself within the NPA.
But Mr Zuma may feel his critics can make whatever claims they like; he alone has the legal power to make this appointment, and if he is challenged in court, and loses, he could simply make another appointment.
At present, there is no mechanism to compel him to make an appointment that would pass legal muster — the only action that can be taken is to challenge the appointment he does make.
Considering Mr Zuma's past, he was always likely to have a hard time convincing people of his main priority when appointing people to the head of the NPA. His decisions in this area have made that task even harder.
President Jacob Zuma. Picture: MARTIN RHODES
By Stephen Grootes
Stephen Grootes is an Eyewitness News reporter. He studied at Rhodes University
Source: Business Day