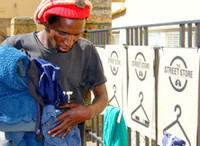 On Tuesday, an initiative billed as 'the world's first rent-free, premises-free, free pop-up clothing store for the poor' arrived on Cape Town's streets for one day only.
The Street Store, a collaboration between a Cape Town ad agency and a local homeless shelter, solicited donations of clothing from the public, hung up the garments, and then allowed homeless people to browse through the offerings to select what they wanted. Hundreds of people left with new outfits.
The number of homeless people in Cape Town is on the rise, a fact normally attributed to the growing prevalence of drug addiction and rising unemployment. In winter, in particular, homeless shelters find themselves stretched for resources while grim weather batters the city.
The City of Cape Town has been criticised over the past year for the steps it has tried to take to make various public areas in the CBD less hospitable for homeless people looking for somewhere to shelter: the placing of rocks under the Nelson Mandela Boulevard, for instance, and an abandoned attempt to make the benches in the Company Garden unsuitable for lying on.
The question of how best members of the public can assist Cape Town's homeless population has been deliberated over for some years. Through a campaign called Give Responsibly, the Cape Town Central City Improvement District (CCID) has lobbied to dissuade people from giving money directly to those on the street. "In the best case scenario, small change given at a stoplight makes life on the street more viable.
In the worst case, it can feed a cycle of anti-social behaviour that keeps people on the street and away from help," the CCID maintains. Instead, they encourage would-be philanthropists to SMS a dedicated line which donates R10 each time to reputable NGOs that provide services ranging from beds to family reunification services.
But still, Kayli Levitan says, it's her impression that a lot of people who wish to make a positive difference don't really know how to do so. Levitan is a copywriter at M&C Saatchi Cape Town, and from her desk in an office in Cape Town's Green Point she and work partner Max Pazak would watch a stream of homeless people walk the area daily.
"I think it's sometimes difficult for people to know what to do with donations," Levitan told the Daily Maverick on Tuesday. "Sometimes they're told not to donate at all, sometimes they don't know where to take donations, and sometimes they're scared to take them to the needed places." In sum, it can amount to a daunting process. After discussions with the Haven Night Shelter – established in 1978 to provide support to Cape Town's homeless population – the idea for the Street Store was born.
Cape Town's more affluent shopping streets in the CBD have been no strangers to the concept of a "pop-up store" in recent years: shops or businesses arriving in a venue for a clearly circumscribed period of time.
Their ephemerality appeals to those with a taste for the exclusive, while the intrinsic novelty is a hit with jaded Capetonians. Normally, however, the pop-up shops tend to sell achingly hip clothing or objets d'art to Cape Town's well-heeled. The Street Store took this concept and turned it on its head.
Tuesday was a bakingly hot day in the Mother City. From the early morning, there was a new arrival on Green Point's Somerset Road. Against the railings outside the Salesian Institute, a row of cardboard "hangers" was displayed, with boxes neatly stacked below each one. On the hangers hung jerseys, shirts, t-shirts, trousers and dresses donated by the Cape Town public.
In the boxes below, multiple pairs of shoes awaited a new owner. Men's wear to the left; women's wear to the right. An orderly queue of homeless people patiently waited to be greeted by an assistant who took them through the "store", showing them which clothes were available and asking for specific requirements. Organisers said that they hoped the "shopping" process would serve to lend greater dignity to the act of receiving donations.
Levitan said that one of the earliest customers of the day had been a man who arrived wearing a "shabby-ish" suit and a broken, tattered pair of shoes. "We told him we had one pair of brand new, label, leather shoes, and asked him if he would like them," Levitan explained. "It turned out he was on his way to a job interview. He walked off in his smart new leather shoes."
Many of the people who flocked to the Street Store had clearly not been shopping for many years, if ever. Some had no idea what their clothes size would be. "How much?" one said suspiciously to an assistant, gesturing at the garments on display.
Jennifer Bosman, one of the assistants helping match customers with clothes, said that their clients left "very happy". She pointed out that men's clothes were far more in demand than women's clothes, reflecting the demographic profile of those most likely to live on the street. "Most of the ladies want open shoes – as you can see there's not many sandals left," she said. Jeans, too, were a highly sought-after option.
Customers were allowed to select three items, packaged up for them in a brown paper bag. By 4pm the initiative had been through 500 bags already. Muhambi Khanyiso, who was serving as security for the queue, attempted to prevent people returning for second helpings. "It's not the first time you are coming here!" Khanyiso was heard telling an insistent young man.
"But the clothes I got, most are for him," he replied, gesturing at a friend. Other customers had quite specific ideas of what they wanted: one asked if a particular T-shirt was available in blue.
"But there's been no trouble here," Khanyiso told the Daily Maverick afterwards. "More and more and more people are coming, and they are very happy when they get the clothes."
Levitan and Pazak's idea is that the Street Store concept will spread to other South African cities, and perhaps even abroad. Social media was key to spreading the word about the pop-up store in advance to solicit donations. Everything else needed to help set up the event – including designs for the cardboard hangers – is available to download freely from open source files on a website set up for the purpose.
Vuyanda, a 30-year-old homeless man, had come away with a warm fleece jersey, a Speedo, and a pair of checked trousers. "This is the first time I have nice clothes," he said. "I normally just take what I find on the street."
Photo Caption: Vuyanda, 30, came away with an armful of new clothes. (Jeanine Cameron)
By: REBECCA DAVIS
Rebecca Davis studied at Rhodes University and Oxford before working in lexicography at the Oxford English Dictionary. After deciding she'd rather make up words than define them, she returned to South Africa in 2011 to write for the Daily Maverick, which has been a magnificilious decision.
Article Source: The Daily Maverick