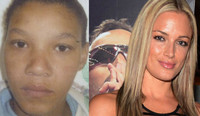 Judge Thokozile Masipa's decision not to allow any live media coverage of Reeva Steenkamp's postmortem coverage was doubtless undertaken for the noblest possible reasons.
But that still doesn't mean it was the perfect call – particularly because it reinforces the perceived discrepancy between the way white and black bodies are treated in death, or the idea that famous people have greater rights to dignity and privacy than folk on the street.
The evidence given by pathologists as to exactly how Reeva Steenkamp met her death was always going to be grim. In an article last year, we predicted: "Like Anene [Booysen], Reeva risks becoming simply the site for the violence of an angry man. We will pore over coroner reports of where the bullets entered her body. We will deliberate, humiliatingly, over whether or not her bladder was empty when the first shot struck. It will be an objectification more intense than any in her modelling career."
To have your body scrutinised so publicly and clinically in death is part of the ongoing brutality inflicted on the victims of violent crime. It is also, unfortunately, an irreplaceable means of trying to establish as accurately as possible the circumstances of that crime, and the perpetrator responsible.
And indeed, the evidence given by pathologist Gert Saayman was difficult to listen to – as the few people who were able to do so can attest. In the end, only those physically present in Courtroom GD of the North Gauteng High Court and its overflow room – journalists and a few members of the public – were able to witness Saayman testifying live as to how Reeva Steenkamp met her death.
This is, of course, the norm for a criminal trial. In particular, it was standard for the days before the advent of social media as a tool for journalists, when everyone else would have to wait to read about it the next day in a newspaper, or hear about it on a later TV or radio bulletin. But as we've abundantly established, not much about the Pistorius trial is normal by the standards of the South African criminal justice system.
Most obviously, it is the first criminal trial of this scale in South Africa where media houses won the right from a judge to broadcast proceedings live via audio and video. Pistorius's team was opposed to this idea. But in ruling that media houses should be able to go ahead, with restrictions, Judge Dunstan noted: "Acceding to the objection by Pistorius fully will perpetuate the situation that only a small segment of the community is able to be kept informed about what happens in court rooms because of this minority's access to tools such as Twitter". (And not even that, in this case, because trial Judge Thokozile Masipa slapped a ban on journalists live-tweeting the testimony too.)
"At this day and age I cannot countenance a stance that seeks to entrench the workings of the justice system away from the public domain," Mlambo's ruling continued. "Court proceedings are in fact public and this objective must be recognised."
Judge Masipa has yet to give a full account as to why she decided to grant Saayman's stated wish for his evidence not to be broadcast. Saayman himself spoke confidently and articulately about how giving his testimony to an international audience of millions would contravene his personal ethical standards and possibly the "first, do no harm" credo of his profession.
He also spoke of the need to protect the dignity of Reeva Steenkamp – although lawyers subsequently pointed out that South African law does not explicitly protect the dignity of the dead. Saayman also cited the need to protect the dignity of Steenkamp's family, even though no clear statement as to the Steenkamps' wishes on the matter was ever presented.
Saayman was the state's witness, so Gerrie Nel had to back him in this. It's obvious why the defence team would also jump at it: Pistorius's already perilous reputation would hardly be enhanced by having the details of how exactly he caused Steenkamp's death broadcast live around the world. Judge Masipa must be acutely aware of the criticisms around the media circus element to the trial, and the desire to protect dignity is compelling.
In this matter, lawyers can argue over the relative balancing of the right to dignity and the right to media freedom of expression, as well as the importance of the open justice principle. But another problem, as evidenced in social media responses to Masipa's ruling, is the public perception that there are two sets of standards at play here in the treatment of victims of crime.
As numerous commentators pointed out, the postmortem on Anene Booysen's dead body was discussed in graphic detail in open court and freely reported on and live-tweeted. At the Marikana Commission, which was streamed live online, a graphic video showing 34 striking miners being shot dead by police was screened without even a warning to family members beforehand. In both cases, the victims were coloured and black.
This discrepancy goes beyond legal proceedings to media coverage. Media outlets have been frequently criticised for publishing footage of dead black or brown bodies with apparent disregard for their privacy or dignity, and with little or no attempt to conceal their identities. Last year, for instance,photos seeming to show rows of dead Syrian children were flashed all over the world. During the Rwandan genocide, international outlets showed pictures of bloated bodies floating down the Akagera River.
In the wake of the coverage of last year's Westgate bombing in Nairobi, The New York Times was criticised for publishing recognisable photos of victims of the Kenyan attack. Journalist Michael Deibert wrote: ""Would the New York Times run photos of blood-soaked dead white Americans after one of the many mass shootings that occur in the United States? I doubt it. That they did so after the mass killings in Nairobi yesterday is very troubling, not just to me, but also to many other journalists, academics and analysts who focus on Africa."
This apparent double standard fosters the perception that the media and the law regard black bodies as less valuable, and as intrinsically deserving fewer rights, than white bodies. In the Pistorius trial, the additional dimension is that the accused and the victim were well-known. But nobody, surely, could seek to make a convincing case for the idea that rich and famous people should have greater rights to dignity.
Of course, the solution to this is not that we should go hell-for-leather and broadcast every graphic detail of every graphic case to anyone who wants to listen in salaciously. Indeed, it's intuitively appealing that Judge Masipa sought to protect the Steenkamp family from having their daughter's body laid out on a slab for the world to prod at. It's simply that rights should be seen to be applied equally.
By: REBECCA DAVIS
Rebecca Davis studied at Rhodes University and Oxford before working in lexicography at the Oxford English Dictionary. After deciding she'd rather make up words than define them, she returned to South Africa in 2011 to write for the Daily Maverick, which has been a magnificilious decision.
Article Source: The Daily Maverick