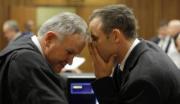 In dissecting the character of Oscar Pistorius, much has been written about a certain culture of South African hyper-masculinity within which Pistorius is taken to fall: valorising guns, fast cars, anger, speed, physical strength and violence. If his defence against murder is that he "screams like a woman", we may have to re-write some of our simplistic gendered assumptions and responses.
In the first two days of the Oscar Pistorius murder trial, three witnesses who lived close to Pistorius have testified to the fact that they heard what they believe was a woman talking, yelling or screaming shortly before – and while – gunshots were fired. This is not a trivial point. It is, in fact, the point that could send Pistorius to jail with a life term. The heart of his defence rests on the idea that he had no reason to believe that Reeva Steenkamp was not safely tucked up in bed while he went to deal with an imagined intruder.
If the state can convince Judge Thokozile Masipa that witnesses who heard a woman's voice are credible, Pistorius may well be sunk. If Reeva Steenkamp was talking, yelling or screaming before or after gunshots were fired, Pistorius must have been, or have become, aware of her whereabouts. If she was yelling beforehand, the logical assumption is that the two were having an argument, which is the crux of the state's case that Pistorius shot through a door at Steenkamp in a fit of rage.
It could literally be a matter of freedom or prison for Pistorius' defence to knock down the idea that a woman's voice could have been heard from his property early in the morning of 14 February, 2013. This is doubly the case because at least two of the witnesses have given strong, consistent testimony. All three witnesses were adamant that they had no doubt that the voice they heard was that of a woman.
The defence Pistorius' team has chosen is that Pistorius' voice becomes as high-pitched as a woman's when he cries out in anguish. Or, to put it the way the majority of news outlets (including this one) reported it, "Oscar screams like a woman".
News24 explained what happened after Pistorius' lawyer Barry Roux dropped this bombshell: "The court giggled slightly". This is entirely accurate – again, including this journalist.
It sounded funny partly because it was unexpected, and partly because it also sounds like an implausible, grasping defence. (This may not actually be the case, of course: Barry Roux hinted that they would produce a witness later to testify to this aspect of Pistorius' vocal performance.) Puppet character Chester Missing summed this dimension up nicely in a tweet on Tuesday: "Apparently Oscar screams like a woman, but his cricket bat sounds like a gun. Nothing in this guy's life sounds like what it is."
But there's an easier, more tempting joke to make. Journalists discussed, in jest, whether it was worth getting off a murder charge but being stuck with the taint of "screaming like a woman" for life. Social media users taunted Pistorius. "Don't think any man would want a headline like this about themselves", one tamer contribution read, linking to one of the endless "Oscar screams like a woman" headlines.
This is because accusing a man of being like a woman, or a girl, remains one of the most effective insults around, possibly surpassed in perceived offensiveness only by accusing a man of being gay – which itself carries feminising implications. It is the go-to playground, sportsfield and boardroom taunt. "You throw like a girl." (You are weak and pathetic.) "Stop being such a woman." (You are naggy, or demanding, or emotional.) In this schema, being like a woman is pretty much always negative. It is highly, almost unthinkably, rare for a man to be compared to a woman in a positive light: "Wow, you think like a woman." "Good job, you handled that like a woman."
We might pause here to consider that the opposite often holds true too. When women are compared to men, it is often in a disapproving manner, particularly if they hold positions of power. Because power is still often associated primarily with masculinity, an attempt to undermine a woman's legitimate occupation of a space of power frequently takes the form of accusing her of trying to be, or act like, a man: in other words, usurp a man's authentic position. But this still holds the implication that being like a man is basically aspirational. To be called "one of the guys" is a label many young women consider high praise.
But our society does hold sanctions for either males or females seen to transgress still fairly conservative gender behaviour. This is why taunting, or even lightly teasing, Pistorius for "screaming like a woman" seems like such a knee-jerk response, regardless of whether you consider him guilty or innocent of the murder of Reeva Steenkamp.
It's also the case that there's a particular sense of incongruity here because many of us have become quite wedded to a narrative of Pistorius which places him firmly within a South African culture of hyper-masculinity: a testosterone-fuelled scene of fast cars and guns, where physical strength is valued above pretty much any other virtue. The picture of the Pistorius we think we know crying hysterically and screaming in a high-pitched voice simply doesn't sit coherently here for many of us – which is partly why we may be tempted to scoff at his defence.
But the truth is that there's no reason why Pistorius can't be both a testosterone-loaded boytjie and a sensitive soul who cries and screams in anguish – or neither, really. It's time we acknowledged that our mainstream gender narratives are reductive and confining, and sometimes we're only aware of them when they become a tool with which to taunt someone.
By Rebecca Davis
Source: Daily Maverick
Photo: Oscar Pistorius speaks to his defence lawyer Barry Roux (left) during the second day of the trial of the Olympic and Paralympic track star at the North Gauteng High Court in Pretoria. (REUTERS/Kim Ludbrook/Pool)
Rebecca Davis studied at Rhodes University and Oxford before working in lexicography at the Oxford English Dictionary. After deciding she'd rather make up words than define them, she returned to South Africa in 2011 to write for the Daily Maverick, which has been a magnificilious decision.