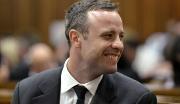 There are only two people who know for certain the circumstances under which Reeva Steenkamp was shot, and one of them is dead. It's not mandatory for Oscar Pistorius to take the stand in his own defence, though his legal team has hinted that he will. But there's one particular previous South African case which provides a compelling reason for why he must do so. REBECCA DAVIS takes a look.
At Oscar Pistorius's bail hearing, he presented an affidavit giving his version of the events that took place at his house on the morning of 14 February, 2013. It is the only publicly available statement he has made on the matter. If he mounts the stand to present this version in person once the prosecution rests, Pistorius can expect a gruelling cross-examination from the state's Gerrie Nel. It must be a daunting prospect. If Pistorius wants to steel himself for why it's necessary, though, he may want to take a look back in South African legal history and consider the case of S vs De Oliveira.
Given that Pistorius has admitted to shooting and killing Reeva Steenkamp through a door, it's believed that his defence team will claim that he was acting in "putative private defence". Law professor Pierre de Vos explained this term last year: "Where an accused is found to have genuinely believed that that his life was in danger and that he was using reasonable means to avert an attack on himself or his property, he may escape conviction for murder on the grounds that he lacked the requisite intention".
Even if this succeeds, he may still, however, be convicted of culpable homicide if the state can prove beyond a reasonable doubt that a reasonable person in Pistorius' circumstances – which would include his disability – could have foreseen that the death of another person might arise from his actions.
How can a court determine whether the accused genuinely believed his life was in danger? South African legal theorists Burchell & Hunt suggest: "Since intention is tested subjectively, the question of whether the accused knew he was exceeding the bounds of private defence must be determined by examining the state of mind of the accused himself and especially his perceptions and beliefs relating to the attack and his defence."
If Pistorius does not testify, the only information as to his state of mind before and during his shooting of Steenkamp that the court will have to work with is his bail affidavit. The court has the testimony of witnesses like Dr Johan Stipp as to Pistorius' anguished state of mind directly after the shooting, but this is likely to be insufficient.
Antonio de Oliveira found this out the hard way. De Oliveira, an illiterate white immigrant from Madeira, was living with his partner – a 'Mrs Cordeiro' – in a suburb of Johannesburg called Rewlatch in 1988. De Oliveira co-ran a number of businesses, and another resident on the same property was his employee Vusi Nyandeni, with whom De Oliveira reportedly had a friendly relationship.
Rewlatch was a dangerous area, known for robberies and housebreakings. De Oliveira owned at least one gun.
On the Sunday in question, De Oliveira had closed up shop and had some whiskey with Nyandeni. He and Cordeira then returned home, going to sleep extremely early (mid-afternoon) because they had to be awake very early. Nyandeni stayed out, going to visit his brother Paul and two friends, Isaac and Jochonia. Nyandeni invited the three men back to his place at De Oliveira's.
When the men arrived at De Oliveira's property, Nyandeni later testified, he found the door to the "servants' quarters" locked, and rang the front bell instead, with no response. He claimed Mrs Cordeiro then arrived at her bedroom window, demanding to know what was happening, followed by De Oliveira, with the same query. Nyandeni claimed he responded that he simply wanted to gain entry to his room. De Oliveira, he testified, responded by telling Nyandeni that he told him before that if he ever brought strangers on to the premises he would shoot them.
In the state's version, De Oliveira then disappeared, returned with a gun, and started firing. At least six shots were fired. One hit Nyandeni's brother Paul in the back and killed him. One penetrated Nyandeni's scalp, and another narrowly missed, injuring Jochonia.
De Oliveira never took the stand in his own defence, so the court had to rely on the testimony given by his partner, Mrs Cordeiro, and the very brief statement that De Oliveira gave to police.
Cordeiro's version, which played heavily on the threat of the unknown black intruder, was that she was woken by the barking of dogs. Seeing nothing out of her window, she went to her spare bedroom, where she saw three or four black men outside and heard glass breaking. She did not recognise the men. Cordeiro ran back to the main bedroom, shouting "Antonio, Antonio, Antonio, there are unknown black men outside!" She testified that he calmed her and went to the window while she ran to the adjoining bedroom, from where she heard shots being fired.
De Oliveira's statement to police is redolent of the racial language of Apartheid. He testified that he was half asleep when the incident took place. His statement read: "I told my wife not to worry. I would sort it out. I then took my pistol from the table next to my bed and I fired six or seven shots and these blacks ran away. I saw afterward that two black males were lying on the ground. I was not thinking about anything at the time as I was half asleep when I shot these shots."
When De Oliveira realised that he had shot Nyandeni, he set about rendering assistance.
The original court considering the matter gave credence to Cordeiro's version, because the judge found it unlikely that De Oliveira would have fired at Nyandeni after talking to him and ascertaining his identity. Nonetheless, he had been convicted of murder and two counts of attempted murder, with sentences of 12 years, 8 years and 8 years running concurrently.
When the matter came before the Supreme Court of South Africa in 1993, Judge Smalberger wrote in his judgment: "On appeal the unlawfulness of the appellant's conduct was not in issue. Accordingly the only issue was whether the State had proved beyond all reasonable doubt that the appellant subjectively had the necessary intent to commit the crimes of which he was convicted; in other words, that he did not entertain an honest belief that he was entitled to act in private defence."
In considering this issue, the judge took into account the fact that De Oliveira did live in an area where a reasonable person could have well-founded safety fears.
"There was, however, no indication that any attack on the house or its occupants had commenced or was imminent," Smalberger wrote. "The appellant was in a situation of comparative safety in his bedroom, in a secure and burglar-proofed house and armed with a pistol. In those circumstances it is inconceivable that a reasonable man could have believed that he was entitled to fire at or in the direction of the persons outside in defence of his life or property (and that without even a warning shot)."
De Oliveira's failure to testify as to his state of mind meant that there was no contrasting evidence that he was entitled to act as he did.
"His silence must weigh heavily against him," wrote Smalberger, who quoted from an earlier judgment: "It is not easy for a Court to come to a conclusion favourable to the accused as to his state of mind unless he has himself given evidence on the subject."
Smalberger also judged that the testimony from both the accused and his partner that he had said that he would "sort it out" was evidence of "presence of mind", rather than being befuddled with sleep as the defence claimed. "Picking up his pistol, moving to the window and opening it before shooting also show an awareness of what he was about," Smalberger wrote.
The narrowness of the area into which De Oliveira was shooting was also taken as a damaging factor. "The evidence establishes that the appellant fired at least six shots in rapid succession into a confined area while aware of the presence of people there," the judgment records. "The only reasonable inference to be drawn from the evidence, as well as the appellant's failure to testify, is that he must have foreseen, and by necessary inference did foresee, the possibility of death ensuing to the persons outside, but reconciled himself to that event occurring."
Smalberger dismissed De Oliveira's appeal against his conviction, but allowed the appeal against the length of his sentences, which were reduced by an effective three years.
There are obvious differences between the De Oliveira case and that of Pistorius, although the threat of the imagined black intruder, between 1988 and 2013, apparently still looms large. But Judge Masipa will be familiar with this judgment, as will lawyers on both sides. Critically, Pistorius' defence team will be aware of the importance it places on personal testimony as to state of mind when trying to claim putative private defence.
Oscar Pistorius may well be dreading his time on the stand. We don't know how convincing a witness he will turn out to be. His emotional behaviour in court thus far suggests that he may take cross-examination from the seasoned Gerrie Nel particularly hard. But the consequences of not testifying could be very serious for a man hoping to avoid prison.
By Rebecca Davis
Source: Daily Maverick
Photo: Olympic and Paralympic track star Oscar Pistorius smiles during his trial for the murder of his girlfriend Reeva Steenkamp, at the North Gauteng High Court in Pretoria, March 3, 2014. REUTERS/Herman Verwey/Pool