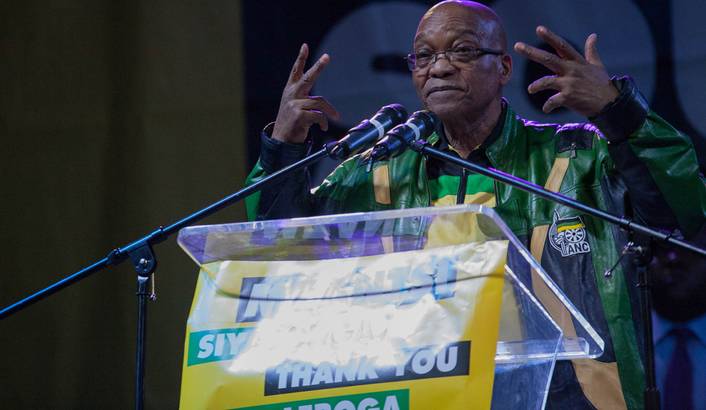 Instead of the usual peace and goodwill you'd expect to break out, Luthuli House, and President Jacob Zuma himself, are turning on the media and the opposition. With claims of "bias" and that the media have always "campaigned against us", the ANC is angry and now not afraid to show it. But does it really have a case?
That the media and Zuma have a difficult relationship is no surprise. Partly because of his strange path to power, partly because he brings into focus the difference between the rural and urban South Africa, and partly because the two just don't seem to understand each other, or even try to; thanks to all of these, the dynamic has always been tense. Normally this has been well hidden by the Presidency. Zuma has taken the plunge and spoken at several off-the-record engagements, which are always risky. By and large, that risk has paid off, in that no one seems to have broken the rules of those meetings. He has spoken several times of how the ANC has protected press freedom, and that this is a free country.
On Saturday evening at the ANC's victory celebration in Johannesburg, that mask finally started to slip. It actually began a few hours earlier, during his speech at the Independent Electoral Commission's ceremony to mark the official end of the election process in Pretoria. When invited to speak, Zuma began by greeting all the "senior leaders of the ANC, and other political parties".
It was a live televised event, when Zuma was supposed to act not just as a leader of the winning party, but as a national leader. It was a moment when Barack Obama would have spoken "to those Americans whose support I have yet to earn, I may not have won your vote tonight, but I hear your voices. I need your help. And I will be your president, too."
It could have been gracious, welcoming, a moment to put aside all the ugliness that our country can create around itself, and start afresh. Instead, Zuma simply spoke to his party, and ignored the others. It was unnecessary and small. It was also simply a wasted opportunity. Especially since, when he wants to, Zuma can absolutely be that person. We know this, because Zuma stood in the same hall in 2009, and gave a speech that was the opposite in sentiment. It was gracious, it shouted "national leader", rather than "party hack".
But worse was to come. Later on Saturday, outside Luthuli House, Zuma gave a victory speech to ANC supporters. Speaking about opposition parties, he said, "Because they have nothing to say, they spent more than a year addressing my homestead Nkandla. There's nothing wrong with Nkandla, there's everything wrong with them". Interspersed with laughter from Zuma, it sounded arrogant, almost taunting; a show of deep feeling of superiority.
On one level, it was a demonstration that Zuma is human. He is clearly deeply angry about the way he believes he has been treated by the media, and opposition parties, and particularly that his home, that seems to mean so much to him, was brought into it.
Of course, it was his decision, and his alone, to mention that the horrible attack that left his family traumatised in the '90s. And, according to the Public Protector's report on Nkandla, it seems it was also his decision to spend so much government money on his homestead in the first place.
On Sunday, the ANC held a press conference at Luthuli House. While speaking, the party's head of elections, Malusi Gigaba, also had a full-blooded go at the media, describing it as an "oppositional force", suggesting that it "had always campaigned against us". In his prepared statement, ANC Secretary General Gwede Mantashe spoke about the hostile forces, including some parts of the media, that the ANC was up against during the campaign.
It's important here to examine the roots of this dynamic, as they go back a long way. In 2006, Zuma was charged with rape, and thus had to undergo a humiliating trial that must have deeply affected him and his family, before being acquitted. Looking back on those events now, it seems likely that considering the weakness of the case against him, there might well have been no trial, if the Sunday Times hadn't got hold of, or been given, the charge sheet. In other words, if it were not for that action by the media, Zuma might well have avoided that trial, and the embarrassment it led to. Don't forget, Zapiro's lasting depiction of Zuma with a shower-head is a direct result of that case.
The ANC itself has always believed it's up against a hostile media. In 1990, just about all the commercial media in this country were white-owned and white-controlled. While people may still keep the front page of The Star from the day of FW's speech, in fact those newspapers grew rather critical of the ANC pretty quickly. In 1997 Nelson Mandela said it was perfectly clear that "the bulk of the mass media in this country has set itself up as a force hostile to the ANC". According to some, the dynamic then wasn't complex, the media represented people who benefited from Apartheid, and the ANC was breaking all of that down.
In this campaign, the party has had it particularly tough. The Nkandla scandal simply would not go away, and it dominated the front pages, and thus possibly the minds, of the middle classes, black, white, and polka-dotted. No matter which non-SABC radio station you turned to, if you heard call-ins, it was people angry with Zuma, the ANC, and Nkandla. It was the culmination of five years of scandal, and it climaxed during the campaign.
From the point of view of Luthuli House, it must have been quite hurtful. It was a constant and unrelenting tide of, from their point of view, anti-ANC content. Apart from the SABC and The New Age, that was the lead story all the time. And the difference between those two organs, and everyone else, became starker as the days wore on. Clearly, that led to emotion that is coming out now, when it is safe to actually emote, now that the voting is over.
If that, then, is the side of things from Luthuli House, do they actually have a case?
Quite frankly, no. It would be a complete abrogation of responsibility for media organisations not to focus on the alleged corruption of a ruling party's leader, or any of his officials, at any time. To do so during an election would be especially heinous. What makes it even harder for Zuma is that he himself has claimed that his party, and the government that he leads, are fighting corruption. When it then emerges that the independent government body that probes corruption finds he is a beneficiary of corruption, it must be reported on.
To make matters even plainer, there seems to be almost no non-ANC voice that has supported him. In almost every opinion piece written about Nkandla, there has been strident criticism of Zuma in particular. The only pieces where that has not happened have been those written by ANC members, or people somehow linked to Zuma. For example, Krish Naidoo wrote in The New Age that the Public Protector's Nkandla findings were "fatally flawed". While he is a Struggle attorney, he is himself a recipient of Zuma's largesse, as he was appointed to the board of the SABC. Even some ANC voices, such as Trevor Manuel and Pallo Jordan, appeared to be critical of Zuma's conduct in the Nkandla case.
This meant it wasn't really a debate around Nkandla, so much as a public lynching. But only because the case against Zuma seems to be so clear-cut, and the response from the ANC has been so weak, and so obviously partisan.
But put together a totality of coverage of all news media entities in South Africa, and a different picture emerges. Apart from the fact that the most of independent media is strongly attacking the president and the ruling party, there is also an inescapable truth that the government itself is by far the largest media player in the country. The SABC happens to be a broadcasting behemoth that dwarfs any competition it may have, through its sheer size and unparalleled reach. And while the government may claim that the SABC is public - rather than a state-broadcasting company, the reality is that for a long time it's been playing an extremely friendly role to the ruling party, and especially under the stewardship of the current SABC COO Hlaudi Motsoaneng. Factor in the unashamedly pro-government and pro-ANC privately-owned enterprise like The New Age and, increasingly, The Independent News Media under its new ownership, and the ANC and Zuma's rage against the media should ring rather hollow.
A more precise definition of 'we are under attack by the media' perhaps should be 'why is the privately-owned media, that we can't easily control, against us all the time?'
There's another element that Mr Zuma and the government conveniently omit: The government itself is one of the biggest advertisers in the country, spending funds that are a lifeblood for any commercial media enterprise. They were many occasions media titles considered unfriendly to the ruling party were warned that their lifeblood may cease to flow. On the other hand, a simplest of audits will reveal that the top advertisers in The New Age are the government and state-owned enterprises.
While it may be understandable, and certainly human, for the ANC to be attacking the media right now, it's simply bad politics – and not reflective of the reality of the total media picture in South Africa. No matter how powerful you are, or how big your brand new majority might be, it's always a bad idea to create a new enemy, or antagonise an old one unnecessarily. It will only encourage them to fight back, and to fight harder.
The ANC may not need the non-government-controlled media right now, but one day it might. It has admitted this was a harder campaign, partly because of the "hostile media environment". The next campaign will only be harder, and at this rate, the 'media' will only be more hostile. The next campaigns are for the 2016 Local Government Elections, where already it seems Joburg, Tshwane and the Nelson Mandela Bay Metro are in play. These are all big markets, all packed with people with easy access to any means of communications. It may seem like good short-term politics to go to war with the media, but in the long run it could prove to be a bad direction to take.
By Stephen Grootes
Source: Daily Maverick
Photograph by Greg Nicolson