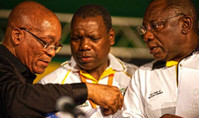 On Saturday, the ANC will unveil its manifesto for elections that are claimed to be the party's toughest ever.
Manifestos are supposed to set out policies that a party will implement once in power. In other words, they're the view of the future, the vision, of that particular party. For the ANC, this means there are different constituencies to balance. It also means that it has to give a vision of a future that is better than our present. Either way, it will be very revealing.
What a difference five years in power can make. In 2009, the ANC unveiled its election manifesto in East London. Like this time around, it was folded into the ANC's annual January Eighth Statement. It was also in a large stadium. The one difference then was that then we didn't have World Cup stadiums, and so it was not quite as big, or as fancy, as the Mbombela Stadium in Nelspruit.
At the time, President Jacob Zuma was more of an unknown quantity, particularly when it came to policy. The Economist had described him as "policy-lite". The one big question was whether or not he would retain the policy of interest-rate targeting. In other words, would he be chucking out Thabo Mbeki's hard-won macro-economic policies or not? (There were other questions of course, like who would be appointed National Director of Public Prosecutions, and whether he would ever stand trial for corruption. But the answers to those have become way too depressing to repeat in detail here).
At the same time, it appeared that Zuma was in serious political debt to Cosatu and the SACP, the two organisations that had campaigned strongly for him at Polokwane.
About 24 hours before Zuma stood up to speak, I got a call from a currently disgraced ANC spin-doctor. He was very careful to say I should not quote him, but let's just say he doesn't work for the ANC anymore, and has a serious spending problem. But he rang me up to say "Stephen, you can say that you have been told by the ANC, this is a radical jump to the Left".
Being younger, thinner, and less grey, I swallowed it. It was the lead line of my radio story the next morning.
After the manifesto was released, a slightly wiser journalist came up to me, and said he'd just got off the phone with Professor Steven Friedman who had pointed out that there was no such thing as a "jump to the Left" in the entire document. Instead, it was simply spin.
Of course, Friedman was right.
Which is why it's so interesting that already ANC Secretary General Gwede Mantashe is telling people not to expect surprises in this year's election manifesto. It looks likely that it's going to be a "more of the same" or "steady as she goes" document.
This tells us many things about the ANC, and about Zuma's particular place in it. Firstly, it's a real indication of the lack of any influence whatsoever that Cosatu and the SACP actually have on ANC policy right now. While the fact the SACP has no influence over policy won't come as a surprise to anyone who who's followed the red-shirts, it does make an interesting point about what is going on in Cosatu at the moment.
It shows that Zuma clearly isn't going to do what Cosatu demanded he do at its last conference. This is the conference in 2012 that saw Zwelinzima Vavi and S'dumo Dlamini re-elected unopposed to their positions as general secretary and president of the federation. While Vavi has since been suspended, it may allow him to now ask Dlamini, in public, why on earth he is still supporting Zuma, when the ANC is not going to follow the policies Cosatu workers demanded it follow at its conference. In other words, this could be quite useful for Vavi, and difficult for Dlamini.
But then we also have the fact that it does now appear the ANC is not going to make any major changes.
From an economic point of view, that may well be good news. It means inflation targeting is going to stay. And that there will not be radical change to the status quo. In other words, capitalists like stability, and therefore no change is a "very good thing".
However the political playing field has changed over the last five years. In 2009, the ANC was basically facing two opponents. The DA and Cope. Now there is Malema's Economic Freedom Fighters and, err, Agang (if anyone cares). It seems that Luthuli House is not that worried so far about Julius Malema. If it were, it would be contemplating some changes. If it's not, it's not worried. And I tend to agree.
It does appear that the ANC believes it has policies that can't really be improved upon. To look at the policies of many of our other parties, you might have to actually agree. The DA has recently shifted some of its policies, particularly on Black Economic Empowerment and employment equity closer to those of the ANC. Cope, of course, has been rather too busy to draw up its own policies, and the IFP is still pursuing the core policy of being led by Mangosuthu Buthelezi until Jesus comes.
The policies the ANC has now are far better than during Mbeki's age. But when it comes to corruption, the very real problems. Any of its leaders who claim they are doing everything they can to fight this cancer are going to be faced with the word "Nkandla". The party already knows this, as it has already prepared election leaflets for its volunteers with answers to questions around that particular residence. Which essentially means that the fight against corruption will get a mention on Saturday, but that's it.
Still, as we all know rather well by now, it's pretty easy to draw up an election manifesto. Anyone with a word processor can put words on paper. It's the implementation of that policy that really matters. And of course the ANC has fallen down rather heavily here. The fact we've seen so many "service delivery" protests is proof of that. So the real question then is whether this election manifesto will spell out how to better implement these policies. How will jobs be created? How will education be improved? How will the police become less scary and violent? How will health system actually save people's lives?
Don't hold your breath about getting any answers.
Photo Caption: Mangaung, Free State, South Africa, 20 December 2012. Presdient Zuma (pictured here with the ANC Treasurer Zweli Mkhize and the ANC deputy president Cyril Ramaphosa) was set to give the closing address at the ANC's Mangaung conference Friday before the power went out. Photo Greg Nicolson/Daily Maverick.
By: STEPHEN GROOTES
Grootes is the host of the Midday Report on Talk Radio 702 and 567 Cape Talk, and the Senior Political Correspondent for Eyewitness News. He's been part of the political hack pack since before the Polokwane Tsunami, and covers politics in a slightly obsessive manner. Those who love him have recommended help for his politics addiction. He quotes Amy Winehouse. Grootes studied at Rhodes University.
Article Source: The Daily Maverick