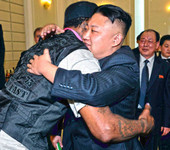 Maybe you'd like to take a moment to consider the fact that an apparently unhinged former basketball pro who briefly dated Madonna is currently representing your interests in North Korea.
That's right: the multi-pierced, hilariously-coiffed Dennis Rodman is in Pyongyang as you read, knocking back shooters with Kim Jong Un. Why? Because it's the Supreme Leader's birthday. And Dennis is there on behalf of all of us. "This is his gift, from me, from the world," Rodman said before an exhibition basketball game on Wednesday.
Dennis Rodman is a serious bad ass. He is, in fact, one of the baddest asses of all the bad asses out there. He is so bad ass that when it came time to launch his signature drink, Rodman Vodka, last year, there was only one choice for a slogan: The Original Bad Ass Premium Vodka.
"On and off the court – always a bad ass," the vodka's blurb reads. "Welcome to the world of Dennis Rodman. Being a bad ass is not an alternative, it's human instinct. Identity. Life."
Objectively speaking, Rodman's new BFF, Kim Jong Un, is a tiny bit of a bad ass himself. Perhaps that's why Dennis thought Kim would enjoy a few bottles of Rodman Vodka. On a trip to Pyongyang last September, Rodman brought the North Korean dictator two cases of the stuff. Observers said the pair proceeded to get riotously pissed. Let them drink Rodman's!
If the two had to have a bad ass competition, it's no secret who'd take it. We're comparing a man who occasionally dyes his hair green with a fellow who offed his own uncle in December. Possibly the most provocative thing Rodman has ever done (current antics excepted) was to announce that he was bisexual and marrying himself. Arguably the most provocative thing Kim Jong Un has ever done has been to rule a closed tyrannical society which sees an estimated 200,000 men, women and children incarcerated in hard-labour prison camps while he continually threatens to nuke the shit out of South Korea and the USA. Try harder, Dennis.
This is Rodman's fourth trip to visit the dictator, who he now refers to as his "friend, forever and ever and ever", a sentiment he may or may not have tippexed on his Space Case. Rodman's first visit was in February last year. Before he left the States for North Korea, he commented hopefully: "Maybe I'll run into the Gangnam Style dude while I'm here". (He was referring to South Korean pop sensation Psy, and no, this is not made up.)
Then again, Rodman has a habit of showing up in bizarre places at weird times. Last March he was spotted at the Vatican City during voting for the selection of a new Pope. He explained that he was there to promote a website. "It's a gambling website, and it's about people who are going to bet on the new Pope, and if he's black, you get your money back," Rodman said.
Exactly how his heartwarming bromance with the Supreme Leader started is unclear, but it's known that Kim Jong Un is a massive basketball fan who was particularly enraptured with Rodman's 90's team, the Chicago Bulls. This is one of the relatively few things we know about Kim Jong Un. We don't even know for sure how old he is, although thanks to a recent photo gallery published by the Telegraph, we do know that he enjoys testing mattresses for firmness and likes to smoke in hospital wards.
Someone who might be able to help us flesh out our picture of Kim's hobbies and interests could be South Africa's deputy minister of international affairs Ebrahim Ebrahim, who paid a diplomatic visit to Pyongyang in November. In an interview with the Daily Maverick's Khadija Patel afterwards, Ebrahim complained that breakfast at their state-owned hotel "was not a buffet. You get a yoghurt and two slices of toast, that's all."
Rodman, at the risk of stating the obvious, is not a diplomat, though he appears to fancy himself as one. Whenever his one-man entente cordialewith Pyongyang is criticized, he or his supporters rabbit on about "basketball diplomacy". While we appreciate the reference to "pingpong diplomacy", the exchange of table-tennis players between the US and China in the 1970s which led to a growing warmth of relations between the two powers, it's important to note that basketball diplomacy is not actually a thing.
Rodman is the highest-profile American to ever have met Kim Jong Un. That's really a fact worth musing on, perhaps accompanied by a generous swig of Rodman Vodka. The only American representative ever accorded unfettered access to a dictator who continuously threatens to destroy the US is Dennis Rodman. From the CIA headquarters in Langley, Virginia, a laugh of pure hysteria may be heard if you listen quietly enough.
That is, of course, unless Rodman is one of the most brilliantly audacious CIA plants ever conceived of. Tons of people think he might be. Google "Is Dennis Rodman a spy" (on the automated search terms, you'll find it between "Is Dennis Rodman a traitor" and "Is Dennis Rodman a drag queen"), and you'll get more than 420 000 hits back. It's a pleasing theory, but one you may lose faith in after watching Rodman's bizarre interview on CNN a few days ago, when anchor Chris Cuomo quizzed him about the motivations behind his Pyongyang visit.
Rodman, gesturing with a cigar, lost his rag when it became clear that the whole basketball diplomacy line wasn't passing muster. "It's amazing how we thrive on negativity," he cried. "Does anyone know this guy's only 31 years old?" – which is, when you think about it, really quite young to be iron-fistedly controlling the state with the worst human rights record in the world.

"Dennis, he could be 31, he could be 51," replied Cuomo, rather reasonably. "He's just killed his uncle. He's holding an American hostage." (The American in question, Kenneth Bae, is a missionary who was sentenced to 15 years in prison last year for allegedly attempting to overthrow the North Korean government.)
Then Rodman really got mad. "You know, you've got 10 guys here, 10 guys here, they've left their families, they've left their damn families, to help this country, in a sports venture," he fulminated, gesturing at his former NBA buddies. They wore the increasingly desperate expressions of a bride whose drunk uncle has just taken the microphone at her wedding.
Watch: Angry Dennis Rodman defends North Korea basketball game
Exactly why this nation-building sports venture had to take place at a closed party to celebrate Kim Jong Un's birthday was left unspecified. That is, apparently, just how basketball diplomacy works. In one of the many can-you-flipping-believe-it factoids about this event, the game in question was originally intended to be sponsored by Irish bookies Paddy Power and titled "The Big Bang in Pyongyang: Hoops, Not Nukes". Paddy Power pulled the plug when they found out about Kim Jong Un's purged uncle, who Rodman coincidentally was photographed clinking glasses with on one of his trips to Pyongyang last year.
Footage has already emerged of Rodman, on the basketball court, leading the crowd in a rendition of 'Happy Birthday' for the Supreme Leader. (If only he had pulled it off standing over an air vent in a coquettish white frock.) Rodman is also seen bowing, like a dutiful North Korean subject – or, as he would no doubt term it, a "bad ass". A black-suited audience applauds sedately each time a point is scored, probably praying that the only purging to take place that evening will happen in Rodman's toilet after a few too many vodkas.
The depressing truth is that Rodman is probably not a CIA mole. It is also implausible that he has suddenly become a globetrotting altruist hell-bent on bringing unity to the Korean Peninsula. More likely, he is just one of many celebrities willing to practically fellate Lucifer himself for a sack of cash. Let's not forget singer Jennifer Lopez's birthday lapdance last year for another notorious dictator.
"We wish you the very, very, happiest birthday," Lopez said, performing a lavishly-paid show for Turkmenistan President Gurbanguly Berdymukhamedov. Her people later said they didn't know about the human rights stuff, and in fairness, that's a hell of a name to Google.
But whatever the real motivations, what happens if Rodman's interventionsucceeds? What happens if Kim Jong Un softens towards the demon Americans and expresses a greater desire to cooperate and open up his country? If that happens, Rodman would surely be a shoo-in for the Nobel Peace Prize – which, by the way, he's already said that he basically expects. Come to think of it, it's not like Dennis Rodman would be any weirder a Nobel Peace Prize winner than some of the last lot.
Photo Caption: North Korean leader Kim Jong-Un and former NBA basketball player Dennis Rodman (front L) hug in Pyongyang in this undated picture released by North Korea's KCNA news agency on March 1, 2013. REUTERS/KCNA
By: REBECCA DAVIS
Rebecca Davis studied at Rhodes University and Oxford before working in lexicography at the Oxford English Dictionary. After deciding she'd rather make up words than define them, she returned to South Africa in 2011 to write for the Daily Maverick, which has been a magnificilious decision.
Article Source: The Daily Maverick