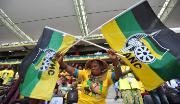 In politics, some things are hard, and some are even harder. In a game that is all about making choices, any single wrong one can have an impact upon you, your party, and your country, for many years to come. This is one of the reasons why political parties under our system, where party bosses essentially choose a list of candidates to represent it in Parliament, have to manage this process so carefully. Everyone is going to fight for their space, and their place in Parliament, or provincial legislature. But you also have to make sure that all the various constituencies are balanced. And that's before you actually go about making sure your party list is attractive for voters. But for frustrated Gwede Mantashes everywhere, there is at least some solace.
If you are a political party in our current space, there are a few things you have to get right, when forming your parliamentary lists. You can't provide a list of just white men, or just black men, or too much of one gender or the other. You have to be "representative", as these are the men and women who will represent you in Parliament, and therefore they should reflect the voters that you're hoping to attract. In some respects, we're making progress. The DA's list, which was released over the weekend, does appear to be racially representative. Certainly, it would be hard to say that there are not enough black people on it. And the fact that it is currently led by a woman, and has women well represented in its leaderships structures, helps to insulate it somewhat from claims of a gender bias towards men. Even when the ANC seems to manage to get fifty/fifty gender representation, or as close as politically possible to it.
The other thing parties have to do, before they even start to balance out the various factions within them, is to make sure they have representation from all nine provinces. Anyone know any political leader from the Northern Cape apart from serial co-accused John Block? How about a leader from Kwa-Zulu/Natal who's not with the ANC? See how hard it is?
Now, this is before we even consider competence. The DA, of course, makes much of this element. It likes to portray itself as the party that can deliver, and thus it seems to expect much of its MPs. Officials say they go through a "gruelling multi-layered" selection process, whatever that means. The aim here is to be able to claim that, with Team Zille, you're getting competence, and that with Team Luthuli House, you're getting politics as usual. It's fun for a press release, but it makes certain questions hard to answer.
If, for example, National Prosecuting Authority senior prosecutor Glynnis Breytenbach were selected because she went through this process with flying colours, can we presume that a space has been kept open for Agang leader Dr Mamphela Ramphele because of her success in this system? Whatever your view of her political failings, it would be hard to accuse her of a lack of dignity. (And that's putting it mildly.) And thinking of her sitting down to write another party's exam is about as easy as imagining Julius Malema getting election help from Mac Maharaj.
So it simply cannot be that every candidate went through this process. Because, as in all political processes, there is a strong element of politics. You cannot ignore some people because of who they represent. The ANC had this problem in 2009. Winnie Madikizela-Mandela desperately wanted to return to Parliament. She was obviously popular within the party, having come first on the list of NEC members at Polokwane eighteen months before. But everyone knew she would be a disaster in Parliament itself. However, Luthuli House buckled, and as sure as eggs are eggs, she ended up at number five on their list. And predictions about her performance in Parliament turned out to be true.
For both main parties, there is a set of equations that make life quite difficult. Take the ANC's dilemma. Obviously the number one spot goes to Number One, and the number two spot goes to Cyril Ramaphosa. Then what happens after that? Technically, the NEC decides, after consulting with a whole variety of provinces and parts of the party. Every step is intensely political. But in the final analysis, if you accept that President Jacob Zuma got the NEC he wanted at Mangaung, the final decisions will be up to him and his close allies.
But they are still limited. For example, they cannot give KZN too much representation. There is already too much talk about the "Zulu-fication" of the ANC and government. Zuma doesn't want a new crop of T-shirts with the legend "100% Zulufied" on them. He has to make sure he looks like he's giving everyone a fair shake. But he can't give his enemies too much room to move, either. If he does that, he may give them positions from which they could later attack and harm him. And the claim that provinces get to decide who will become premiers, which was a promise he appeared to make at Polokwane, is, of course, nonsense. Again, in 2009, the NEC told provinces to each give them three names as their candidates for premier, and the NEC would make the final decision. The Gauteng ANC said publicly its three candidates were Paul Mashatile, Paul Mashatile and Paul Mashatile. What happened? The NEC decided on Nomvula Mokonyane. Which is the final evidence, if you needed it, that Zuma is prepared to stop certain things from happening.
Amid all of this talk of representation of groups and factions and races, two things get left out. The first is that coloured people generally will probably be under-represented amid the lists of both the big parties. There are more coloured people than white people in South Africa now, and it's unlikely that you will see that on these lists.
The second is much more subtle, but becoming a more important aspect. It's that virtually everyone on both these lists will be middle-class. Almost all of them will now live in an urban area, and live a middle-class life. Some of them will have come from working-class or rural poor backgrounds. Particularly some of the older ANC candidates. But generally speaking, virtually all of them will drive a nice car before they get on the list.
On one level, so what? It's the same in most countries. You go into politics after securing your financial future. But in a country like ours, where the majority is so much poorer than the minority, it has to be asked if we can really say our Parliament does represent the people, when all we do is look at the colours of faces, and now how they and their families actually live. As I say, it's a fact of life almost everywhere, but it could matter more here somehow.
While this problem is probably something the DA will live with, it may actually leave the ANC open to attack. The decision by the metalworkers union NUMSA to leave the alliance over what is basically a class and economic policy dispute, is a part of the process of our politics moving away from race, and towards class. NUMSA could well take a look at the ANC's final list, and make some serious criticisms of it, based on its class reading of society. They won't bother with the DA - that's not the voting pool their "workers formation" could be fishing in in 2019. But it could be worth their while to stoke the ANC a little on this.
Having said all of this, there is some solace for party bosses involved in this process. It is this: Most voters don't care who's on the party list. They just vote for the brand, and the face next to the party's name. It may seem heartless to write off difficult political equations like that, but that's politics.
By Stephen Grootes
Source: Daily Maverick
Grootes is the senior political reporter for Eyewitness News, and the host of the Midday Report on Talk Radio 702 and 567 Cape Talk. He's also the author of SA Politics Unspun.
Photo: ANC supporters at the launch of the party's 2014 election manifesto at the Mbombela Stadium in Nelspruit, Mpumalanga, Saturday, 11 January 2014. Picture: SAPA stringer