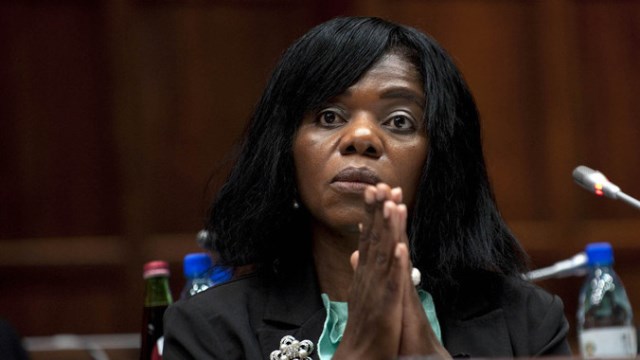 The CIA must be a busy organisation.
According to our Deputy Minister of Defence and Military Veterans Kebby Maphatsoe, South Africa's public protector Thuli Madonsela is an agent of America's famous intelligence agency, beloved of spy movies and conspiracy theorists alike.
Newbie newspaper proprietor Iqbal Survé also seems to have inside intelligence on the CIA's moves. In August 2013 he accused the Mail & Guardian of being controlled by the CIA after being asked about the structure of his consortium buying the Independent group.
It's a pity that neither the M&G nor the public protector has benefitted from this mysterious funding. The public protector noted at the presentation of its three year strategic plan to Parliament last year that it was too cash-strapped to tackle many of the important cases referred its way, and that there was R77-million outstanding to finance unfunded posts in the office's approved organizational structure.
It seems that in order to be labelled a CIA operative by the ANC or its acolytes, one must simply be critical or capable of independent thought. Or, you know, do one's job.
Madonsela is not letting up on President Jacob Zuma following his inaction over her report into the Nkandla scandal, where over R200-million of public money was used on upgrades at the president's private residence. He is required to pay back a portion of the money but has been endlessly stalling over the matter.
Maphatsoe, who has headed the Umkhonto weSizwe Military Veterans Association (MKMVA) for the past seven years, was incensed by Madonsela's mention in a radio interview that she was once involved with the MK, as well as by her attempts to do a routine follow up on her investigation into the Nkandla upgrades. She wrote a letter to Zuma on August 21 asking when he was going to respond to the recommendations of her Nkandla report.
"They are even using our institutions now ... these chapter nine institutions were created by the ANC but are now being used against us, and if you ask why, it's an agenda of the Central Intelligence Agency. Ama [the] Americans want their own CEO in South Africa and we must not allow that," Maphatsoe said at a tombstone unveiling of former MK combatant Linda "Lion of Chiawelo" Jabane in Soweto on Saturday.
This is where Maphatsoe gets it fundamentally wrong. His attitude towards the independent institutions created in chapter nine of our Constitution to hold government to account belies a sense of ownership. The ruling party may have been a major player in the creation of our new Constitution after we became a democracy, but it does not own the document or the institutions it created. The chapter nine institutions are independent precisely to withstand the considerable pressure Maphatsoe and Zuma's other would-be defenders would exert to get someone in his government off the hook.
Remember that the public protector's office has not always been the sterling example of holding power to account as it is under Madonsela's current term. Before her there was Lawrence Mushwana, who actively worked to protect the ANC's interests during his seven-year term. The Supreme Court of Appeal threw out Mushwana's 2005 investigation of the Oilgate party funding scandal while he was the public protector. The judges found his investigation "was so scant as not to be an investigation at all".
Nonetheless, he walked away with a nearly R7-million golden handshake, the official car of the public protector – forcing Madonsela to acquire a new one – and a comfy post at another chapter nine institution as the chairperson of the Human Rights Commission.
It seems he had done a good enough job at one chapter nine institution for the ANC majority in Parliament, which influences the selection of chapter nine institutions heads, to reward him again.
Maphatsoe, who has a history of allegedly corrupt activities and making ridiculous threats to defend Zuma, has now back-pedalled on the accusations after the ANC distanced itself from his statements. There were also the issues of possible legal action by Madonsela, a significant absence of proof to back up his claims and a minor diplomatic row sparked with the US. Good work for one off-the-cuff speech.
But his thinking is unlikely to change and that's the real tragedy. There are those in the ANC who sincerely believe that they somehow own our chapter nine institutions. Madonsela was initially chosen in part because of her sterling record in the ANC itself. She turned out to quite correctly value the rule of law over party loyalty. It was an inconvenient shock to the party. Now the next public protector who will take over in 2016 may well be another Mushwana, and this golden period of real accountability could end.
It'll be devastating for South Africa. But the fact is it was a happy surprise that Madonsela was this effective and independent at all. Until the ANC loses its majority or thoroughly understands the independence of the public protector's office, we are in line for more ANC acolytes not just criticising the public protector, but possibly taking her place.
By: Verashni Pillay
Source: The Mail and Guardian.